Hustlers is a 2019 American crime drama film written and directed by Lorene Scafaria, based on New York magazine's 2015 article "The Hustlers at Scores: The Ex-Strippers Who Stole From (Mostly) Rich Men and Gave to, Well, Themselves" by Jessica Pressler. The film stars Constance Wu, Jennifer Lopez, Julia Stiles, Keke Palmer, Lili Reinhart, Lizzo, and Cardi B.
Purchase HUSTLERS on Ultra HD Blu-ray Today!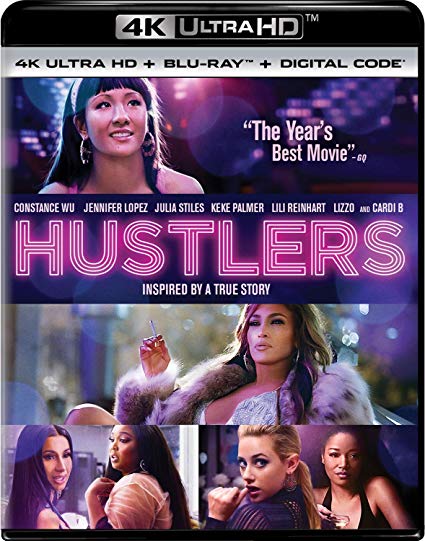 THE MOVIE:
Working as a stripper to make ends meet, Destiny's life changes forever when she becomes friends with Ramona — the club's top money earner. Ramona soon shows Destiny how to finagle her way around the wealthy Wall Street clientele who frequent the club. But when the 2008 economic collapse cuts into their profits, the gals and two other dancers devise a daring scheme to take their lives back.
VIDEO QUALITY /AUDIO QUALITY:
HUSTLERS comes to Ultra HD Blu-ray with HDR10 and Dolby Atmos. Both of which do the film justice given its darkly lit film at points and its vital usage of music. In the home theater set up the audio blasts and immerses you quite well, where as the living room set up sounded fine, but didn't quite impress compared to the home theater set up. Your experience and difference may vary.
SUPPLEMENTS:
Not much in the Special Features department.
– Trailers
– Feature Commentary with Director Lorene Scafaria
Hustlers had its world premiere on September 7, 2019, at the Toronto International Film Festival, and was theatrically released in the United States on September 13, 2019. The film has grossed $150 million worldwide and received positive reviews from critics, with Lopez's performance singled out for praise. Hustlers was chosen by Time magazine as one of the ten best films of the year.
– wikipedia