Operation Crossbow, later re-released as The Great Spy Mission, is a 1965 British spy thriller and Second World War Metrocolor film about Operation Crossbow (1943?1945) in Panavision. It was directed by Michael Anderson and written by Emeric Pressburger, under the pseudonym "Richard Imrie", Derry Quinn and Ray Rigby from a story from Duilio Coletti and Vittoriano Petrilli. It was filmed at MGM-British Studios.
Purchase OPERATION CROSSBOW on Blu-ray Today!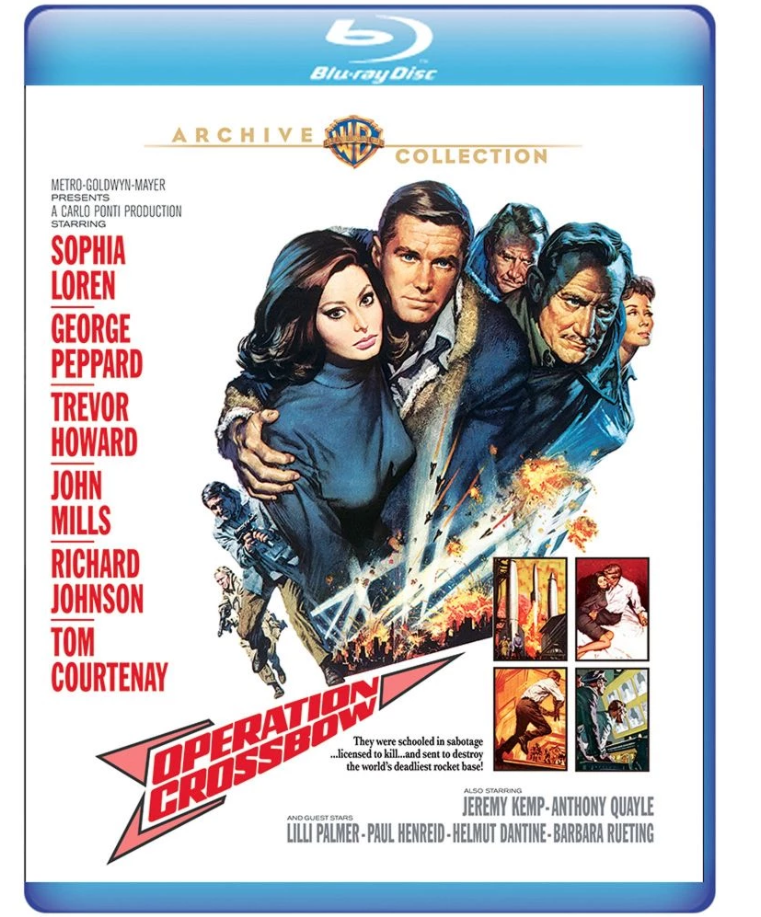 Check Out OPERATION CROSSBOW on On Blu-ray Here Directly At Warner Archive
Video / Audio Quality Details:
OPERATION CROSSBOW comes to blu-ray in 1080p HD from Warner Archive as part of the Warner Archive Collection on a made to order Blu-ray. The film has an audio track of DTS HD Master Audio 5.1 and English subtitles SDH. Clocking in at 116 minutes Operation Crossbow looks better then it ever has before. Sharp and crisp and Sophia Loren has never looked better! Great sound quality as well for this film from 1965.
Special Features and Technical Specs:
Vintage Featurette: A Lookback at Crossbow
Theatrical Trailer
Synopsis: A fearsome rumor reaches Britain's World War II command. The Nazis are developing rocket technology that could rain death on London and then New York. Quickly, England develops a plan to send saboteurs into the sites manufacturing the rockets. Just moments after the carefully chosen commandos parachute into the drop zone, their pilot receives an urgent message: The mission may be compromised. Abort.
Operation Crossbow is the partly fact-based tale of how that team succeeded against daunting odds. Michael Anderson (The Dam Busters, Logan's Run) directs, guiding a huge cast in a film that builds to a spectacular finale, yet never neglects war's unsparing personal costs. As a record of a wartime espionage incursion and as an intrigue-filled thriller, Operation Crossbow is on both counts Operation Accomplished.
The film is a highly fictionalized account of the real-life Operation Crossbow, made with a large cast of popular film stars of the time. It does touch on the main aspects of the operation, which embraced all tactics used to thwart the German long-range weapons program in the last years of World War II. The scenes alternate between Nazi Germany's development of the V-1 flying bomb and V-2 rocket, and the efforts of British Intelligence and its agents to defend against the threats. All characters speak in the appropriate language, with English subtitles for those speaking German or Dutch.