Ad Astra is a 2019 American science fiction adventure film produced, co-written, and directed by James Gray. Starring Brad Pitt, Tommy Lee Jones, Ruth Negga, Liv Tyler, and Donald Sutherland, it follows an astronaut who goes into space in search of his lost father, whose experiment threatens the Solar System.
Purchase AD ASTRA on Ultra HD Blu-ray Today!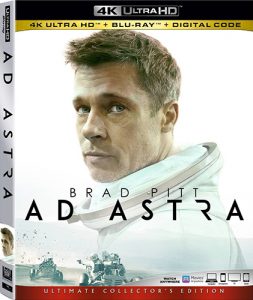 THE MOVIE:
Mid-21st Century Astronaut Roy McBride (Brad Pitt) has made a name for himself as one of the world's top spacemen. Cool under every pressure – including an incredible Earth fall at film's beginning – Roy has space in veins. His father Clifford (Tommy Lee Jones) was Earth's favorite astronaut, until he and his crew disappeared 16 years ago while journeying to Neptune. Not coincidentally, a series of ever-increasing anti-matter blasts from that planet begin to strike Earth, leading those in charge to hurry Pitt to said distant planet with a single order: stop the blasts from destroying the solar system. But with Mars and the Moon sporting humans (and unfortunately their territorial tendencies), McBride is thrust into a mission that's both end-of-universe level heroism and a personal search that will push his stoic personality to the edge of his sanity.
AD ASTRA is a gorgeous looking movie, but its promise of a powerful father-son space drama falls way short. It reminds us of the haphazard plot cloning that's plagued this year's films, which collectively are down 6% from 2018. Pitt is fine but a more appropriate alternative might have made the slow burn here more palatable. When your film promises to feature a Jones-Pitt sitdown and all you get is about 5 minutes of them together, a film that tries to be a bit too aesthetic at times and lacks some substance still needed from the plot that ultimately felt a bit empty in the end. A film worth watching, and if a fan of the sci-fi genre in general then owning for your collection. Casual consumers may likely only rent/stream this as opposed to purchasing, and I could understand why as we've seen a few better sci-fi films of late that separate AD ASTRA from the pack.
VIDEO QUALITY /AUDIO QUALITY:
AD ASTRA comes to Ultra HD Blu-ray 4K with HDR10 and a Dolby Atmos track. Both are impressive in their own right with the Atmos tracking sounding wonderful in both my set ups. (Home theater & Living room) The HDR10 definitely helps a film that is dark and eery at many times what with the space back drop. The mood setting scenes on Mars are a definite spot where the deeper darks allow for the colors to penetrate the scene with a fuller look.
SUPPLEMENTS:
AD ASTRA Blu-ray Special Features:
Deleted Scenes with Optional Audio Commentary by James Gray
"The Void"
"Epilogue"
To the Stars
A Man Named Roy
The Crew of the Cepheus
The Art of Ad Astra
Reach for the Stars
Audio Commentary by Director James Grey*
Ad Astra premiered at the Venice Film Festival on August 29, 2019, and was theatrically released in the United States on September 20 by 20th Century Fox. It received positive reviews from critics, with praise for Pitt's performance and vivid imagery, and $127 million worldwide against an $80–100 million budget. – wikipedia