Rambo: Last Blood is a 2019 American action film directed by Adrian Grunberg. The screenplay, co-written by Matthew Cirulnick and Sylvester Stallone (from a story by Dan Gordon and Stallone), is based on the character John Rambo created by author David Morrell for his novel First Blood. The story follows the titular Vietnam War veteran (reprised by Stallone) as he travels to Mexico to save his adopted daughter, who has been kidnapped by a Mexican cartel and forced into prostitution.
Purchase RAMBO LAST BLOOD on Blu-ray Today!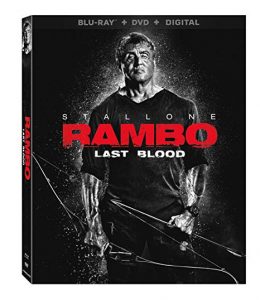 THE MOVIE:
Vietnam War veteran John Rambo tries to find some semblance of peace by raising horses on a ranch in Arizona. He's also developed a special familial bond with a woman named Maria and her teenage granddaughter Gabriela. But when a vicious Mexican cartel kidnaps Gabriela, Rambo crosses the border on a bloody and personal quest to rescue her and punish those responsible.
VIDEO QUALITY /AUDIO QUALITY:
Rambo Last Blood comes to Blu-ray with a Dolby Atmos audio track and presented in 1080p definition for blu-ray disc. The film looks great in hi-definition and the atmos track will rock your speakers. Unfortunately we didn't have the 4K version to review which I'm sure would have benefited in the PQ department thanks in part due to HDR and many night scenes in Mexico and the dark scenes in the tunnels in Arizona at his ranch.
SUPPLEMENTS:
"Drawing Last Blood: Multipart Production Diary" Featurette
"From First Note to Last Blood: Music for the Massacres" Featurette
Theatrical Trailer
The film grossed $91 million worldwide against a production budget of $50 million. – wikipedia