JEXI is a 2019 American romantic comedy film written and directed by Jon Lucas and Scott Moore. The film stars Adam DeVine, Alexandra Shipp, Michael Peña, Rose Byrne, Justin Hartley, Wanda Sykes, Ron Funches, and Charlyne Yi. The plot follows a self-aware phone that becomes emotionally attached to its socially awkward owner.
Own JEXI on Blu-ray on January 14th, 2020!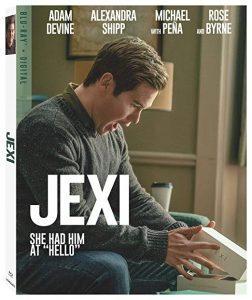 THE MOVIE:
Phil (Adam Devine) is so obsessed with his phone that it is basically his life. Every since he was a young child he has been glued to a cellular device so much that he can't do anything without it nor does he wish too. After running into Cate (Alexandra Shipp) not only does he become attracted to her, but he also unfortunately breaks his phone into pieces. So, of course the next thing he has to do is go and get a replacement.
Phil's new phone is defiantly not like any other he's ever owned. When started the boot up process the phone has a virtual assistant named "JEXI". Phil soon discovers that JEXI is more harm than good for his life. JEXI begins to control his life in every way. Even after trying to get a replacement phone Phil is stuck with JEXI.
Overall, this film was a pretty fun experience. It is defiantly one of those you can watch if you just want a super dirty comedy with a fun plot. While watching this film it reminded me of a X-Rated version of the film "HER". Adam Devine is great for roles like this and can develop chemistry with co stars and an operating system.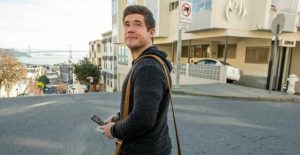 VIDEO/AUDIO QUALITY:
The video on blu-ray is a 1080p quality and the visuals are spot on and well light throughout. There wasn't any crazy CGI used in this film since it was mainly all dialogue so I have no complaints in the video quality department.
The audio for the film were clear with no issues. All the jokes and speaking was as great as you can expect in a movie like this. There isn't much loud sound effects minus a few crashes. Since the majority of the films dialogue is between Phil and his phone the audio quality is very well executed.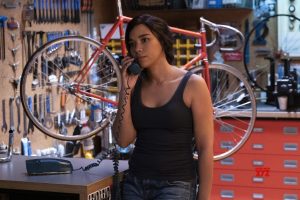 SUPPLEMENTS:
Bonus Features:
JEXI: Making Life Better
Unboxing JEXI
Filming in Fog City
Tech Bros
Phone Fixation
Disc Details:
Blu-ray
DVD
Digital Copy
Running Time:
84 min.
Edition Ratings:
Rated R
Region Coding:
Region A
Video Resolution:
Resolution: 1080p (2.39:1)
Audio Mixes:
English (Dolby Digital 5.1)
Spanish
Subtitles:
English
Spanish