The Addams Family is a 2019 American 3D CGI-animated supernatural black comedy horror film directed by Conrad Vernon (which he co-produced with Alison O'Brien, Alex Schwartz and Gail Berman) and Greg Tiernan, written by Matt Lieberman and Pamela Pettler and based on the characters created by Charles Addams. The film is a reboot of the 1991 film of the same name and it features the voices of Oscar Isaac, Charlize Theron, Chloë Grace Moretz, Finn Wolfhard, Nick Kroll, Snoop Dogg, Bette Midler, and Allison Janney.
Own THE ADDAMS FAMILY on Blu-ray on January 21st, 2020!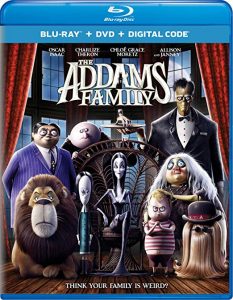 THE MOVIE:
This reboot of THE ADDAMS FAMILY was about the creation of the family and living in the creepy old mansion at the top of the hill. The kids are growing up and beginning to ask questions about why they are such a different family and why they can't go outside the mansion grounds. All of this is happening while a dark presence is beginning to appear more dominant within the family mansion.
Overall, this is a pretty fun family film that the kids will defiantly enjoy all the animation and jokes throughout the film. Each member of THE ADDAMS FAMILY is able to be fun and exciting in their own special character way. The family is just trying to live happy lives as normal as monsters can be while there is one lady trying to torment the family and get them out of their New Jersey town. This movie really makes me wish it was a live action so I could have seen the likes of Oscar Issac and Charlize Theron actually be Gomez and Morticia Addams.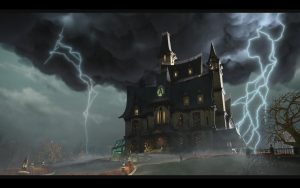 VIDEO/AUDIO QUALITY:
The video on blu-ray is a 1080p quality and the animation in the film are pretty great. It's pretty hard to not make a nice looking animated film with all the technology available today. The overall look of the film is fairly dark since the family are a bunch of monsters living in a creepy mansion. The audio is also very nice. The dialogue is able to be very clear and precise since all the audio is able to be recorded in sound studios and adjusted. The songs and creepy noises are able to be heard without any issues. Overall, great video and audio on this film. Im shocked they aren't putting out a 4K edition since the animation would look even better and sharper with the Ultra HD technology.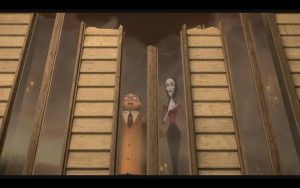 SUPPLEMENTS:
Bonus Features:
Deleted and Extended Scenes
Welcome to the Family
Charades with Thing
Life of a Scene
Addams Family Throwback
Lyric Video
Disc Details:
Blu-ray
DVD
Digital Copy
Running Time:
87min.
Edition Ratings:
Rated PG
Region Coding:
Region A
Video Resolution:
Resolution: 1080p (1.85:1)
Audio Mixes:
English (Dolby Digital 5.1)
Spanish
French
Subtitles:
English
Spanish
French