The film stars Linda Hamilton returning in her role of Sarah Connor and Arnold Schwarzenegger reprising his role as a T-800 Terminator, reuniting the actors after 28 years. The cast includes Mackenzie Davis, Natalia Reyes, and Gabriel Luna as new characters. Set 25 years after the events of Terminator 2, the film sees the machines sending an advanced Terminator (Luna), designated Rev-9, back in time to 2020 to eliminate Dani Ramos (Reyes), whose fate is connected to the future.
Purchase TERMINATOR DARK FATE on Ultra HD Blu-ray Today!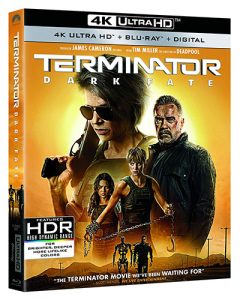 THE MOVIE:
When a new Terminator is sent into the past to destroy Dani Ramos (Natalia Reyes), it's up to fellow good-girl Terminator Grace (Mackenzie Davis) to defend her. The duo is joined by Sarah Conner herself (Linda Hamilton reprising the role), who knows about the attacks (and there have been several) via cryptic messages on her phone. The threat doesn't come from Skynet, but a new corporation called Legion. With the renewed threat to humanity, the team seeks out the source of the cryptic messages, only to find out that an older Terminator model (Arnold Schwarzenegger) is the sender. As the team learns about Dani's role in the coming war, former enemies are forced to work together in a now-familiar struggle.
In addition to limiting itself to an action picture, DARK FATE makes another critical error in its conception: that humanity in the present is either too stupid or too divided to understand the ramifications of a connected world. None of the heroes seem willing to expose the Terminators in the present, even though literally hundreds of people in DARK FATE witness their power. This decision forces the movie into a series of overly-computerized run-and-hide action sequences, rather than focusing on the characters and their interaction with a world oblivious to the coming calamity. Meant as a palette cleanse of RISE OF THE MACHINES, SALVATION and GENYSIS, Director Tim Miller and Producer James Cameron simply want you to forget they exist. Unfortunately, neither sees the franchise for more than its ever been, and that begins to weigh heavily upon things as one opportunity after another for innovation is ignored.
DARK FATE suffers from the same problem that has infested STAR WARS, refusing to advance beyond its original programming of Rebels vs Empire. That leaves the generally decent trio of Schwarzenegger, Hamilton and Davis to do little more than protect and react. There's no discussion of humanity's love affair with technology, no moment of the utter brutality of nuclear war and no wider effort to head off the crisis by exposing it. Even the explanation of John Connor's whereabouts – which could have generated an instant visceral reaction by the audience – isn't as effective as it could have been. People drop dead in such numbers that the newest Terminator actually loses our interest after one bloody encounter after another. He's neither interesting to watch, nor does he exude the stage presence of former Terminators.
VIDEO QUALITY /AUDIO QUALITY:
Terminator Dark Fate comes to Ultra HD Blu-ray boasting the UHD Premium badge that is offered to titles that meet a specific tech criteria which in short means it looks and sounds fantastic. And it does! Dolby Atmos sound and visceral HDR make this film both pop on and off the screen. Hang on to your seats as this loud flick fires off about every gun imaginable.
SUPPLEMENTS:
BONUS FEATURES ON 4K ULTRA HD COMBO, BLU-RAY COMBO & DIGITAL
Deleted and Extended Scenes
A Legend Reforged
World Builders
Dam Busters: The Final Showdown
VFX Breakdown: The Dragonfly
ONLY AVAILABLE ON DIGITAL
Creating a New Threat
Future Tech
Previz Sequences
Factory Fight
Air Battle to Humvee Falling
Humvee Dam
Commentary by director Tim Miller and editor Julian Clarke
Deleted scenes introduction and commentary by Tim Miller
Filming for Terminator: Dark Fate took place from June to November 2018 in Hungary, Spain, and the United States. Distributed by Paramount Pictures in North America and 20th Century Fox in other territories, the film was released theatrically in the United States on November 1, 2019. – wikipedia