Harriet is a 2019 American biographical film about slave-turned-abolitionist Harriet Tubman. Directed by Kasi Lemmons, who wrote the screenplay with Gregory Allen Howard, it stars Cynthia Erivo as Tubman, with Leslie Odom Jr., Joe Alwyn, and Janelle Monáe in supporting roles.
Own HARRIET on Blu-ray on NOW!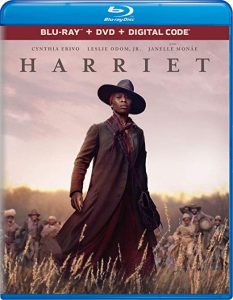 THE MOVIE:
Harriet Tubman (Cynthia Erivo) and her role of leading hundreds of slaves to their freedom is a super powerful message that is displayed in the film really well. She was able to display her will power and strength to put other people lives over her own and putting all the overwhelming odds behind her. Not many women or people for that matter were able to hold a candle to how much of a movement HARRIET started and fulfilled. She was able to use her faith in god and her will and determination to achieve unbelievable things that will never be forgotten. Her entire life was basically to make the lives of future generations better and this film did a great job to display how amazing of a person Harriet Tubman was for this world.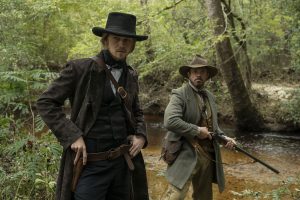 VIDEO/AUDIO QUALITY:
The video on blu-ray is a 1080p quality was pretty amazing and I had zero issues while watching. The images were very clear and crisp on this quality. The textures in the older clothing was very well done to make it feel appropriate for the time period the filmmakers were aiming for.
The audio was also above par. The film took place outside quite a bit so the sounds of leaves, birds, and other animals were very clear as well as all the dialogue throughout the film. I was able to hear every word without straining. The only loud sounds used were the sounds of horses and a couple gunshots through the film. Overall, the sound and visuals were great!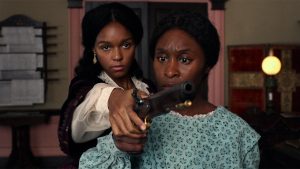 SUPPLEMENTS:
Bonus Features:
Deleted Scenes
Her Story
Becoming Harriet
Feature Commentary with Director/Co-Writer Kasi Lemmons
Disc Details:
Blu-ray
DVD
Digital Copy
Running Time:
125min.
Edition Ratings:
Rated PG-13
Region Coding:
Region A
Video Resolution:
Resolution: 1080p (2.39:1)
Audio Mixes:
English (Dolby Digital 5.1)
Spanish
French
Subtitles:
English
Spanish
French