Boyz n the Hood is a 1991 American teen coming of age drama, written and directed by John Singleton in his feature directorial debut, and stars Ice Cube, Cuba Gooding Jr., Morris Chestnut, Laurence Fishburne, Nia Long, Regina King, and Angela Bassett.
Purchase BOYZ N THE HOOD on Ultra HD Blu-ray Today!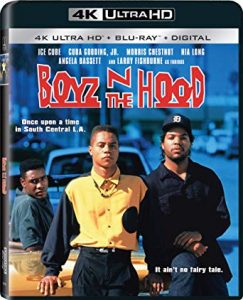 THE MOVIE:
Of all the "hood movies" This is hands down the best. Many movies try to reflect the daily dramas that are played out in the urban war zones and ghettos of the "Land of the Free". "South Central", "Menace to Society", and several others come to mind. But none of these others can compare to "Boyz N The Hood".
First off, you have a great, and talented cast. Lawrence Fishburne is terrific in his portrayal of a hard edged father who tries to raise his son right and teaches him to be a man in a harsh world. Cuba Gooding JR is incredible in his performance (despite a few moments of absurdity) as Tre, the main character, who is the only kid in the hood to have a positive male role model. Ice cube does very good job as "Dough Boy" the bad ass of Tre's friends.
The story is also very good and is told well. We begin with Tre as a violent and disturbed young child living with his mother, who is then kicked out of his school for beating up other kids. His mother sends him to live with his father. We then see Tre and his friends grow up and dealing with the problems of young adult minorities in an urban environment.
There are a lot of emotional parts to this movie and it approaches the subject manner in a pretty mature fashion meant to impress the disparity of the Ghetto as well as what it's like to try and grow up and survive there.
Just like similar movies there is a significant amount of graphic violence, but I look at it as a more realistic depiction of the story's setting and characters. The difference with Boyz N The Hood is that it uses violence in a more responsible way, and there is less of it compared to say "menace 2 society". The violence in the movie isn't just thrown in for fun or to show you some violence, but instead to impact you.
Also there is a definite message of consequences of actions and the movie stresses the importance of making good choices, and doing the best you can even if the hand you are dealt isn't the best. In The end Tre prevails and is a good man, despite all the odds stacked against him. Ice Cube makes his acting debut and knocks his part out of the park. In fact, many of these actors were making their debut. Overall its a great hood movie that ultimately focus' on the true grips of reality of life in South Central LA. This film opened up the doors for all the other hood movies to come later on.
VIDEO QUALITY /AUDIO QUALITY:
BOYZ N THE HOOD comes to Ultra HD Blu-ray with HDR and Dolby Atmos and that is your main points of improvement compared to the previous blu-ray release. With a great soundtrack the Atmos definitely adds some depth and feel. However, even more so with the sound effects with cars screeching off, gun shots, and party music. The voice clarity is good and there really shouldn't be any complaints on this one. The HDR enhancement does a good job at amplifying some scenes and keeping some look more natural.
The blu-ray comes with a DTS HD Master 5.1 track, most likely the exact same.
SUPPLEMENTS:
John Singleton Tribute
Boyz N The Hood comes with the following special features that are listed below (On the blu-ray):
Director's Commentary – Director John Singleton breaks it down on this commentary.
The Enduring Significance of Boyz N the Hood – Presented in HD,John Singleton along with the cast and movie producers discuss what this film meant to them at the time of their careers.
Friendly Fire: Making Of An Urban Legend – The original special feature in standard definition for "Boyz n the Hood" with interviews from everyone of importance in the film making process. About 45 minutes.
Deleted Scenes – Two deleted scenes.
Music Videos – 2 – Compton's Most Wanted and Tevin Campbell
Audition Videos – featuring Ice Cube, Angela Bassett, Morris Chestnut & Tyra Ferrell (pretty cool watch for Ice Cube fans)
Boyz n the Hood premiered in Los Angeles on July 2, 1991, and was theatrically released in the United States ten days later. The film became a critical and commercial success, praised for its emotional weight, acting, and writing. It grossed $57.5 million in North America, and was nominated for Best Director and Best Original Screenplay at the 64th Academy Awards, making Singleton the youngest person and the first African-American to be nominated for Best Director. – wikipedia