A Beautiful Day in the Neighborhood is a 2019 American drama film directed by Marielle Heller and written by Micah Fitzerman-Blue and Noah Harpster, inspired by the 1998 article "Can You Say … Hero?" by Tom Junod, published in Esquire. The film stars Tom Hanks, Matthew Rhys, Susan Kelechi Watson, and Chris Cooper.
Purchase A BEAUTIFUL DAY IN THE NEIGHBORHOOD on Ultra HD Blu-ray Today!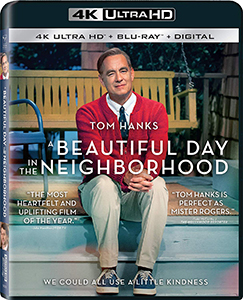 THE MOVIE:
Tom Hanks portrays Mister Rogers in A Beautiful Day in the Neighborhood, a timely story of kindness triumphing over cynicism, based on the true story of a real-life friendship between Fred Rogers and journalist Tom Junod. After a jaded magazine writer (Emmy® winner Matthew Rhys, 2018 Best Actor in a Drama Series, The Americans) is assigned a profile of Fred Rogers, he overcomes his skepticism, learning about kindness, love and forgiveness from America's most beloved neighbor.
VIDEO QUALITY /AUDIO QUALITY:
Coming to Ultra HD Blu-ray 4k with a DTS X Master audio track and 4K with HDR this release would definitely be one to make Mr. Rogers smile. While he likely wouldnt be fussed with that stuff never the less our audience of readers can rest well knowing we get the best of it all in this presentation. With many cuts filming pieces as if it were VHS quality to showcase that charm the show once had the film is likely viewed just as well in blu-ray. However we get a great quality release, all the better. Lots of musical ensembles that the DTS X handles superbly. No complaints there either.
SUPPLEMENTS:
Special Features:
Over 15 Minutes of Additional Scenes.
Blooper Reel.
Tom Hanks as Fred Rogers.
The People Who Make a Neighborhood: The Making Of.
Dreaming Big, Building Small: The Puppets & Miniatures.
Daniel Tiger Explains: Practice Makes Perfect.
Filmmaker Commentary.
The film had its world premiere at the Toronto International Film Festival on September 7, 2019, and was theatrically released in the United States on November 22, 2019, by Sony Pictures Releasing. It received praise from critics for Hanks' and Rhys' performances, Heller's direction, and the heart-warming messages, and grossed $65.8 million worldwide. – wikipedia