Knives Out is a 2019 American mystery film written, produced, and directed by Rian Johnson. A modern whodunit, the film follows a family gathering gone awry, after the family patriarch's death leads a master detective to investigate. The film features an ensemble cast, including Daniel Craig, Chris Evans, Ana de Armas, Jamie Lee Curtis, Michael Shannon, Don Johnson, Toni Collette, Lakeith Stanfield, Katherine Langford, Jaeden Martell, and Christopher Plummer.
Purchase KNIVES OUT on Blu-ray Today!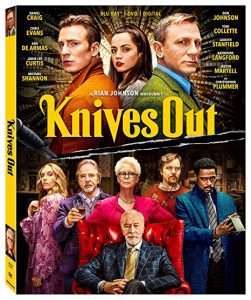 THE MOVIE:
A roller coaster ride of a whodunnit that get's better as it chugs along.
When renowned crime novelist Harlan Thrombey dies just after his 85th birthday, the inquisitive and debonair Detective Benoit Blanc arrives at his estate to investigate. From Harlan's dysfunctional family to his devoted staff, Blanc sifts through a web of red herrings and self-serving lies to uncover the truth behind Thrombey's untimely demise.
VIDEO QUALITY /AUDIO QUALITY:
KNIVES OUT comes to blu-ray with a 1080p presentation and a Dolby Atmos audio track. A score and track that allows great depth to showcase the Atmos track whether be it dialogue, car chases, fights, or the ever so thrilling and at times poignant score.
SUPPLEMENTS:
Audio Commentary by Writer-Director Rian Johnson, Director of Photography Steve Yedlin, and Actor Noah Segan
In-Theatre Commentary by Rian Johnson
Deleted Scene: "Bicycling Accident" (with Optional Audio Commentary by Rian Johnson)
Deleted Scene: "Don't Do Anything Rash" (with Optional Audio Commentary by Rian Johnson)
"Making a Murder" Eight-Part Documentary
"Rian Johnson: Planning the Perfect Murder" Featurette
Writer-Director and Cast Q&A
Marketing Gallery
"Meet the Thrombeys" Viral Ads
Lionsgate announced in February 2020 that a sequel was in the works, with the film possibly becoming a franchise centered on Daniel Craig's character. – wikipedia