Mattel unveils new products from their brands including WWE, DC, Hot Wheels, Minions, Jurassic World, Masters of the Universe, and more at the 2019 New York Toy Fair
Mattel continued their Monday morning press and influencer breakfast and preview into 2020 and there on the table were plenty of new items from their various extensive portfolio. 2020 also marks the companies 75th anniversary and they will be celebrating this occasion all year long!
Uno
I know I am going to start with Uno. The last two years Mattel has created new games in the line with Dos and Uno Flip, however this year they had something a bit different – the original Uno. What's special about this version, nothing, it is the same game as you grew up with but what makes this version unique is its minimalistic design. Artist Warleson Oliveira created his own version of the game, for fun, that garnered enough attention to get a petition going to urge Mattel to actually run with it, which they did. And now we have a sleek version of a classic game sure to please adults and fans alike!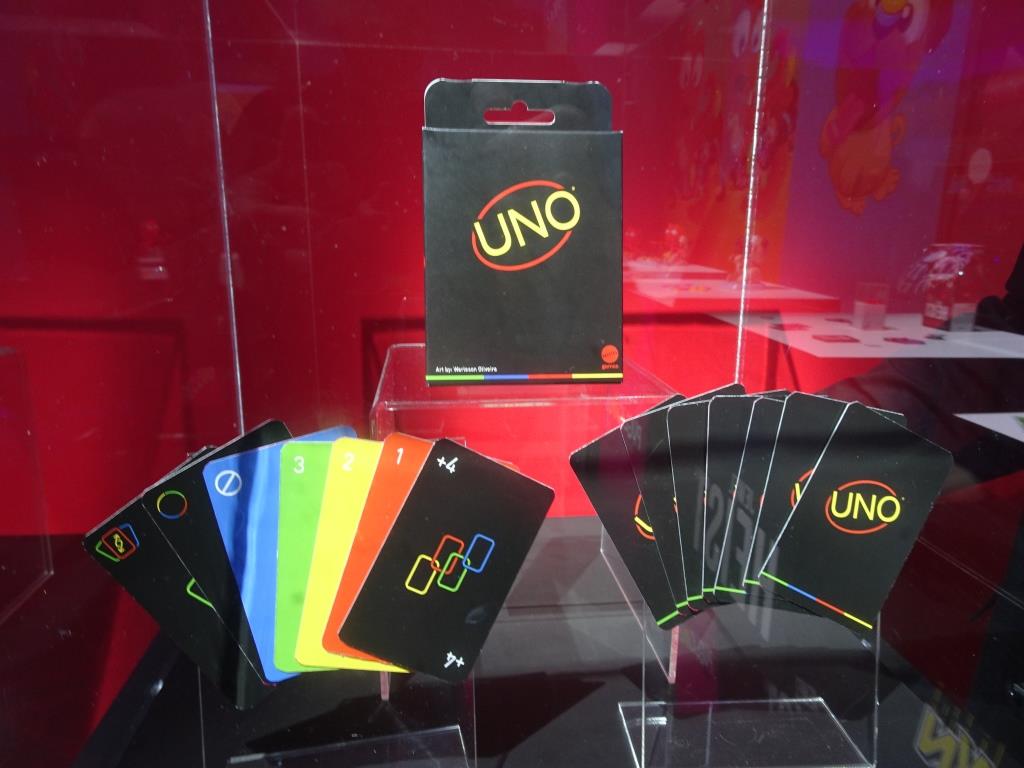 Masters of the Universe
Mattel is bringing back He-Man with a range of new figures vehicles and a new articulated Battle Cat. Also in the line are small 2" miniature figures.
MEGA
The Mega Construx arguably had the coolest display in the Mattel area. The line continues to expand with more products in their Pokemon, Halo, and Game of Thrones line. The Halo and Game of Thrones dioramas were something to behold in person and I am still swooning over the new Ice Dragon set that is upcoming from the line. Mega also has a way of incorporating cloth and other material into their sets as well as more custom painted pieces (see the side of the ship or the Ice Dragons legs) which I have not seen from other brands. Figures in the Game of Thrones line are also based on their own sculpts and not just the same mold. New figures from Alien, Star Trek, Predator, God of War, Hellboy, and Teenage Mutant Ninja Turtles.
WWE
Mattel's ultra popular WWE line includes the basic figure line, the elite figure line, and the ultimate Edition line. Each line steps up from the previous one ending with the ultimate line featuring 33 points of articulation, more, detail, extra accessories, and changeable hands and heads. A WWE Salmbulance let's you take the fighting to the backstage cause you know you're going to be attacked on the way to the hospital in the WWE. Finally a new miniature Beast Mode line gives you two figures in one with an wrestling figure nestled in an outer shell beast mode such as a Stone Cold Steve Austin figure inside of a rattlesnake.
Star Wars
Because who doesn't need another Baby Yoda in their life!
Hot Wheels
Hot Wheels always has an amazingly large display in their showroom. This year they had plenty to show off including a new Mario Kart racing set. The Hot Wheel Mario Kart vehicle assortment also was the winner of the TOTY Vehicle Toy of the Year award, so congrats to Mattel on that as well. Monster Trucks dominated the area with a huge display and assortment but no less impressive was the Disney Pixar's Cars display. Other new for 2020 items included a set of cars celebration the different sports in the upcoming 2020 Tokyo Olympics, a set of cars and planes for the upcoming Top Gun: Maverick movie, Monster Trucks and Tesla Cybertruck RC Cars, and plenty of cars in every license imaginable including but not limited to The Mandalorian.
New track sets were on display as well including Track Builder Unlimited a modular set letting you create a track based on your needs and the Ultimate Garage.
Jurassic World
A new series of dinosaurs for everyone's needs
Wonder Woman, DC Super Hero Girls, and Z-O-M-B-I-E-S 2
A new wave of stylized dolls focused on the upcoming Wonder Woman: 1984 movie as well as new figures in the DC Super Hero Girls line including an Eartha Kitt throwback Catwoman for the 1966 Batman series. Disney got in on the Dolls line with collection of dolls for the Z-O-M-B-I-E-S 2 movie.
Disney Pixar and Minions
Lot's of little goodies from Disney Pixar line including the wave of mini blind box figures. But another congratulations have to go out to Mattel for snagging the TOTY Action Figure of the Year award for the Disney Pixar Toy Story Basic Figures. Figures also came from a range of Disney Pixar movies including Onward, Soul, The Incredibles, Wall-E, Monster Inc., Brave, and Coco. A Spotlight Series collection gives a more collector feel to figure like Mr. Incredible and Buzz Lightyear with better articulation and extra hand and head accessories.
Minecraft
Thomas and Friends
A set of new Thomas and Friends figures but there were some very cool Celebration Thomas & Storybook chrome and motorized sets.
Before entering the showroom Mattel had a display of some original items including the 1968 Hot Wheels original Sweet 16 and the original 1982-1983 Master of the Universe line.
This year I was talking to a few fellow press and bloggers and I was intrigued to hear that Mattel seemed to have cut down on the number of invites to their Monday preview so Hi-Def Ninja would like to send a thank you to the Mattel team for inviting us into their booth space at these years Toy Fair!