Queen & Slim is a 2019 American romantic crime drama film directed by Melina Matsoukas (in her feature directorial debut) and written by Lena Waithe, from a story by James Frey and Waithe. The film stars Daniel Kaluuya, Jodie Turner-Smith, Bokeem Woodbine, Chloë Sevigny, Flea, Sturgill Simpson and Indya Moore. The plot follows two African-Americans who go on the run after killing a police officer during a traffic stop gone wrong.
Purchase QUEEN & SLIM on Ultra HD Blu-ray Today!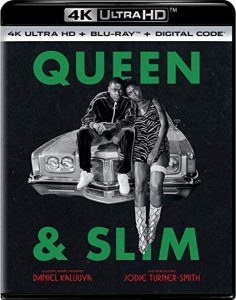 THE MOVIE:
Slim and Queen's first date takes an unexpected turn when a policeman pulls them over for a minor traffic violation. When the situation escalates, Slim takes the officer's gun and shoots him in self-defence. Now labelled cop killers in the media, Slim and Queen feel that they have no choice but to go on the run and evade the law. When a video of the incident goes viral, the unwitting outlaws soon become a symbol of trauma, terror, grief and pain for people all across the country.
VIDEO QUALITY /AUDIO QUALITY:
Queen and Slim comes to UHD with a smashing HDR10 visual and Dolby Atmos audio. You won't have any complaints about the video and audio with this one. It looks great, with deep dark thick colors and sounds terrific with the immersive audio track. I tested on a sound bar set up in addition to my home theater and it still sounds stellar. So for those with the not so elaborate set up you should be pleased as well.
SUPPLEMENTS:
Feature Commentary with Director/Producer Melina Matsoukas and Writer/Producer Lena Waithe
A Deeper Meaning – Daniel Kaluuya, Jodie Turner-Smith and filmmakers discuss the complicated journeys of Queen & Slim and explore the deeper meanings of how far these characters have come from where they began.
Melina & Lena – A behind-the-scenes look at the creative partnership between director/producer
Melina Matsoukas and screenwriter/producer Lena Waithe.
Off The Script – Screenwriter Lena Waithe reads from her original screenplay for Queen & Slim.
On The Run With Queen & Slim – Go behind the scenes with the cast and crew of Queen & Slim as they film in Cleveland and New Orleans.
Queen & Slim had its world premiere at the AFI Fest on November 14, 2019 and was theatrically released in the United States on November 27, 2019, by Universal Pictures. It received generally positive reviews from critics and has grossed $44 million. – wikipedia