DARK WATERS is a 2019 American legal thriller film directed by Todd Haynes and written by Mario Correa and Matthew Michael Carnahan. It is based on the 2016 article "The Lawyer Who Became DuPont's Worst Nightmare" by Nathaniel Rich, published in The New York Times Magazine. The film stars Mark Ruffalo, Anne Hathaway, Tim Robbins, Bill Camp, Victor Garber, Mare Winningham, William Jackson Harper, and Bill Pullman.
Own DARK WATERS on Blu-ray on NOW!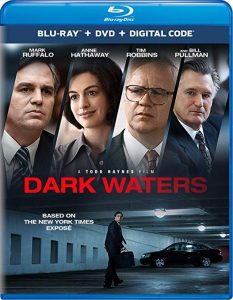 THE MOVIE:
This film is based off the true story of a local farmer Wilbur Tennant (Bill Camp) wanting to make the huge company DuPont pay for ruining his land, cows, and way of living. DuPont decided to buy some land next Tennant's property. DuPont turned the land into a huge landfill but what the community didn't know is that DuPont was also dispose of a chemical known as PFAS. This chemical not only killed off the cows owned by Tennant, but it also started damaging the lives of the the residents of the West Virginia town.
Bob Bilott (Mark Ruffalo) is a newly partnered lawyer in his law firm which specializes in defending chemical companies. But when Tennant comes to Bilott to help him fight DuPont Billot believes he is obligated to help defend the town he once resided in. After finally figuring out what kind of terror is actually being down Bilott sacrifices everything to make things right.
This story is a thriller of the large million dollar company vs the small time citizens. How much the company is willing to fight with their lawyers and money when the smaller man has to find all the facts and fight tooth and nail. Overall, this film was defiantly one that didn't get a ton of recognition. Mark Ruffalo did an excellent job in this role. Anne Hathway and Tim Robbins were the kind of supporting actors this film needed to help Ruffalo look even better.
VIDEO/AUDIO QUALITY:
The video on blu-ray is a 1080p quality was well done. This film is based off a lawsuit so there isn't too much action that would make it worth being on a 4K release in my opinion. The 1080p was clear for every scene and the scenes taken place in dimly lit places was were no issue at all visually.
The audio for the film was also very well throughout. There were a few moments when suspenseful tones were used which were very well used. The movie was really dialogue heavy and the only issue I had was one of the characters super thick accent was briefly hard to fully understand, but that was mainly due to the character himself. But besides that there were no issues at all.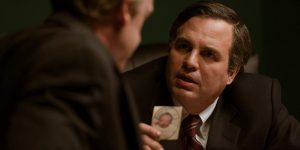 SUPPLEMENTS:
Bonus Features:
Uncovering Dark Waters
The Cost of Being a Hero
The Real People
Disc Details:
Blu-ray
DVD
Digital Copy
Running Time:
127 min.
Edition Ratings:
Rated PG-13
Region Coding:
Region A
Video Resolution:
Resolution: 1080p (2.39:1)
Audio Mixes:
English (Dolby Digital 5.1)
Spanish
French
Subtitles:
English
Spanish
French