The Ten Commandments is a 1956 American epic religious drama film produced, directed, and narrated by Cecil B. DeMille, shot in VistaVision (color by Technicolor), and released by Paramount Pictures. The film is based on Prince of Egypt by Dorothy Clarke Wilson, Pillar of Fire by J.H. Ingraham, On Eagle's Wings by A.E. Southon, and the Book of Exodus.
Purchase The TEN COMMANDMENTS on Blu-ray Today!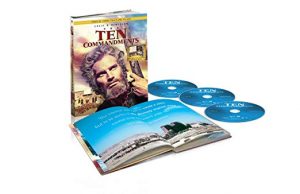 THE MOVIE:
THE TEN COMMANDMENTS, The first part (shot in two-color Technicolor) is adapted from the Book of Exodus, as the prophet Moses leads the Children of Israel from bondage under the Egyptian Pharaohs into the Promised Land. Things go awry, however, when Moses goes to Mount Sinai to receive the Ten Commandments from God and the Israelites renounce their faith to worship the Golden Calf. The second part (shot in black-and-white) shows how the Ten Commandments figure into people's everyday lives through a modern-day parable involving two brothers – one a saint, the other a sinner – in love with the same girl. Architecture and the evils of shoddy construction practices figure in as well as some jaunty 1920s dialog and fashions.. Remade by DeMille in 1956 with Charlton Heston as Moses.
VIDEO QUALITY /AUDIO QUALITY:
THE TEN COMMANDMENTS looks amazing on blu-ray given its age. A testament to the technicolor from the past that holds up well with remastering and restoration work in today's times. The 1956 version comes with a DTS HD Master Audio 5.1 track where as the 1923 silent film has English 2.0 Dolby Digital (music)
SUPPLEMENTS:
Audio
English DTS-HD Master Audio 5.1 Surround
English Mono 2.0
French Dolby Digital 2.0
Spanish Dolby Digital 2.0
Portuguese Dolby Digital 2.0
Subtitles
English SDH
English
French
Spanish
Disc Features:
1956 Features:
Commentary: – Commentary by Katherine Orrison, author of Written in Stone: Making Cecil B. DeMille's Epic, The Ten Commandments
Newsreel: The Ten Commandments – Premiere in New York HD
Theatrical Trailers HD
The Ten Commandments: Making Miracles
Photo Gallery
1923 Features:
Hand Tinted Footage of the Exodus and parting of the red sea sequence
Photo Gallery
The Ten Commandments is a 1923 American silent religious epic film produced and directed by Cecil B. DeMille. Written by Jeanie MacPherson, the film is divided into two parts: a prologue recreating the biblical story of the Exodus and a modern story concerning two brothers and their respective views of the Ten Commandments. – wikipedia