Spies in Disguise is a 2019 American computer-animated spy comedy film produced by Blue Sky Studios and distributed by 20th Century Fox. Loosely based on the 2009 animated short Pigeon: Impossible by Lucas Martell, the film is directed by Troy Quane and Nick Bruno (in their feature directorial debuts) from a screenplay by Brad Copeland and Lloyd Taylor, and a story by Cindy Davis. It stars the voices of Will Smith and Tom Holland.
Purchase SPIES IN DISGUISE on Ultra HD Blu-ray Today!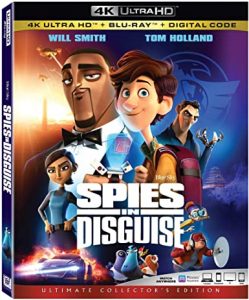 THE MOVIE:
Super spy Lance Sterling and scientist Walter Beckett are almost exact opposites. Lance is smooth, suave and debonair. Walter is not. But what Walter lacks in social skills he makes up for in smarts and invention, creating the awesome gadgets Lance uses on his epic missions. But when events take an unexpected turn, Walter and Lance suddenly have to rely on each other in a whole new way. And if this odd couple can't learn to work as a team, the whole world is in peril. This is a fun flick for the whole family and Will Smith sure knows how to sell it. Lots of laugh out loud moments.
VIDEO QUALITY /AUDIO QUALITY:
SPIES IN DISGUISE comes to Ultra HD Blu-ray with a Dolby Atmos track and a 2160p presentation with High Dynamic Range. (HDR) The audio specifically; Dolby Atmos, English 7.1 DTS-HDMA, Spanish 5.1 DD, French 5.1 DD. The film looks amazing with its color hues and is stellar for 4k with HDR. The sound is also top notch with it's Dolby Atmos track.
SUPPLEMENTS:
Super Secret Spy Mode
Infiltrating Blue Sky Studios
The Top Secret Guide to Gadgets
"Then There Were Two" Music Video
"Freak of Nature" Music Video
Making the Soundtrack "Then There Were Two"
Making the Soundtrack "Freak of Nature"
"Lunch Break" (Digital Exclusive)
Gallery:
Color Keys and Moment Paintings
Character Designs
Locations
Props and Gadgets Concept Art
The film premiered at the El Capitan Theatre on December 4, 2019, and was theatrically released in the United States on December 25, 2019. It has grossed $171 million worldwide and it received generally positive reviews from critics. – wikipedia