Norval Greenwood (Elijah Wood), a privileged musician who still lives with his mother in a Beverly Hills mansion, receives a letter from his estranged father asking him to come and visit him. Norval, who has not seen his father since he was five years old, makes the trek to a secluded cabin overlooking a lake in Oregon.
Own COME TO DADDY on Blu-ray on NOW!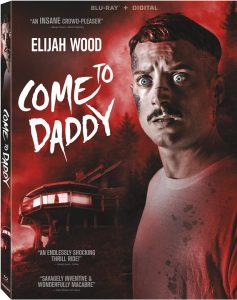 THE MOVIE:
COME TO DADDY stars Elijah Wood as Norval that is traveling to a lake side cabin, in the middle of the woods to visit his estranged father that he hasn't seen since he was five years old. Upon arriving to his fathers cabin things immediately begin to seem quite odd. Norval's father isn't as excited to see him as he expected, often being very strange and stand-offish. Things then begin to become get increasingly worse.
Norval senses that some things aren't what he wanted them to be and decides that it might be better off to go back home to his Beverly Hills mansion. That is when his father snaps and attempts to kill Norval, but the rage his father was having led to his father dropping dead. Just when you think that is the strangest part of the story, it's just beginning. Norval starts drinking and discovers that there was plenty of secrets throughout this lake side cabin.
This movie was defiantly strange and creepy, but also very amusing. Seeing Elijah Wood in these strange roles is always a pleasure. He basically carries this film on his back by displaying how great his acting skills really are. Being able to be very timid one scene then dial it up to psychotic the next.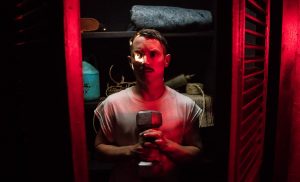 VIDEO/AUDIO QUALITY:
The video on blu-ray is a 1080p quality was excellent for this caliber of film. The overall lighting throughout the film was pretty dark since the setting was in the woods or inside a dimly lit cabin. But thankfully the video quality didn't suffer. It actually fit the film very well with the mood they were trying to get across.
The audio for the film was also very clear and had zero issues with any of the dialogue and music. Elijah Wood typically is a fairly low speaking but there was no problem hearing any of his scenes. The score for this film was also very excellent. The creepy tones really fit the film very well.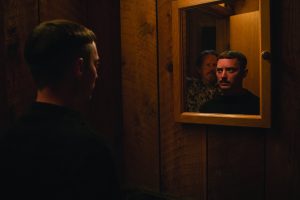 SUPPLEMENTS:
Bonus Features:
Disc Details:
Blu-ray
Digital Copy
Running Time:
95 min.
Edition Ratings:
Rated R
Region Coding:
Region A
Video Resolution:
Resolution: 1080p (2.39:1)
Audio Mixes:
English (Dolby Digital 5.1)
Spanish
Subtitles:
English
Spanish