Star Wars: The Rise of Skywalker (also known as Star Wars: Episode IX – The Rise of Skywalker) is a 2019 American epic space opera film produced, co-written, and directed by J. J. Abrams. It is the third installment of the Star Wars sequel trilogy, following The Force Awakens (2015) and The Last Jedi (2017), and the final episode of the nine-part "Skywalker saga".
Purchase Star Wars: The Rise of Skywalker on Ultra HD Blu-ray Today!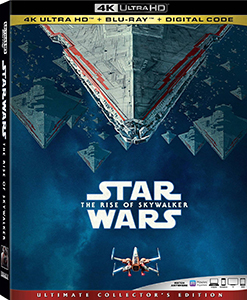 THE MOVIE:
When it's discovered that the evil Emperor Palpatine did not die at the hands of Darth Vader, the rebels must race against the clock to find out his whereabouts. Finn and Poe lead the Resistance to put a stop to the First Order's plans to form a new Empire, while Rey anticipates her inevitable confrontation with Kylo Ren.
VIDEO QUALITY /AUDIO QUALITY:
Star Wars: The Rise of Skywalker comes to UHD with HDR10 that impresses with vibrant colors and deep darks. The space opera allows for light saber hues and blasters that just look super cool in UHD HDR10. The audio track is a 7.1 Dolby True HD track at its core, but boasts Dolby Atmos. Loud and boisterous; it will rock your socks off.
SUPPLEMENTS:
The 4K disc does not contain any special features and they are found on the accompanied Blu-ray Disc. They are listed below.
The Skywalker Legacy
Pasaana Pursuit: Creating the Speeder Chase
Aliens in the Desert
D-O: Key to the Past
Warwick & Son
Cast of Creatures
The Rise of Skywalker had its world premiere in Los Angeles on December 16, 2019, and was theatrically released in the United States on December 20, 2019. It received mixed reviews from critics, who praised the acting, action sequences, musical score, and visual effects, but criticized the story, pacing, and perceived departures from the plot and themes of The Last Jedi. – wikipedia