Dolittle (also referred to as The Voyage of Doctor Dolittle) is a 2020 American fantasy adventure film directed by Stephen Gaghan from a screenplay by Gaghan, Dan Gregor, and Doug Mand, based on a story by Thomas Shepherd. A reboot of the original Doctor Dolittle film and its modern comedy counterparts, the film is based on the titular character created by Hugh Lofting, and primarily inspired by The Voyages of Doctor Dolittle, the author's second Doctor Dolittle book.
Purchase Dolittle on Ultra HD Blu-ray Today!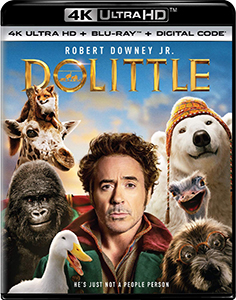 THE MOVIE:
Dr. John Dolittle lives in solitude behind the high walls of his lush manor in 19th-century England. His only companionship comes from an array of exotic animals that he speaks to on a daily basis. But when young Queen Victoria becomes gravely ill, the eccentric doctor and his furry friends embark on an epic adventure to a mythical island to find the cure.
VIDEO QUALITY /AUDIO QUALITY:
DOLITTLE comes to Ultra HD Blu-ray with Dolby Atmos audio and HDR10, HDR10+, Dolby Vision. All of which combined, no matter how you view, showcase a warm and vibrant picture that takes this epic and allows it to pop right off the screen. The Dolby Atmos track is an immersive experience that you will surely enjoy.
SUPPLEMENTS:
BONUS FEATURES ON 4K ULTRA HD, BLU-RAY, DVD AND DIGITAL:
TALK TO THE ANIMALS – Dolittle is surrounded by a motley cast of characters. Take a peek at all the fun the cast had giving each of the animals their unique voice.
ROBERT DOWNEY JR. & HARRY: MENTOR AND MENTEE – Acting opposite a legendary actor like Robert Downey Jr. can be an intimidating experience, but Harry Collett handled it like a pro. See the unique bond the two actors formed on-set, and how Downey took the film's young co-star under his wing.
BECOMING THE GOOD DOCTOR – See the process of how this team of talented artists brought this film to life, and how Robert Downey Jr. transformed into the iconic Dolittle.
ANTONIO BANDERAS: PIRATE KING – Antonio Banderas discusses what attracted him to the project, his experiences working with Robert Downey Jr., and what he brought to the role of King Rassouli.
THE WICKED DR. MÜDFLY – Who is the nefarious villain Dr. Blair Müdfly? Michael Sheen dives into his character's motivations for being Dolittle's foil.
A MOST UNUSUAL HOUSE – It takes a special home to accommodate humans and animals alike. Explore the unique rooms and modifications that allow Dolittle to house anyone or anything – big or small.
Robert Downey Jr. stars as the title character, alongside Antonio Banderas and Michael Sheen in live action roles, and a voice cast including Emma Thompson, Rami Malek, John Cena, Kumail Nanjiani, Octavia Spencer, Tom Holland, Craig Robinson, Ralph Fiennes, Selena Gomez, and Marion Cotillard. – wikipedia