JUST MERCY is a 2019 American legal drama film directed by Destin Daniel Cretton, and starring Michael B. Jordan, Jamie Foxx, Rob Morgan, Tim Blake Nelson, Rafe Spall, and Brie Larson. It tells the true story of Walter McMillian, who, with the help of young defense attorney Bryan Stevenson, appeals his murder conviction. The film is based on the memoir of the same name, written by Stevenson.
Own JUST MERCY on Blu-ray on APRIL 14th!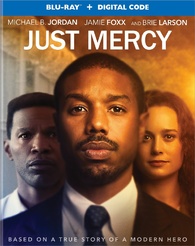 THE MOVIE:
This film is based off the true story  is based  how much different death row conviction trials were in the south in the 1980's. The film starts down in Alabama when Walter "Johnny D." McMillian (Jamie Foxx), gets arrested and convicted for the murder of a young caucasian girl and is sentenced to death row. With all hope lost for him to appeal his case and learning to just accept his fate even through his case and innocence is very strong.
Bryan Stevenson (Michael B. Jordan), who is a very young and eager law school graduate from Harvard wants to change the way people are so easily put on death row in the south. How most African-Americans aren't given the same rights and are often times guilty as soon as they are arrested. Bryan with the help of Eva Ansley (Brie Larson), are quickly the outcasts in this Alabama town for trying to help people who the town believe should be executed.
Overall, this film displays some strong acting skills from Michael B. Jordan, who is quickly proving that he is able of multiple genre roles. His chemistry with Jamie Foxx is really easy to see and having Brie Larson as a supporting role is just icing on top. All three actors were able to make this story flow very easily and as close to the people the characters are based off of with ease.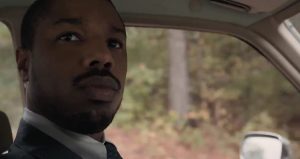 VIDEO/AUDIO QUALITY:
The video on blu-ray is a 1080p quality was up to par for what the film needed to accomplish. The majority of the film takes place in well lit areas such as courtrooms or during the day. There aren't any action scenes or much use for CGI so a 4K release wouldn't have been required. The film was very smooth throughout and I had zero complaints.
The audio for the film was also very well done. The film is fairly dialogue heavy since its all about law, so there are a lot of interviews and cross-examination taking place. Even while taking place in a courtroom or empty interrogation room the echos that would normally take place did not disrupt the film audio one bit. Having actors like Jordan, Foxx and Larson who know how to deliver lines loud and clear made the audio excellent.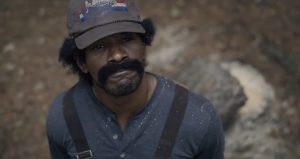 SUPPLEMENTS:
Bonus Features:
Disc Details:
Blu-ray
Digital Copy
Running Time:
136 min.
Edition Ratings:
Rated PG-13
Region Coding:
Region A
Video Resolution:
Resolution: 1080p (1.85:1)
Audio Mixes:
English (Dolby Digital 5.1)
Spanish
French
Portuguese
Subtitles:
English
Spanish
French
Portuguese