The Gentlemen is a 2020 action comedy film written, directed and produced by Guy Ritchie, from a story by Ivan Atkinson, Marn Davies, and Ritchie. The film stars Matthew McConaughey, Charlie Hunnam, Henry Golding, Michelle Dockery, Jeremy Strong, Eddie Marsan, Colin Farrell and Hugh Grant. It follows an American marijuana kingpin in England who is looking to sell his business, setting off a chain of blackmail and schemes to undermine him.
Purchase THE GENTLEMEN on Ultra HD Blu-ray Today!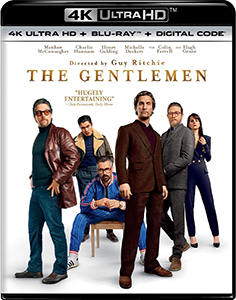 THE MOVIE:
Mickey Pearson is an American expatriate who became rich by building a highly profitable marijuana empire in London. When word gets out that he's looking to cash out of the business, it soon triggers an array of plots and schemes including bribery and blackmail from shady characters who want to steal his domain.
VIDEO QUALITY /AUDIO QUALITY:
THE GENTLEMEN comes to Ultra HD Blu-ray with HDR10 and a Dolby Atmos track. THE GENTLEMEN features a diverse cinematic experience in that there are many different color hues, palettes and scenic views. That said the HDR10 really shines in displaying those darks and brights in deep and vibrant color depth. The Dolby Atmos track handles the film quite well as there is as much dialogue as their is action.
SUPPLEMENTS:
BONUS FEATURES EXCLUSIVE TO 4K ULTRA HD, BLU-RAY™?, DVD & DIGITAL:
Behind-the-Scenes of THE GENTLEMEN – Get up close with the talented cast of THE GENTLEMEN as they give an inside look at the making of the film and share their experiences working with legendary director Guy Ritchie.
Best Gentlemanly Quips – A selection of some of the funniest lines from THE GENTLEMEN that spotlights the witty writing behind the film.
Glossary of Cannabis – Viewers are given a fun educational montage highlighting the numerous nicknames of Marijuana shown throughout the film.
Photo Gallery
The Gentlemen premiered at the Curzon Mayfair Cinema on December 3, 2019, and was released theatrically in the United Kingdom on January 1, 2020, and in the United States on January 24, 2020, by STXfilms. It received generally positive reviews from critics, with many regarding it as a welcome return to form for Ritchie. – wikipedia