Days of Thunder is a 1990 American sports action drama film released by Paramount Pictures, produced by Don Simpson and Jerry Bruckheimer and directed by Tony Scott. The cast includes Tom Cruise, Nicole Kidman, Robert Duvall, Randy Quaid, Cary Elwes, Caroline Williams, and Michael Rooker.
Purchase DAYS OF THUNDER on 4K Blu-ray Today!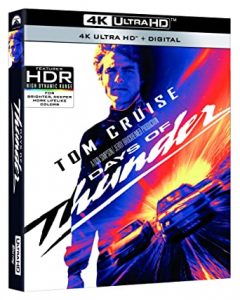 THE MOVIE:
In the fast-paced world of NASCAR, a rivalry brews between rookie hotshot Cole Trickle (Tom Cruise) and veteran racer Rowdy Burns (Michael Rooker). When both of them are seriously injured in competition, the former bitter rivals become close friends. With Cole's spirits restored by a romance with neurosurgeon Dr. Claire Lewicki (Nicole Kidman), and Rowdy still sidelined by injuries, Cole decides to race Rowdy's car in the Daytona 500 against underhanded newcomer Russ Wheeler (Cary Elwes).
VIDEO QUALITY /AUDIO QUALITY:
DAYS OF THUNDER comes to Ultra HD Blu-ray 4K with Dolby Vision HDR and 5.1 Dolby True HD. Action packed from start to finish DAYS OF THUNDER races its way into 4K with beautiful Dolby Vision HDR. The Dolby True track isn't too shabby either. Crank this one up and enjoy the ride!
SUPPLEMENTS:
Days of Thunder doesn't come with much in regards to special features. However the below features are included.
Filmmaker Focus: Days of Thunder
Isolated Score
This is the first of three films to star both Cruise and Kidman (the other two being Far and Away and Eyes Wide Shut). The film received mixed reviews, with criticism aimed at its unrealistic special effects, characters, screenplay, acting, dialogue and similarities to Top Gun, but was widely praised for its action sequences, Hans Zimmer's musical score, fast pace, and the performances of Cruise and Kidman. – wikipedia