Selena comes to blu-ray for the first time ever from Warner Archive. The much anticipated Jennifer Lopez version comes fresh to us in 2020 with the new Netflix series right around the corner.
Purchase Selena on Blu-ray Today! Or Direct from Warner Archive HERE!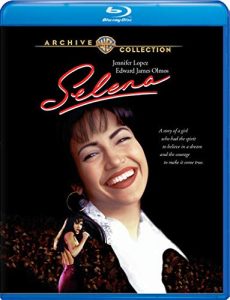 THE MOVIE:
In this biographical drama, Selena Quintanilla is born into a musical Mexican-American family in Texas. Her father, Abraham, realizes that his young daughter is talented and begins performing with her at small venues. She finds success and falls for her guitarist, Chris Perez, who draws the ire of her father. Seeking mainstream stardom, Selena begins recording an English-language album which, tragically, she would never complete.
The nuts and bolts of the irresistibly danceable music called Tejano are pop, rock, polka, R&B and Latin influences. To millions of fans, there's another vital ingredient: the dynamic singer Selena. Selena is the vibrant story of the Grammy®-winning singer whose life ended at its creative peak. Pulsating with Selena's voice on the soundtrack, the film is bracingly authentic. In the title role, Jennifer Lopez powerfully captures the warmth and electricity of a beloved entertainer. Edward James Olmos, Jon Seda and others also shine in "a poignant, heartwarming movie that deserves a standing ovation" (Jules Peimer, WKDM-RADIO/NEW YORK).
VIDEO QUALITY /AUDIO QUALITY:
1080p Blu-ray with Theatrical and Extended Cut with DTS HD Master Audio 5.1 track with English Subtitles and SDH.
SUPPLEMENTS:
Documentary Selena: Queen of Tejano
Making of Selena: Ten years later
Outtakes
Theatrical Trailer