The Reluctant Debutante & Sunday In New York Come to Blu-ray from Warner Archive bringing the 1958 and 1963 classics to blu-ray for the first time. Beautiful 1080p transfers coupled with DTS HD Master audio tracks allow these two classics to be viewed in their best form to ever grace home media.
Purchase The Reluctant Debutante on Blu-ray Today! Or Direct from Warner Archive HERE!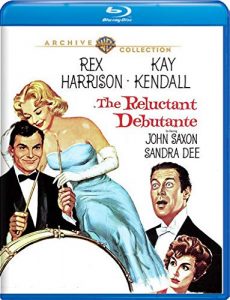 Purchase Sunday In New York on Blu-ray Today! Or Direct from Warner Archive HERE!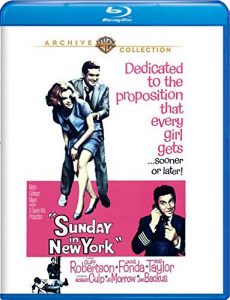 THE MOVIE:
The Reluctant Debutante:
It's social season in London, and amid the swirl of coming-out balls, the aristocratic Broadbents (real-life marrieds Rex Harrison and Kay Kendall) are intent on giving their American-educated 17-year-old daughter, Jane (Sandra Dee), the right entry into society and a proper upper-class beau. One complication: Flighty Mabel Claremont (Angela Lansbury) is eager to match that same beau with her daughter. And another: Jane, of course, has her own ideas about these matters — and an eye for a guy (John Saxon) who's a drummer in the dance band. Comedy is in season for The Reluctant Debutante, a rib-tickler of societal foibles and follies given spirited direction by Vincente Minnelli and featuring a full dance card of deft badinage.
Sunday In New York:
Before she became a great star and two-time Academy Award® winner*, Jane Fonda was a screen ingenue who sent a string of bubbly romantic comedies soaring, including this charmer from the prolific pen of Norman Krasna (Bachelor Mother, The Devil and Miss Jones). Fonda portrays a virginal miss blessed with long limbs and a knockout profile who runs from her fianc� (Robert Culp) to the swingin' pad of her brother (Cliff Robertson) and then into the arms of a guy she meets on the Fifth Avenue bus (Rod Taylor) — all the while trying to decide if she'll say "yes" before she says "I do." Filmed on location, Sunday in New York is a fun, sophisticated romp set to a hip Peter Nero score that features Mel Torm� singing the title tune.
VIDEO QUALITY /AUDIO QUALITY:
1080p Blu-rays on Made to Order discs, DTS HD Master Audio tracks with English Subtitles and SDH.
SUPPLEMENTS:
Trailers