Bottleneck has a lot of love for most aspects of the movie-going experience. One of their most cherished aspects of cinemas has always been movie posters, and they're jumping into a new project by resurrecting and enhancing one of the most interesting experiments in the movie poster field–lenticular posters!

Movie studios in the past would issue 3D (lenticular) movie posters for certain films. Below is a gallery of some of BNG's favorites from back in the day:
However, due to the high cost of these lenticular movie posters, studios shifted to digital posters, and unfortunately lenticular posters fell by the wayside. 

BNG has never been shy of trying new things and as fans of unique and experimental movie posters they believe that lenticular posters shake up the status quo of the standard movie poster, and contain a wealth of creativity.

With that said, BNG has teamed up with some incredible printers to create a new line of officially licensed, high quality lenticular movie prints! The posters will be offered in two versions of lenticular prints:
A thinner (1mm), flexible PET lenticular print mounted on dense paper backing.
A thick lenticular print (4mm), akin to plexi-glass, called polystyrene. We call this one Lenticular Plex for ease of differentiation.
Asked about the difference BNG said:
"The thicker 4mm has a stronger 3D effect due to the construction of the lens, it is also the original lenticular movie posters.

The 1mm is a newer technology, it's thinner and easier to handle, but the effect isn't quite as strong, but you wouldn't be able to tell unless they are side by side truthfully."

With all that said the first lenticular release is for the sci-fi cornerstone 2001: A Space Odyssey. A movie that groundbreaking deserves an equally groundbreaking poster!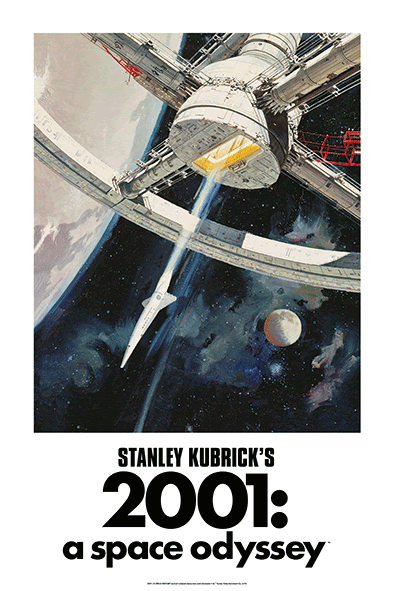 2001: A Space Odyssey – Lenticular
1mm PET mounted on paper backing
24 x 36 inches
Hand-numbered en verso with BNG hologram of authenticity
Limited edition of 300
$100

2001: A Space Odyssey – Lenticular Plex
4mm Polystyrene
24 x 36 inches
Hand-numbered en verso with BNG hologram of authenticity
Limited edition of 200
$200

Please note: All lenticular prints ship flat and cannot be combined with any other order
Estimated to ship in 6 – 8 weeks
The prints will go on sale on Friday (6/12) @ 12PM ET on the BNG homepage.
Switching gears I wanted to also bring your quick attention to a Jim Pollock charity release currently available for purchase. Press release below:
The response to Jim Pollock's last print, We're All In This Together, was tremendous, so we've teamed up with Jim and The Waterwheel Foundation, to create a new edition, and use the unifying image for charity!

We're All In This Together features some of Jim's most notable characters, all together and lovingly cramped in a tub. With widespread civil unrest, a worldwide pandemic, and generally anxious times, Jim's image provides levity, positivity, and with this new edition, a source of charity!

100% of all proceeds from this timed edition of Jim's print will be donated directly to Phish's long-standing charity organization, The Waterwheel Foundation! The Waterwheel Foundation continues to raise money for local charitable causes throughout the United States, and has been a non-profit organization since its inception in 1997. We know these are difficult times for many, and we appreciate how often the art community bands together to support great causes.

Jim's print is available now as a timed-edition release through Friday (6/12) @ 11:59PM ET on the BNG homepage or by clicking on the button below!

All orders are are eligible to win one of a very limited amount of Jim's own colored pages. They will be signed and numbered and included in random orders.

There is no limit to the number of prints that you can purchase. 
We're All In This Together – Charity Edition by Jim Pollock
Fine art digital print
8.5 x 11 inches
Signed and hand-numbered timed edition
Edition size will be determined by the number of prints sold
through Friday, June 12th @ 11:59PM ET
$30

100% of proceeds go to The WaterWheel Foundation
All orders are eligible to win one of a very limited amount of Jim's own colored pages. They will be signed and numbered and included at random.
Please allow 4 – 6 weeks for shipping