From Grey Matter Art:
Greetings friends, we've got 2 fun releases for you all this week! We see UK. graphic designer and artist, Matt Ferguson tackle the 2017 Web-Slinging Super-Hero Movie, Spider-Man: Homecoming! This is just a gorgeous poster depicting some fantastic elements from the film, from Peter thwipping around and against the New York Cityscape, to Iron Man soaring in the sky and keeping a close eye on Spidey.

We also have a beautiful artist rendering from character designer and concept artist, Ryan Meinerding who is Head of Visual Development at Marvel Studios! Ryan has been working with Marvel back when the Iron Man Movie was in production and has been such a a huge part of shaping what the MCU has become today while continuing to design inspiring film elements that I'm sure we'll see on the big screen soon enough! He creates this quite impressive concept art for Spider-Man: Homecoming, where we see Spidey in an almost majestic pose with Tony Stark right there with him! 
Spider-Man: Homecoming by Matt Ferguson & Ryan Meinerding Goes On-Sale  Thursday, 7/16 @ 12 PM ET in the GMA Shop!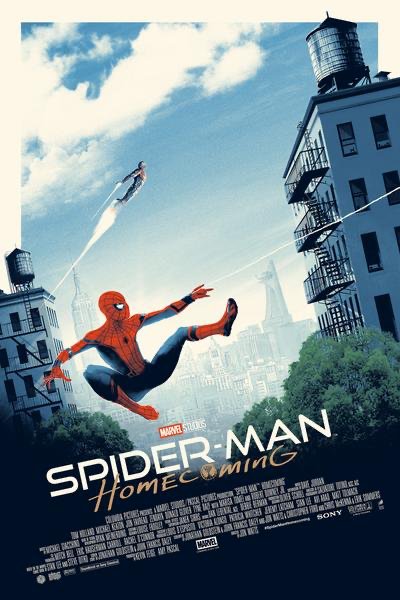 24″ x 36″ Hand-Numbered Screen Print
Edition of 300
Printed by Vahalla Studios
$50
(Co-Released with Bottleneck Gallery)
20″ x 16″ Hand-Numbered Fine Art Giclee (Somerset Velvet 255 gsm)
Edition of 125
Printed by Grey Matter Printing
$45
To stay up on all current releases & info, sign-up for the GMA Newsletter and be sure to follow us on Facebook, Twitter, and Instagram. 
…And learn how to save when you purchase by signing up for our GMA Rewards!