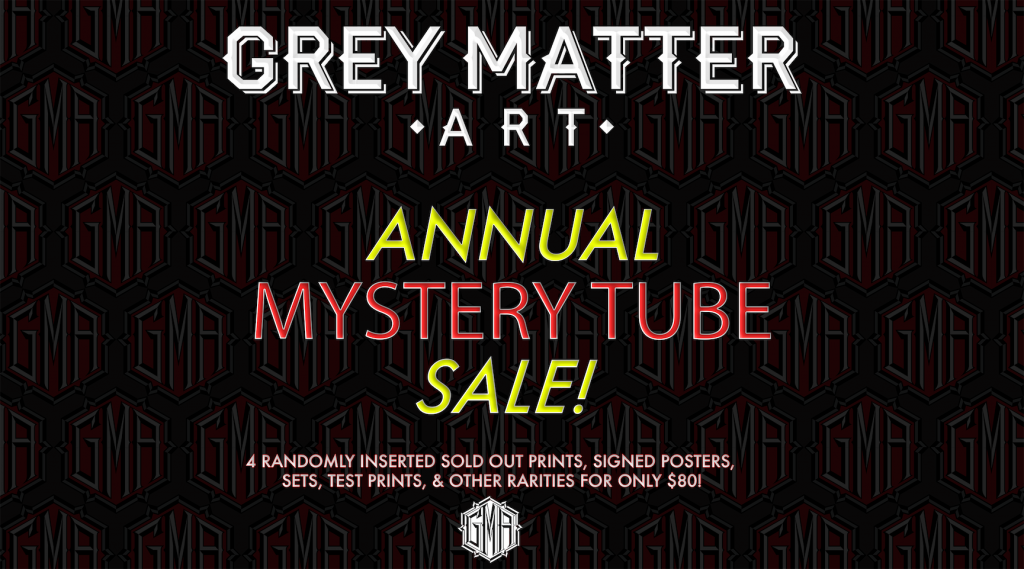 From GMA:
Hey, everyone, it's about that time of year again! As the Holidays are slowly approaching, we can't begin to tell you how thrilled we are to announce our 2020 Black Friday Mystery Tube Sale! In addition to holding back some amazing releases, we also dug way back into our archives, and we think this is shaping up to be one of our best years yet! This years Mystery Tubes include sold-out posters, sets, test prints, nick n' dents, and signed posters from creators and cast members, as well as other rarities, one of which will be included with every order!

GMA Black Friday Mystery Tube Sale Goes Live Today @ 1 PM ET. in the GMA Shop!
Below is a Q & A to answer any questions you may have. 
Q. How many posters will I receive?
A. Each tube will come with 4 posters with each one containing either a set, a signed poster, a one of a kind test print, or a sold-out poster from our shop page.
Q. If I purchase more than one, will I get doubles?
A. No. We will make sure not to put more than one of the same print in either tube and that goes for either a test print, signed print, or sold out poster from our shop.
Q. Will there be a limited amount?
A. Yes, we only have a limited quantity that will be made up.
Q. Can I purchase more than 1 tube at a time?
A. Yes. However, you can only purchase 2 tubes per order. If you want more than 2, you will need to go through the checkout process again.
Q. Can I purchase a poster together with my mystery Tube?
A. All Mystery Tubes are calculated with the shipping of 4 posters per tube, no more! You can inquire about us combining shipping after an additional purchase is made, however, shipping will need to be re-calculated.
Q. How long will the sale last?
A. The Sale will start on Black Friday, November 27th @ 1 PM ET. in the GMA Shop! We only have a set amount, so they will sell out fast.
Q. When will the orders be shipped?
A. Due to the high volume USPS sees during these times, we can not guarantee they will be in hand before the Holidays but we will do our best to accommodate.
Q. Are all sales final?
A. Yes, there will be no refunds, returns, or exchanges. 
 For all updates and information, please follow us on Facebook, Twitter, and Instagram. And be sure to sign up for our Newsletter too!
All the Best,
The GMA Team