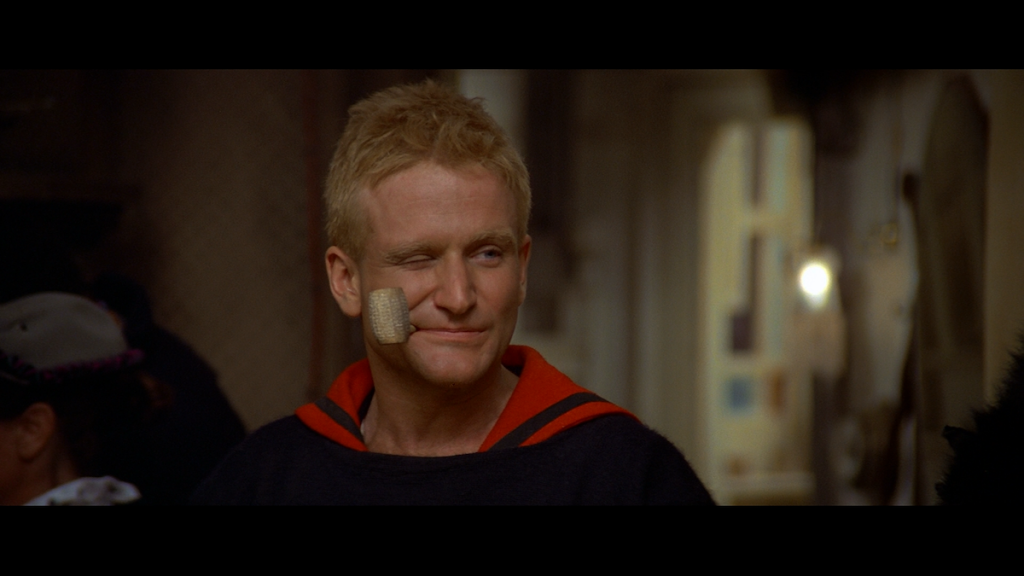 In the isolated town of Sweethaven, Popeye has arrived in search of his Dad. The town is filled with interesting characters, taxes on everything, and full of people just trying to make it. A man called The Commodore is in charge but he is away so he has left Bluto to look after the day to day business.
POPEYE is directed by Robert Altman and his film career began in 1969. He has helmed classics like MASH and THIEVES LIKE US. This film is based on E. C. Segar's comics character of the same name. It made decent money and, over the years, it has become something of a cult classic. The campiness and cartoonish way that everything is presented works for this type of movie. Robin Williams and Shelley Duvall were made to play Popeye and Olive Oyl.
The sets and costume design also look like they're lifted right off of the page. They are like living cartoons that have come to life. In the costumes, the characters have exaggerated shoes and this town has an eclectic population. There are plenty of actors who pop up in various roles throughout the movie so if this is your first time, keep an eye out.
Cast
Robin Williams as Popeye
Jack Mercer as the voice of Popeye in the opening
Shelley Duvall as Olive Oyl
Paul L. Smith as Bluto
John Wallace as Bluto's singing voice
Paul Dooley as J. Wellington Wimpy
Richard Libertini as George W. Geezil
Ray Walston as Poopdeck Pappy
Donald Moffat as The Taxman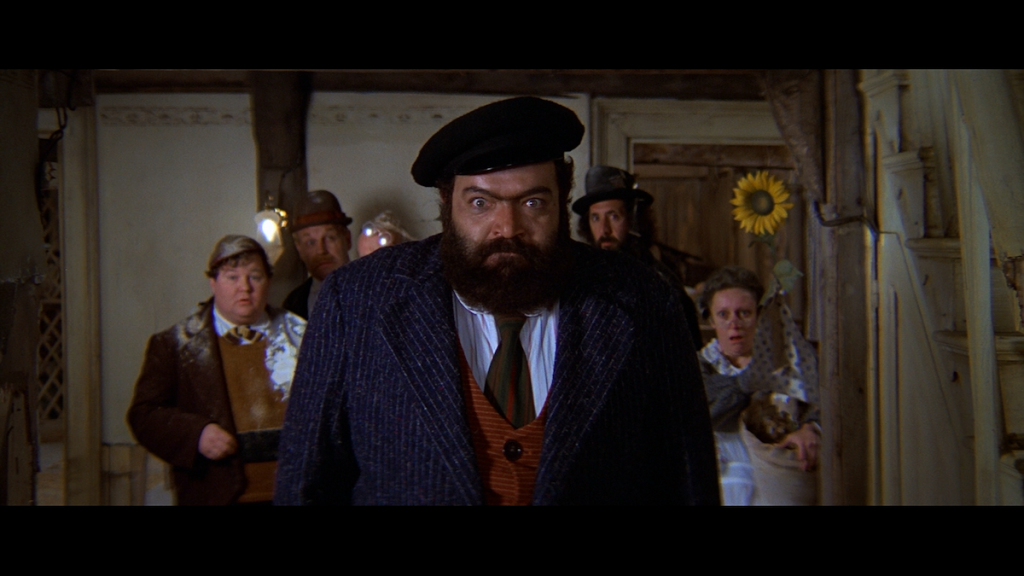 VIDEO QUALITY
The video is a 1080p AVC presentation that has a strong transfer. For the most part, the images on the screen are highly detailed from the costumes to the elaborate setting of Sweethaven. Nothing is lost in the background and it is nice to see this movie in HD since the last time I screened it was on VHS. Colors are bold and are made to have a strong contrast against the drab town. Due to the source material, there are some moments where the picture gets soft and did the best they could. Dirt and speckles have made their way onto the negative but it's sporadic at best. Skin tones are warm and natural.
AUDIO QUALITY
The audio is a lossless Dolby TrueHD 5.1 mix that works the home theater well. There is a robust score that is both singing and instrumental because this is a musical. Clear voices over the supporting music utilize the sound field well. Effects fill the channels with ambient sound and make for a lively experience. Dialogue is clear and prioritized well.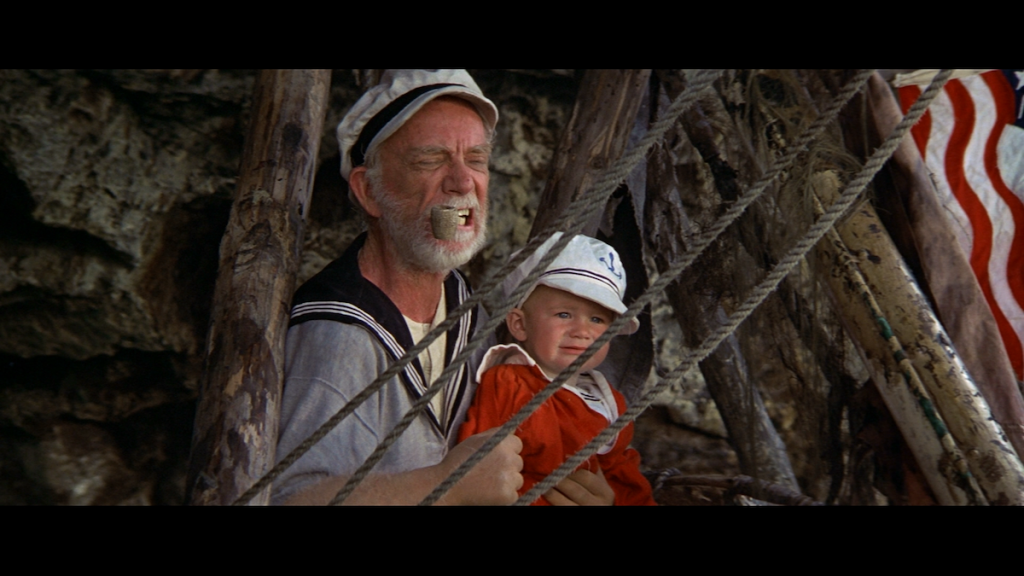 SUPPLEMENTS & PACKAGING
-Return to Sweethaven: A Look Back with Robin and The Altmans: This dives into almost every aspect of making the movie happen.
-The Popeye Company Players: This is about the actors getting ready to be in character.
-Popeye's Premiere: This is a slideshow to music of the premier.
-The Sailor Man Medleys: This allows you to jump around to the sounds in the movie.
Theatrical Trailer
Disc Details
1 Blu-ray Disc
Digital Copy
Running Time
113 mins
Edition Ratings
Rated PG
Region Coding
Region Free
Video Resolution
1080p AVC MPEG-4
Aspect ratio: 2.39:1
Audio Mixes
English Dolby TrueHD 5.1
English Dolby Digital 2.0
Subtitles
English
English SDH
French
THE BOTTOM LINE
To me, POPEYE holds up after all these years and some of the jokes I didn't get when I was younger made me laugh. The audio and video are excellent. The extras are also worth checking out. I highly recommend this to fans and newcomers alike.