THE WAR WITH GRANDPA is a 2020 American family comedy film directed by Tim Hill, from a screenplay by Tom J. Astle and Matt Ember, based upon the novel of the same name by Robert Kimmel Smith. It stars Robert De Niro and Oakes Fegley, along with Uma Thurman, Rob Riggle, Laura Marano, Cheech Marin, Jane Seymour, and Christopher Walken. The film is about a young boy who works to get his grandfather to move out of his room after he moves in with his family.
Own THE WAR WITH GRANDPA on Blu-ray on DECEMBER 22nd!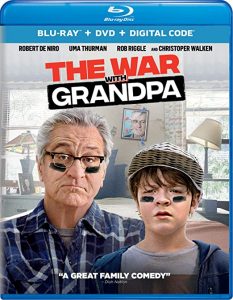 THE MOVIE:
This film begins when an older, retired and widowed gentleman named Ed (Robert De Niro) is caught accidentally stealing groceries at a local shopping center. Ed, who is not up to date with the modern technology of self checkout walks out of the store and begins a riot of senior citizens attacking the grocery store manager. After that event takes place Ed's daughter Sally (Uma Thurman), convinces Ed to move in with her and the rest of his family. After a lot of disagreement of not wanting to leave his home that he built himself Ed eventually gives in and moves in with his family. But that is when the "war" starts.
When moving in with his family Ed is moved into his grandson Peter's (Oakes Fegley) bedroom, forcing Peter to unhappily move into the attic. Peter then decides to begin to prank his grandpa, hoping that Ed will give up the bedroom. After a few pranks Ed decides it is time to prank back and then a declaration of war is agreed upon which eventually the back and fourth pranks get out of hand.
Overall, this film is a pretty fun family film. De Niro has played a grandpa in multiple films by this point and his acting is always amazing so he is always great to watch. Uma Thurman playing the mom role is pretty new to me so that was definitely new to watch un fold. Rob Riggle who plays the dad of the house in this film is always stealing the show when is comes to comedy so every scene he was it I laughed. So, if your family is looking for a family fun film to watch around Christmas that is along the lines of Daddy's Home vibes then this will be a fun watch for the family!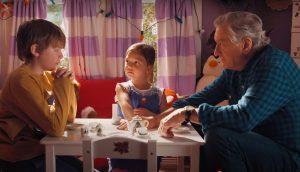 VIDEO/AUDIO QUALITY:
The video on blu-ray is a 1080p quality was up to standards of what the film should be. The film took place inside the home and outdoors about equal so the lighting was very well done in all scenes. There were only a few scenes that took place during the night time and I had no issues with darkness during those scenes.
The audio for the film was also very well done. The film is full of screams and surprises so the audio defiantly got tested. I had zero complaints. The audio mixing was nicely done.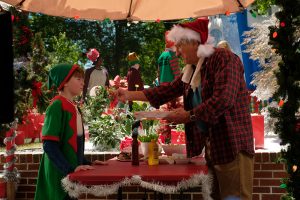 Disc Details:
Blu-ray
DVD
Digital Copy
Running Time:
95 min.
Edition Ratings:
Rated PG
Region Coding:
Region A
Video Resolution:
Resolution: 1080p (1.85:1)
Audio Mixes:
English (Dolby Digital 5.1)
Spanish
Subtitles:
English
Spanish