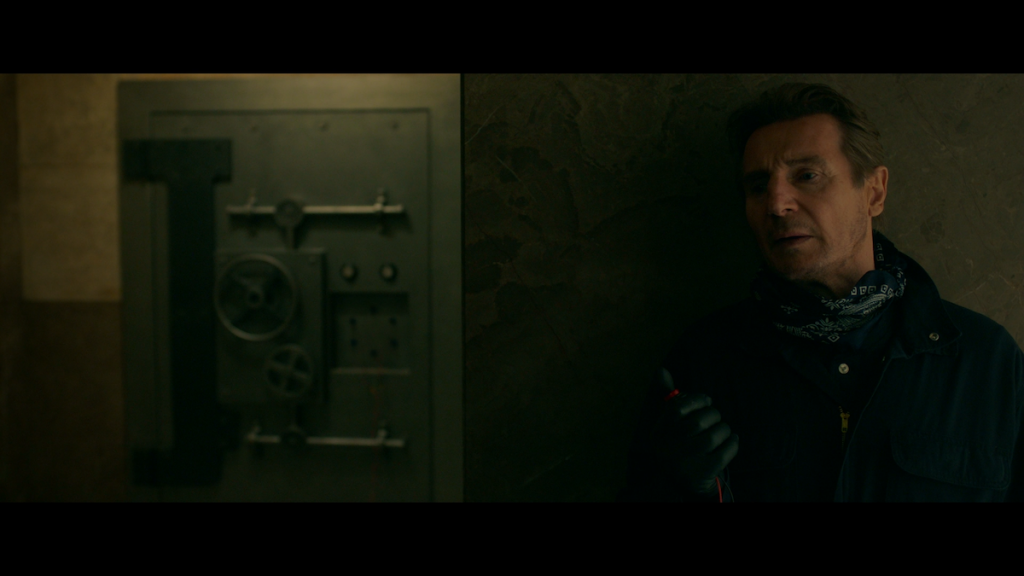 Order your Blu-ray from Amazon
They call him the In and Out Bandit because meticulous thief Tom Carter (Liam Neeson) has stolen $9 million from small-town banks while managing to keep his identity a secret. But after he falls in love with the bubbly Annie (Kate Walsh), Tom decides to make a fresh start by coming clean about his criminal past, only to be double-crossed by two ruthless FBI agents. From the co-creator of the Emmy-nominated series Ozark, thriller Honest Thief showcases Liam Neeson in a heartfelt tale of redemption, packed with fights, chases, and explosions centered on one man's mission to make things right for the sake of love. Honest Thief is written and directed by Mark Williams and stars Liam Neeson (Taken), Kate Walsh (Grey's Anatomy), Jeffrey Donovan (Burn Notice), Jai Courtney (Suicide Squad), and Anthony Ramos (Hamilton). The ensemble cast includes Robert Patrick (Terminator 2: Judgment Day) and Jasmine Cephas Jones (Blindspotting). – Synopsis from Universal Studios.
HONEST THIEF is directed by Mark Williams. His other film is called A FAMILY MAN starring Gerard Butler and Gretchen Mol. This film is with Liam Neeson and it's entertaining. That being said, I think it is safe to say that Neeson has been typecast from TAKEN and he doesn't seem to mind. He plays a person who has been wronged and seeks revenge on the people that did it. Kate Walsh does an excellent job of being a loving girlfriend but also gets frantic when the story gets moving.
Cast
Liam Neeson as Tom Dolan, The In-and-Out Bandit
Kate Walsh as Annie Wilkins
Jai Courtney as Agent John Nivens
Jeffrey Donovan as Agent Sean Meyers
Anthony Ramos as Agent Ramon Hall
Robert Patrick as Agent Sam Baker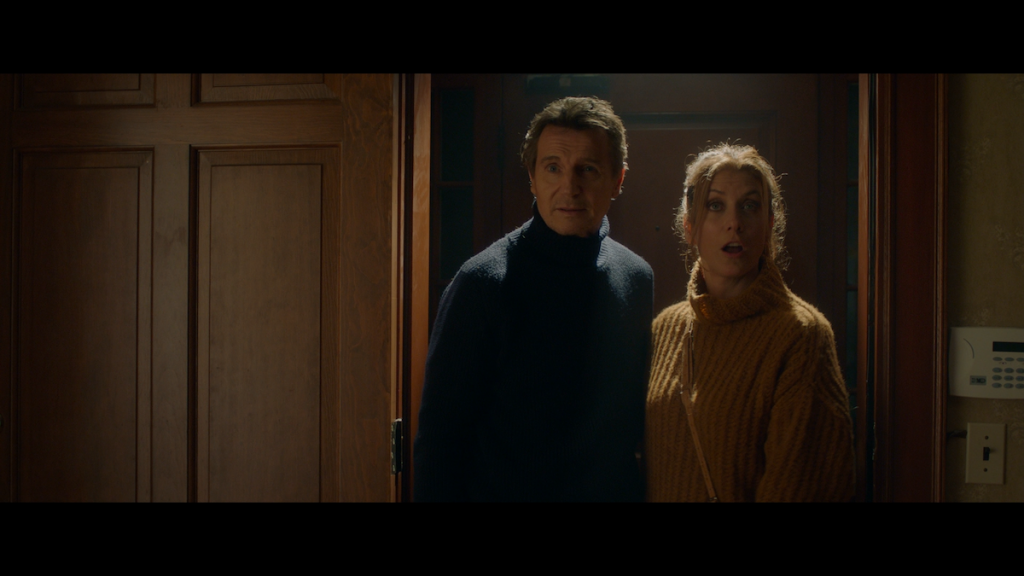 VIDEO QUALITY
The video is a 1080p AVC presentation that was filmed digitally. It has nice coloring and that lends to the tone of the movie. There is a richness in some of the coloring in scenes like when they are looking at a prospective home and the wood is warm. The blacks are deep in the night scenes and shadows dark too. The details are sharp and clear. Skin and clothing have a solid texture that looks excellent.
AUDIO QUALITY
The audio is a lossless DTS-HD Master Audio 7.1 mix that works incredibly well here. Explosions, gunfire, and other action are strong on the track with angelic bass. Other effects are layered well with the score. Surround sound has nice movement in the sound field and is well worth the 7.1 vs a 5.1 track. Dialogue is clear and prioritized properly.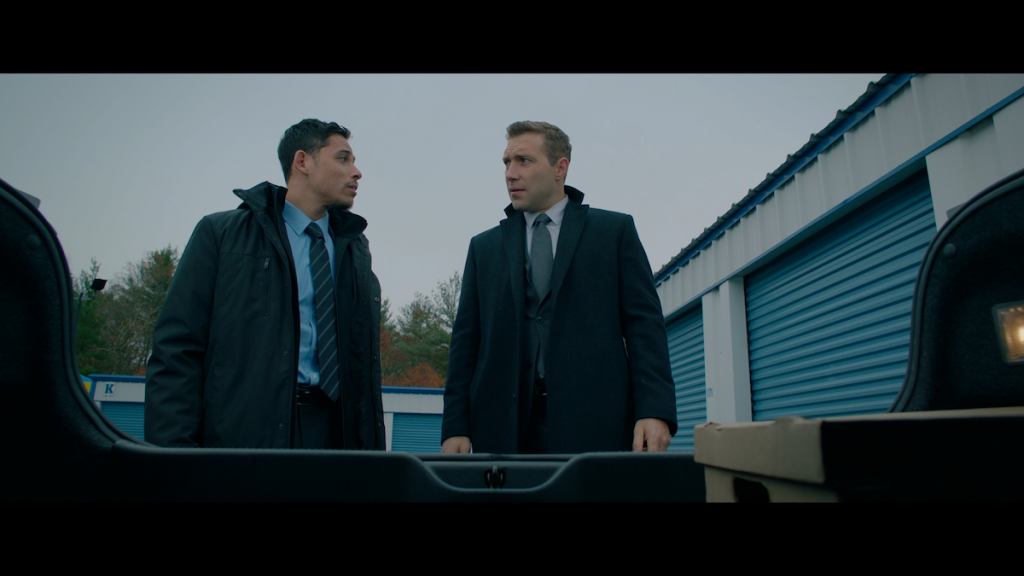 SUPPLEMENTS & PACKAGING
There are no extras included.
Disc Details
2-Disc Set w/1 Blu-ray and 1 DVD
Digital copy including MoviesAnywhere
Slipcover included with initial releases
Running Time
99 mins
Edition Ratings
PG-13
Region Coding
Region Free
Video Resolution
1080p AVC MPEG-4
Aspect ratio: 2.39:1
Audio Mixes
English DTS-HD Master Audio 7.1
Subtitles
English SDH
Spanish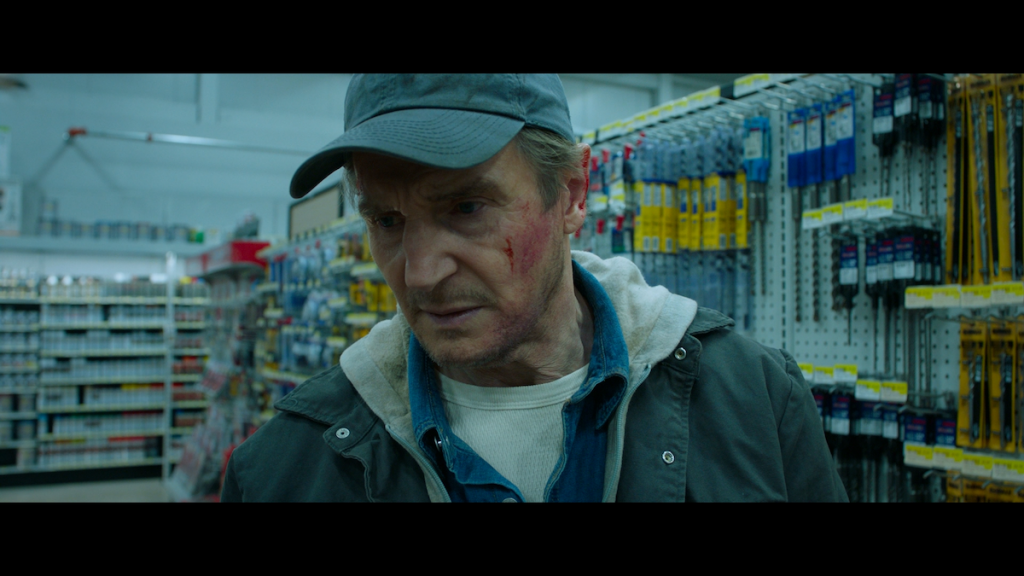 THE BOTTOM LINE
As I mentioned earlier, HONEST THIEF has a familiar feel to a lot of Neeson's movies over the last decade or so. Is it entertaining? Yes and the actors do a convincing job. The Blu-ray has decent video and slightly better audio but there are no extras at all. So, my recommendation is to check it out but rent it before you buy.