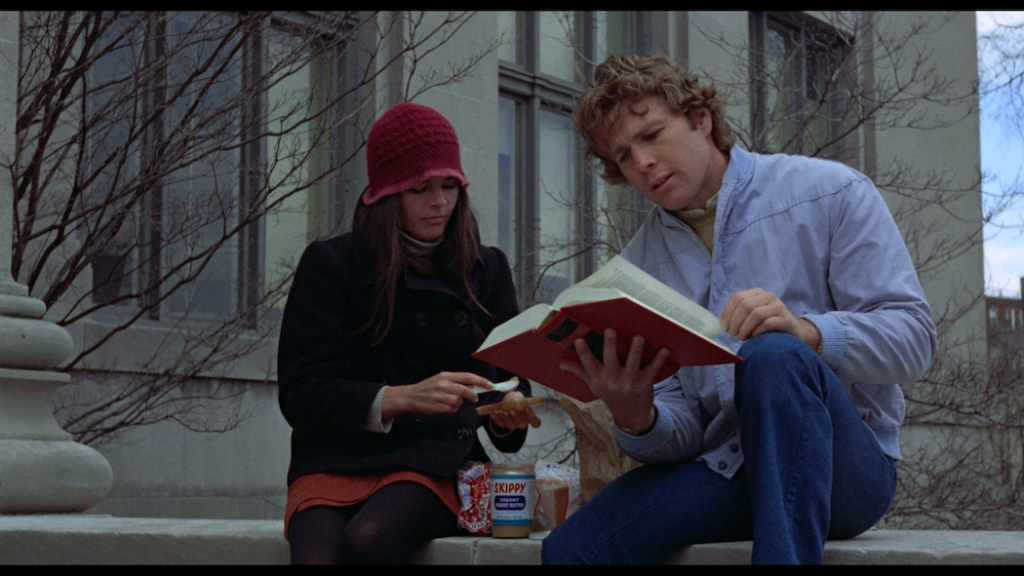 Harvard students Oliver (Ryan O'Neal) and Jennifer (Ali MacGraw) come from opposite backgrounds, but they share a chemistry they cannot deny—and a love they can't ignore. Despite Oliver's wealthy father threatening to disown him, the young couple marries and begins to build their new life together. But fate has other plans, and soon Oliver and Jennifer face a crisis only the strongest of loves can endure. – Synopsis from Paramount Pictures
LOVE STORY is directed by Arthur Hiller. He made many films over his career and a lot of them are classics. In this, love is the driving factor for the couple and it is a good story.
Cast
Ali MacGraw as Jenny Cavilleri
Ryan O'Neal as Oliver Barrett IV
John Marley as Phil Cavilleri
Ray Milland as Oliver Barrett III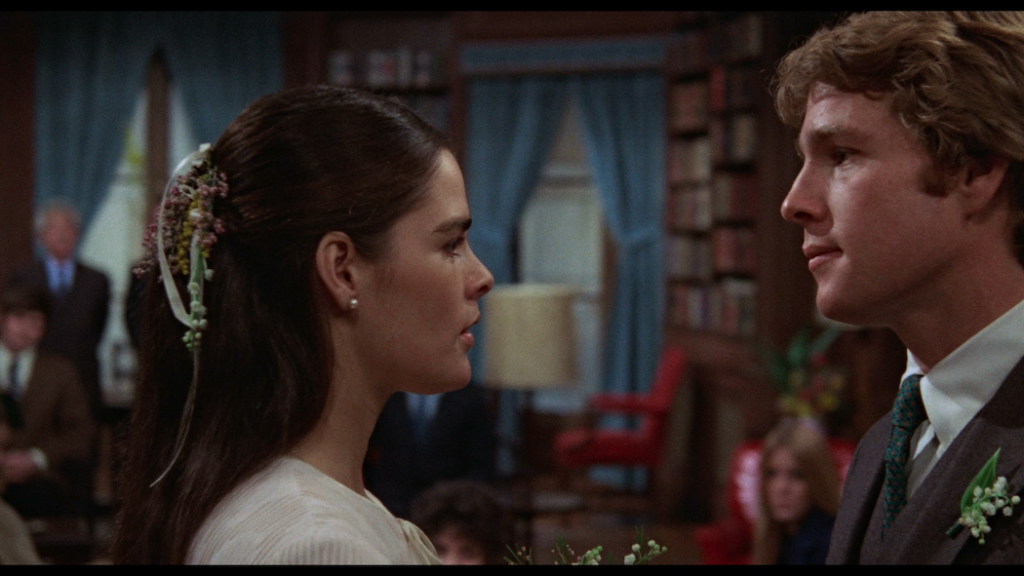 VIDEO QUALITY
The video is a 1080p AVC presentation that has been remastered to 4k to source the Blu-ray and it Is a stunner. The details in the textures of clothing, skin, hair, and other elements. The film grain is there and adds to the charm. The color correction looks accurate and the levels of saturation are subtle. Skin tones are natural to an extent but there is an "aged" hue that is hard for me to explain other than looking at the included screenshots.
AUDIO QUALITY
The audio is a lossless DTS-HD Master Audio 5.1 mix. There is also a Dolby Mono mix that is the original theatrical track. Due to the age of the film and audio capturing devices, the audio does not have the clearest sound. It also shows how audio mixes from the time weren't the complete focus back in the single speaker days. The effects are good and the music is better. Surround channels are effectively used but the mix is center channel heavy.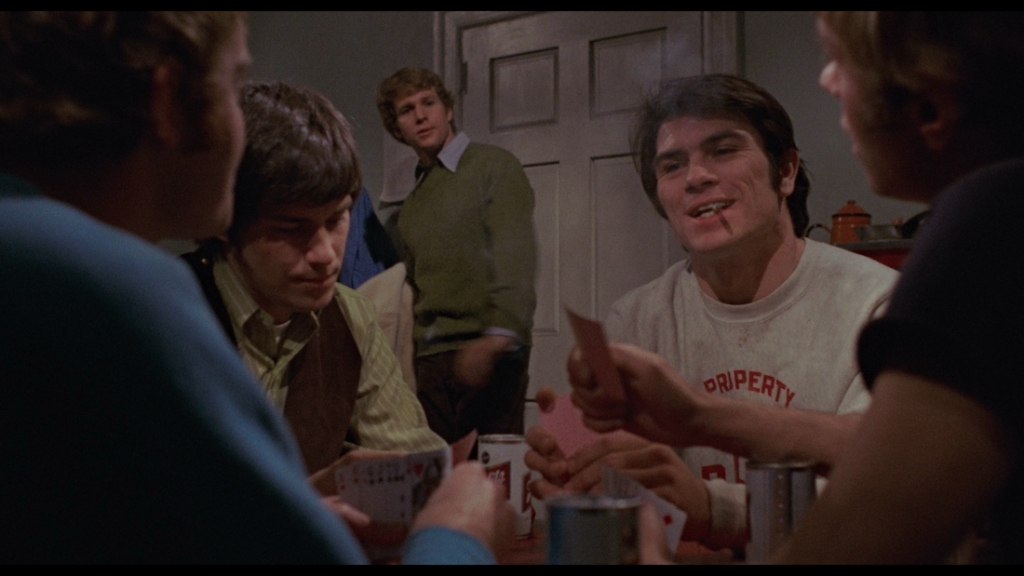 SUPPLEMENTS & PACKAGING
-Audio Commentary: with Director Arthur Hiller.
-TCM Introduction by Ben Mankiewicz.
-Filmmaker Focus: Leonard Maltin on LOVE STORY: This extra is with Maltin discussing the movie in-depth and practically every aspect of the film.
-LOVE STORY: A Classic Remembered
-Theatrical Trailer
Disc Details
1 Blu-ray Disc
Digital Copy Included
Slipcover with the initial release
Gatefold cover with film poster as per Paramount Presents Collection
Running Time
99 mins
Edition Ratings
Rated PG
Region Coding
Region Free
Video Resolution
1080p AVC MPEG-4
Aspect ratio: 1.85:1
Audio Mixes
English DTS-HD Master Audio 5.1
English Dolby Digital Mono
German Dolby Digital Mono
French Dolby Digital Mono
Japanese Dolby Digital Mono
Subtitles
English
English SDH
French
German
Japanese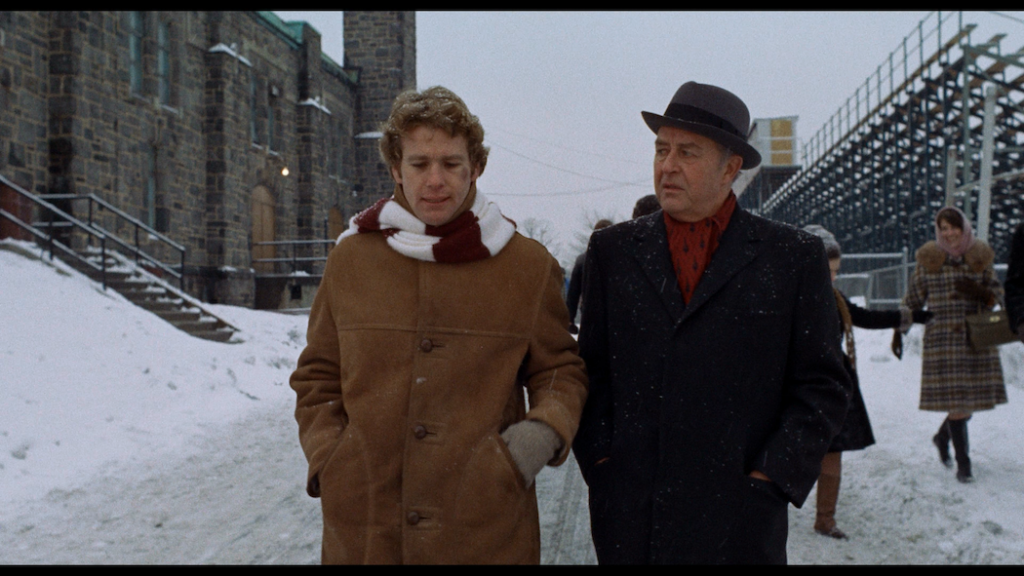 THE BOTTOM LINE
LOVE STORY is something of an experience. There are mixed emotions from the story that can hit a very specific place in a viewer. As for the release, I think I can safely say that this is the best the film has looked ever. The remaster is incredibly clean and the audio is decent. There are a good amount of extras included for plenty of information on the movie. Overall, fans or newcomers will be taken with the quality of the release.