Hasbo in collaboration Robosen Robotics (Shenzhen) Co. Ltd (a leading innovator in the field of robotics, digital drive technology, artificial joint driving algorithms, force feedback technology, artificial intelligence, and programming.) have teamed up with Hasbro to bring the world's most advanced and programmable robot to market to date – the TRANSFORMERS Optimus Prime Auto-Converting Programmable Advanced Robot
Optimus Prime is an industry first Auto-Converting, Interactive, Programmable, Voice Activated, Mobile Controlled robot. through voice activated actions, mobile app controls, and endless hours of creative and fun ways to program Optimus Prime to walk, punch, blast, drive, and convert at the swipe of your finger, or command of your voice Robosen Robotics has brought this fully immersive experience to life. After over 11 years of rigorous R&D, Robosen was able to produce the first-ever consumer robot that features a comprehensive set of functions, including automatic convertible movement from vehicle to robot, bipedal walking ability in robot form, race function in vehicle form, programmable/code development, and robot control/commands by either voice or via mobile app.

All of the products and collectibles will be meticulously designed and crafted with state-of-the-art, high-grade metal alloy parts, combining a classic industrial design with the most cutting-edge robotic technology, while providing an ultimate entertaining experience filled with programming, and pure fun!
19″ tall when in robot mode
Equipped with 80 sound effects, voiced by the original voice of the Autobot leader, with genuine "converting" sounds, as you watch and interact with Optimus Prime.
25 voice activated commands, including "Roll Out", "Convert" and "Attack!,"
Authentic G1 design with detailed emblems, chrome accents and lighting throughout. Built in speakers and 2 microphones
Premium built throughout, with the world's most advanced collection of materials assembled together with over 5000 components, 60 microchips and 27 servo motors making this a one-of-a-kind, Collector's experience!
Turn on and ROLL OUT! Optimus Prime speeds away in truck mode via voice or app. You can seamlessly control Optimus Prime in robot or truck mode via voice or mobile app commands.
Built in rechargeable Lithium-Ion Battery (2000mAh)
Includes a premium protective travel case with premium protective foam travel case
Includes Battle Axe and Blaster, as well as: Charging Cable, Instruction Guide & Travel Case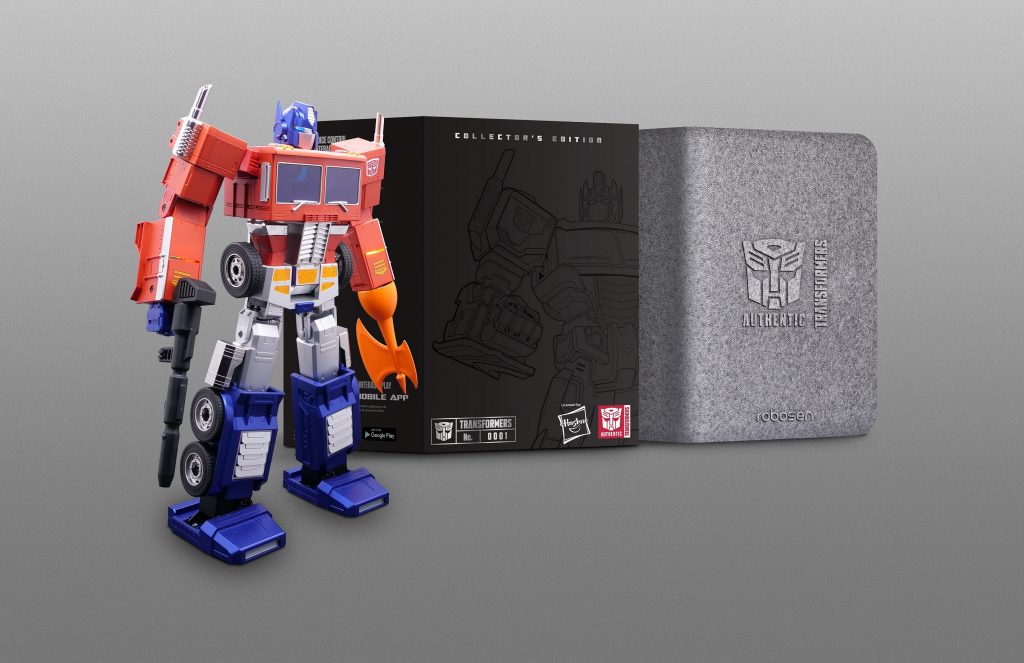 The Collector's Edition is now available for pre-order at Hasbro Pulse and retails for $699 USD.