LAND is a 2021 drama film directed by Robin Wright in her feature directorial debut, from a screenplay by Jesse Chatham and Erin Dignam. The film stars Wright, Demián Bichir and Kim Dickens.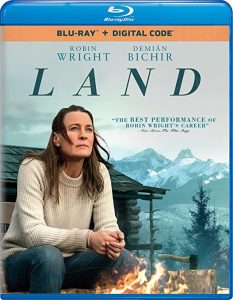 THE MOVIE:
Edee (Robin Wright) tackles a journey in the wilderness after some tragic events have taken place in her life. She decides to go off the grid in Wyoming, but the dangerous Rocky Mountains shows her some difficult issues and she has to be saved by a local hunter named Miguel (Demián Bichir).
Robin Wright really wanted to be front and center in her film directorial debut and it shows that this will be the first but not last film that she has a hand in with her directing skills. She definitely put her all in the performance and behind the scenes in this project.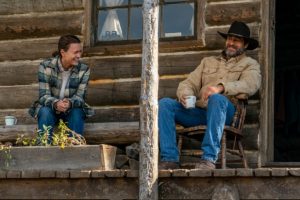 VIDEO/AUDIO QUALITY:
The video on blu-ray is a 1080p quality. The video quality looked very well with all the outdoor shooting. Robin Wright obviously knew what she was doing with all the cinematic shots she focused on getting in her debut directorial film.
The audio for the film was very focused on the outdoor sounds since the majority of the film is in the wilderness. The leafs swooshing around, fire crackling, animal noises. All those sounds on top of clean minimal dialogue made the audio stand out well.
Bonus Features:
Crafting Land
Robin Wright: feature Film Directorial Debut
After The Trauma
Disc Details:
Blu-ray
Digital Copy
Running Time:
1Hr 29Min.
Edition Ratings:
PG-13
Region Coding:
Region A
Video Resolution:
Resolution: 1080p (1.67:1)
Audio Mixes:
English
French
Spanish
Subtitles:
English
French
Spanish