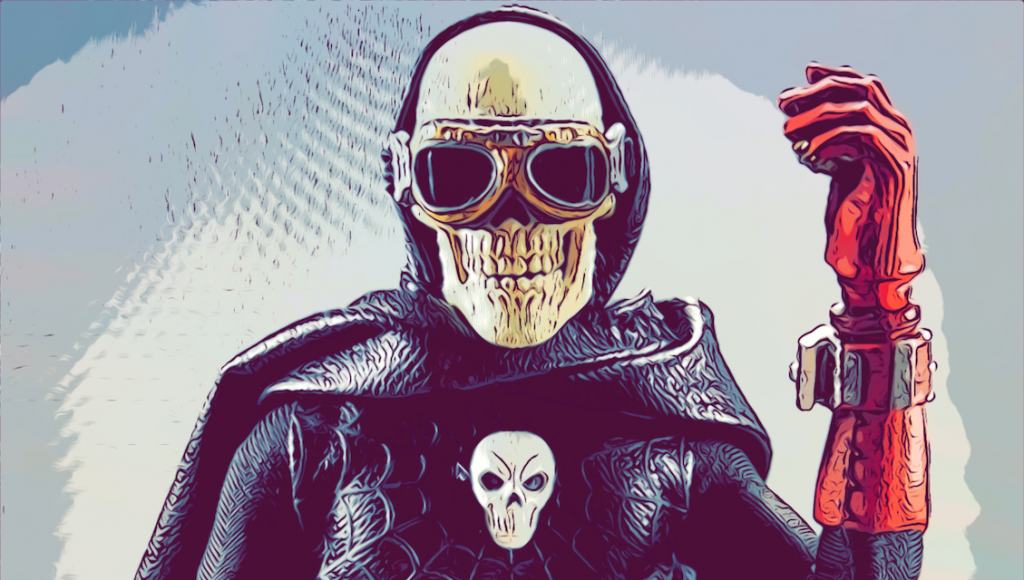 The Rumble Society is Mezco's in-house line of characters who range from heroes to villains to gang members. We are going to be looking at Doc Nocturnal, who is a secretive anti-hero and based on the characters from the old serials, comics, and radio shows.
Now, being that this is a character that has been created by Mezco as a part of the Rumble Society, there is nothing in existence to compare. That being said, this is a very interesting character with his head being a skull and he is kind of an anti-hero. He is something of a megalomaniac and his weapons are there to make sure whatever they're aimed at will die.
PACKAGING:
The packaging on this figure is a much different animal than what is typically used in the One:12 Collective. It has a big gatefold cover and a golden seal with artwork from the Rumble Society. Open it up to the art of Doc Nocturnal that looks like it was pulled from the cover of a comic book. Remove the cover and then you get into the nicely packaged figure.
Also included is a 48-page comic book. It is a magazine-style book with two stories about the character. There is also a look at some of the other characters in this universe. The collectible card set is in the wax packaging is a nice touch. Like the comic book, it has images of villains that are potentially a look at future releases. Lastly, there is a black, screen-printed t-shirt included in the bundle of the Doc. It has the look of an old movie poster with a rescue and villains trying to stop it.
LIKENESS:
As I mentioned, his likeness is compared to nothing so if we were to compare him to the various artwork floating around, he is spot on. He has two head sculpts included: one bone-colored skull and one glowing green skull. Both have a moving mandible and are textured like bone. Both can work with the provided goggles and hood. The cloak has a posing wire to make it look like it's flowing or just has some natural movement. It is removable with a small clasp in the front with the hooded tunic being a separate piece. Moving on down the figure, the hood and poncho are made from a leather-like material with a wrinkled texture. He has a skull on the middle of his chest with a spider web design around it. There are accents of red in his utility belt, gloves, and boots. The base outfit is a stretchy material from head to toe. It looks good and captures that old-school serial aesthetic that Mezco was going for.
ACCESSORIES:
Doc's accessories include:
Two (2) head-sculpts
Eleven (11) interchangeable hands
One (1) Leather-like removable cloak
One (1) gas mask (fits over GID skull head portrait)
One (1) pair of removable goggles
Four (4) Hades Inferno grenades
One (1) Death Ray with removable glow in the dark beam FX
One (1) Ferryman: bespoke handgun
One (1) Iron Talon grapple claw
One (1) Iron Talon grapple claw with posing wire
One (1) Night Watch: wrist-mounted apparatus
One (1) the Device: super-sonic disruptor
One (1) Tommy gun with two (2) removable drum magazines
Two (2) gun blast FX
One (1) base stand and arm for posing
One (1) plastic bag for the accessories.
These might be the most accessories that I have seen (or at least review) so far from Mezco. The mixing/matching possibilities are endless and let you get creative with displays/photos. The elaborate gas mask fits over the GID head and, honestly, looks better with the coloring matching the blast attachment. The Ferryman handgun is fashioned in the style of the old serial sci-fi properties like FLASH GORDON or BUCK ROGERS. I absolutely love it. It just looks so cool and fits the character.
The Tommy gun is standard with nice-looking accent paint and includes 2 drums. This type of weapon has the retro look that works with the figure. There is also a gun blast effect included. His Night Watch is a nice add-on to almost feel like something out of Dick Tracy. The Talon claw is a nice add-on with this type of character using this to get around rather than just a rope and climbing hook. The Night Watch and The Device a small touches that are nice but just not as exciting as the other things. The projectile weapons have the shooting effects that Mezco began including with their releases and they look cool with these weapons. It just adds little something.
The base stand has the same image from the box and the arm is the standard that comes with their releases.
A couple of standouts are easily the weapons and the head sculpts. The hands the basics that you need to mix it up on the figure. There is some nice detailing on the gloves to make them look dirty and worn. There is a touch of grim that suits the character perfectly on each hand.
ARTICULATION:
The flexibility of this figure is insane. They used a body that has the same pose-ability as the Spider-Man and Gomez releases. Both the knees and elbows are double-jointed with thin material over them to ensure the is little to no bunching up. He is very thin and there are really no posing limitations that I could find. The only limitations would be in the accessories like the gas mask no moving how you might want.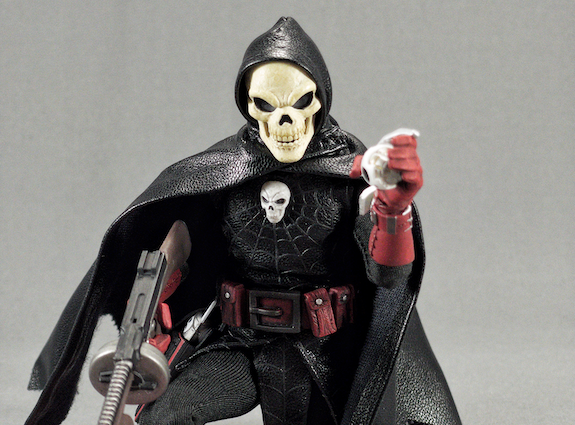 THE BOTTOM LINE:
As I mentioned up top, Doc Nocturnal is an original character and the way that Mezco created this very cool backstory is brilliant. The idea is that this whole world of this anti-hero is going to be fleshed out and in the time to come. He is loaded with a well-thought-out offering of accessories, extremely versatile, and he just looks cool. I can't find any complaints about the figure or things that bother me. Mezco does some of their best work when it is an original property and I'm excited to see where this world goes next.