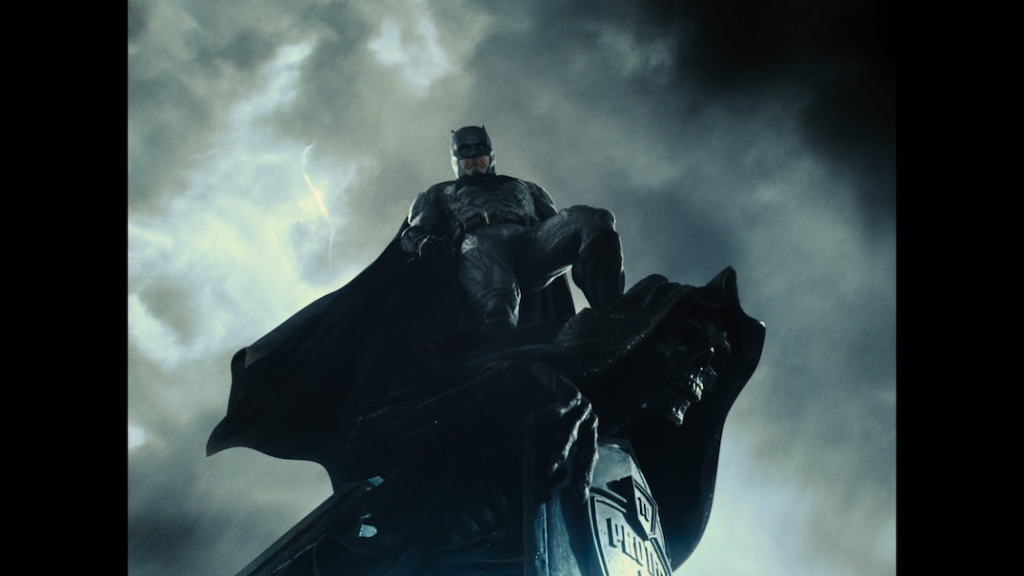 Order your 4k UHD Copy from Amazon
Order your Blu-ray Copy from Amazon
In ZACK SNYDER'S JUSTICE LEAGUE, determined to ensure Superman's (Henry Cavill) ultimate sacrifice was not in vain, Bruce Wayne (Ben Affleck) aligns forces with Diana Prince (Gal Gadot) with plans to recruit a team of metahumans to protect the world from an approaching threat of catastrophic proportions. The task proves more difficult than Bruce imagined, as each of the recruits must face the demons of their own pasts to transcend that which has held them back, allowing them to come together, finally forming an unprecedented league of heroes. Now united, Batman (Affleck), Wonder Woman (Gadot), Aquaman (Jason Momoa), Cyborg (Ray Fisher), and The Flash (Ezra Miller) may be too late to save the planet from Steppenwolf, DeSaad, and Darkseid and their dreadful intentions. – Synopsis from Warner Bros.
Zack Snyder's JUSTICE LEAGUE is written and directed by, you guessed it, Zack Snyder, This is the director's ultimate vision of how he wanted the film to go with some changes in the plot, character development, and even some minor visual changes that made the film fir with his previous entries in the DCEU. It runs at 4 hours 2 mins and is separated into parts for easier consumption.
Now, to be fair, he was given a budget to film what he wanted but I don't think everything he included here would've made it into one movie. It would have to be at least two movies to get the point across. Without being very specific, some of the changes were adding a whole subplot involving Darkseid and how he made Steppenwolf gather the Mother Boxes. The design of Steppenwolf is also so much better than the Whedon version with the new one not only looking more formidable but actually from another world. He has 7-8 fingers and armor that reacts as if it's alive or connected to him in some way. One of the biggest and best changes has to be the restoration of the Cyborg/Victor Stone back story because he was all but removed from the Whedon cut. There are a good amount of scenes from when Snyder began the original production that has made their way into the film and some of those were reshot for continuity.
One other thing that is worth mentioning is that the Snyder Cut is filmed in a 4×3 rather than a 16×9 with the black bars on the sides rather than the top and bottom. This is typically used for IMAX and larger screen formats. This is because Snyder wanted the heroes to have a larger and taller presence rather than what widescreen does to people in films. He wanted grandness rather than the wide shots. Some people took issue with this but honestly, it takes about the same amount of time to adjust as to a letterbox format with the bars on the top and bottom.
Cast
Ben Affleck as Bruce Wayne / Batman
Henry Cavill as Kal-El / Clark Kent / Superman
Amy Adams as Lois Lane
Gal Gadot as Diana Prince / Wonder Woman
Ray Fisher as Victor Stone / Cyborg
Jason Momoa as Arthur Curry / Aquaman
Ezra Miller as Barry Allen / The Flash
Willem Dafoe as Nuidis Vulko
Jesse Eisenberg as Lex Luthor
Jeremy Irons as Alfred Pennyworth
Diane Lane as Martha Kent
Connie Nielsen as Hippolyta
J. K. Simmons as James Gordon
Ciarán Hinds as Steppenwolf
Ryan Zheng as Ryan Choi
Amber Heard as Mera
Joe Morton as Silas Stone
Lisa Loven Kongsli as Menalippe
Jared Leto as The Joker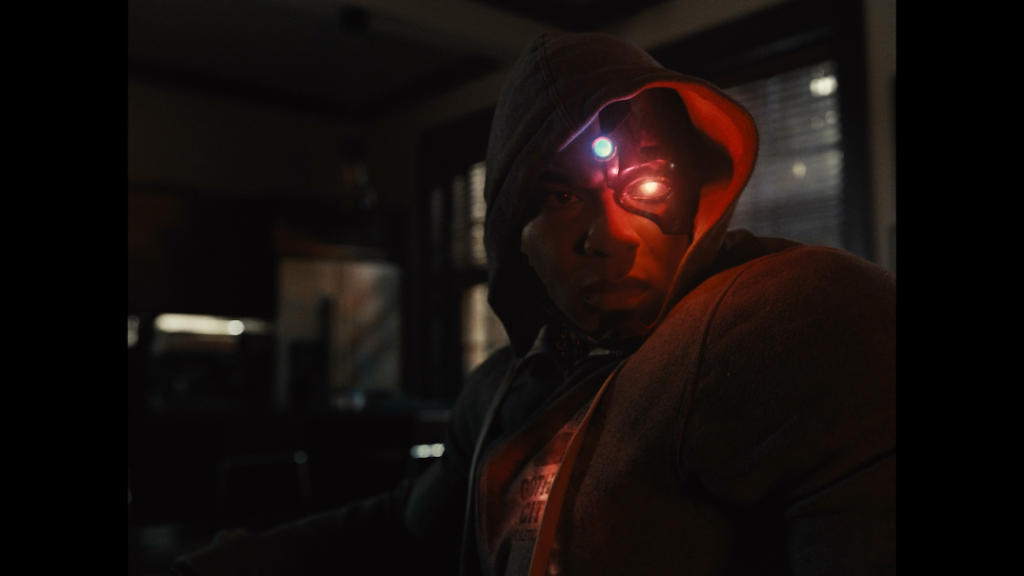 VIDEO QUALITY
The video is a 2160p HEVC presentation that is presented in a 1.33:1 open-matte format. As I mentioned earlier, this is to give the characters a different perspective to make them look like gods we have to look up to. The details in the images are superb due to the film not being compressed onto a single disc but split into two. The film has a strong gain to not look like an overly clean digital capture. Textures in clothing, skin and even the abundant metal build this believable comic book world. Tarnish on the metals in Steppenwolf's armor and Cyborg is a nice touch. Snyder is a visual storyteller and he includes the dark imagery that he likes to use. Sets and vehicles also have been realistically rendered. The colors have been graded properly since MAN OF STEEL and in the same realm of BATMAN V. SUPERMAN: DAWN OF JUSTICE. Colors are brilliant and bold to match the format but in a subtle way. HDR10 lends a hand the keeping the colors looking this way and making the blacks have the inky look that they need. It also helps with the sharp contrast and showing the strength of the format. Due to the darker images and grain, there is a little black crushing but an even thinner amount of banding. Honestly, nothing that is overwhelming in the slightest.
AUDIO QUALITY
The audio is a Dolby Atmos mix that defaults to a Dolby TrueHD 7.1 mix depending on the equipment. This is an incredibly strong mix that has a presence to fit the film. There is consistent sound from the simple ambient sound of the various scene locations to the mixture of effects in a battle scene. The overhead channel creates an amazing immersive viewing experience. There are so many great examples but the best might be in the Gotham tunnels. When Flash is running above the people (trying to keep the spoilers to a minimum), he seems like he is moving around in combination with the other channels. Also, as the other heroes are both ascending/descending in battle, there is so much happening and speakers track the movements perfectly. The highs are crisp and the LFEs are solid. Layered in with the mix is the score by Junkie XL (Thomas Holkenborg) and it has this cool, dirty digital sound. The tough guitars and strong beats work here. Lastly, the dialogue is clean and prioritized properly. This is an excellent mix and also complimentary.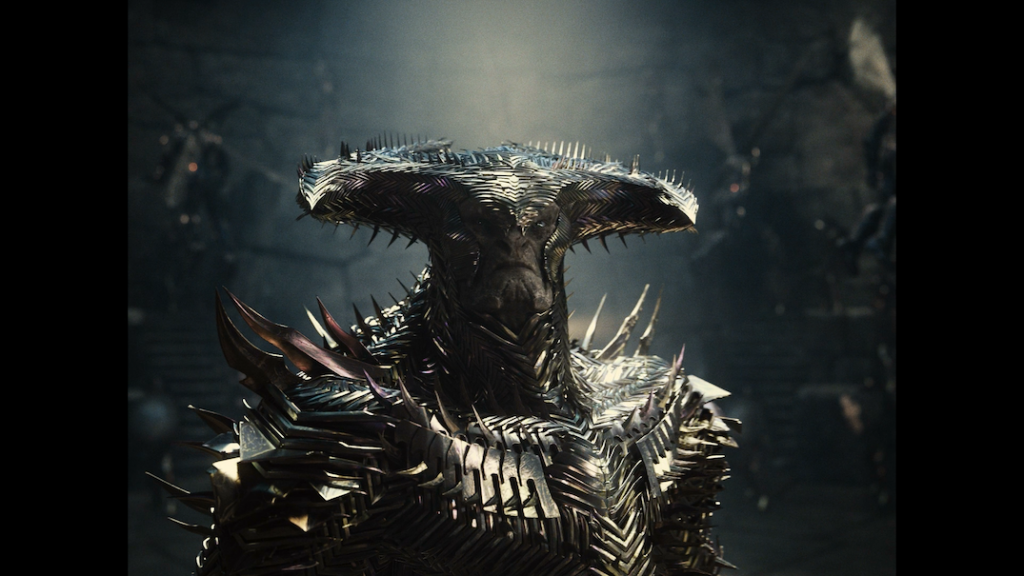 SUPPLEMENTS & PACKAGING
-The Road to JUSTICE LEAGUE: This is the only extra included and it has about a 25-minute runtime. Featured are Snyder with the cast and how they formed the DCEU.
Note: There is no digital copy included
Disc Details
4-Disc Set w/ 2 4k UHDs & 2 Blu-rays
Slipcover
Running Time
242 mins
Edition Ratings
Rated R
Region Coding
Region Free
4k UHD
Video Resolution
2160p HEVC H.265
HDR: HDR10
Aspect ratio: 1.33:1
Audio Mixes
English Dolby Atmos
English Dolby TrueHD 7.1
French Dolby Atmos
French Dolby TrueHD 7.1
German Dolby Atmos
German Dolby TrueHD 7.1
Italian DTS-HD Master Audio 5.1
Spanish Dolby Digital 5.1
Czech Dolby Digital 5.1
Polish Dolby Digital 5.1
Japanese Dolby Digital 5.1
Subtitles
English SDH
French
German SDH
Italian SDH
Japanese
Spanish
Czech
Danish
Dutch
Finnish
Greek
Hungarian
Korean
Mandarin (Simplified)
Mandarin (Traditional)
Norwegian
Polish
Romania
Swedish
Blu-ray
Video Resolution
1080p AVC MPEG-4
Aspect ratio: 1.33:1
Audio Mixes
English Dolby Atmos
English Dolby TrueHD 7.1
French Dolby Digital 5.1
Italian Dolby Digital 5.1
Spanish Dolby Digital 5.1
Spanish Dolby Digital 5.1
Portuguese Dolby Digital 5.1
Czech Dolby Digital 5.1
Polish Dolby Digital 5.1
Polish Dolby Digital 5.1
Slovak Dolby Digital 5.1
Japanese Dolby Digital 5.1
Subtitles
English SDH
French
Italian SDH
Japanese
Portuguese
Spanish
Cantonese
Czech
Danish
Finnish
Korean
Mandarin (Traditional)
Norwegian
Polish
Swedish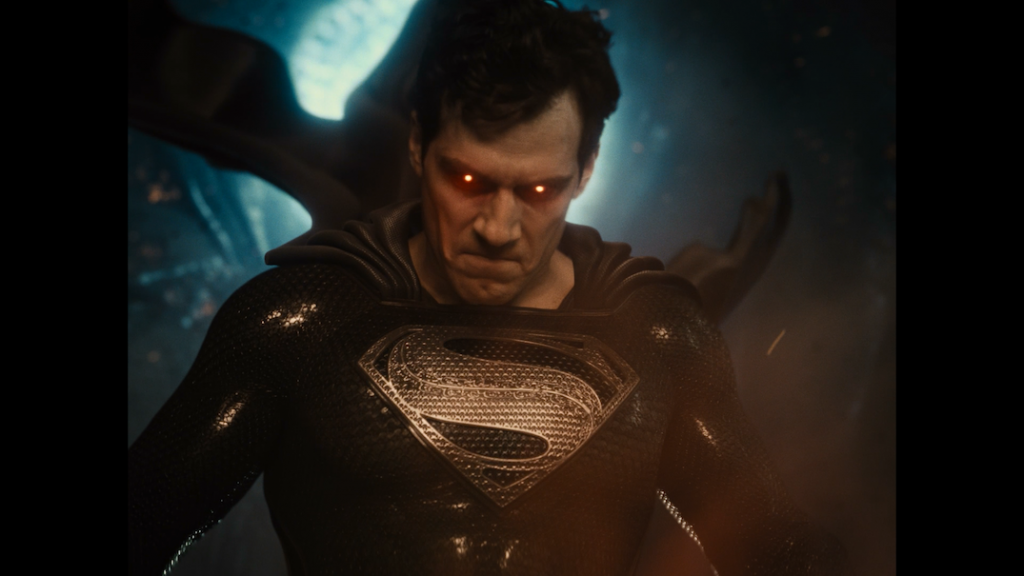 THE BOTTOM LINE
This is, without a doubt, the definitive version of JUSTICE LEAGUE. It has a runtime of a little over 4 hours but, as mentioned earlier, it is on two discs as well as broken into parts. The video is astounding with a tight transfer and authored near perfectly. The audio is reference quality and so strong. There is only one bonus feature but it's a decent one. I'm not surprised but with both the 4k and Blu-ray releases, there is no digital copy. It's the same way as with Netflix releases on physical media: they have a streaming platform that they don't want people watching on other services. This one was worth the wait and I hope that this might continue the path that DC should travel. I highly recommend picking this up to add to the collection.