ESCAPE ROOM: TOURNAMENT OF CHAMPIONS is a 2021 American psychological horror film directed by Adam Robitel and written by Will Honley, Maria Melnik, Daniel Tuch, and Oren Uziel. A sequel to 2019's Escape Room, it stars Taylor Russell, Logan Miller, and Deborah Ann Woll reprising their roles from the first film, alongside new cast members Indya Moore, Holland Roden, Thomas Cocquerel, and Carlito Olivero, and follows a group of six people trying to survive a new series of more deadly escape rooms.
Own ESCAPE ROOM:TOURNAMENT OF CHAMPIONS NOW!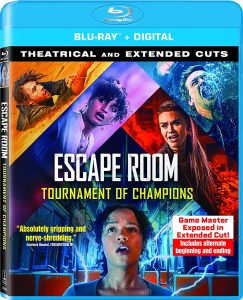 THE MOVIE:
ESCAPE ROOM:TOURNAMENT OF CHAMPIONS is a very well done sequel in this newly established franchise. The first film I throughly enjoyed as it was a new take at the Saw films except not as gory and extreme. This series has a more modern approach to the fun Escape Room activities people are doing with their friends and family.
In this sequel it basically took off where the first film left off. Two players from the previous game on the hunt to discover who is behind all this terror. But of course, these people are not going to be found so easily and they end up in a new series of escape rooms along with other former winners.
Unlike the first film the player knew exactly what are the best clues and the time to execute the escape room in a quicker time seemed to be a drastic change. Because of this change in the games the movies seemed to fly by. It only had twenty minutes left in no time. But, films like this I feel like really hit the sweet spot at a 90 minute runtime.
The connections made in this feel seem to be a little more fast paced since they all were aware of the risks at every turn and the need to work with each other to hopefully escape the rooms safely.
This seems like the first of many sequels that can be adapted based of this story of Escape Room and personally I am all for it. Especially, when they release around the fall for some spooky horror/thriller film vibes.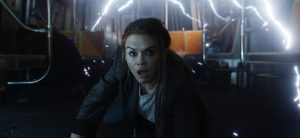 VIDEO/AUDIO QUALITY:
The video on blu-ray is a 1080p quality and with the quality of detail put into every escape room you can really tell. The video quality had zero issues with noticing things in the scenes. Especially, when the main goal of the game is to notice fine details. The audio was also very clear. The film obviously has heavy dialogue more than anything else since they are all having to discuss theories and plans to escape and I had no issues hearing every word of dialogue.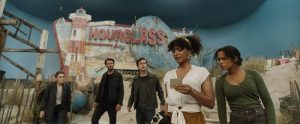 Disc Details:
Blu-ray
Digital Copy
Bonus Features:
Go inside the Minos Escape Room
Meet the Players
Director Adam Robitel on raising the stakes
Running Time:
88 Min.
Edition Ratings:
Rated PG-13
Region Coding:
Region A,B,C
Video Resolution:
Resolution: 1080p (2.39:1)
Audio Mixes:
English
Spanish
French
Subtitles:
English
Spanish
French