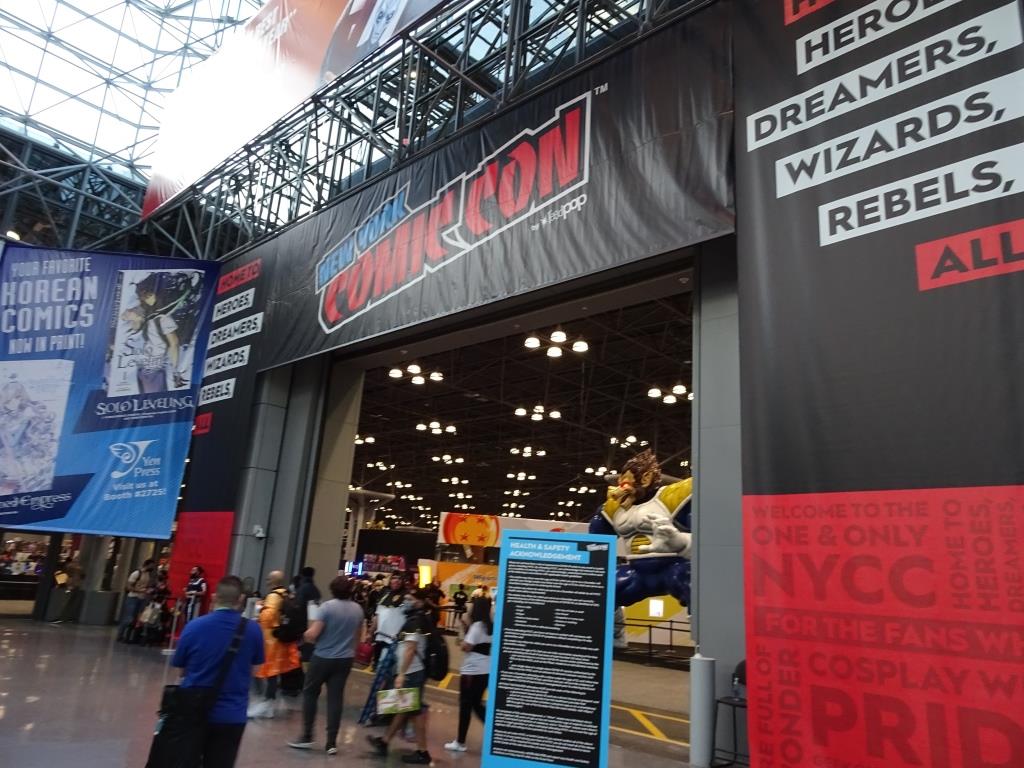 With four full days of programming and events New York Comic Con (NYCC) brings hundreds of thousands of fans each year to the Jacob K. Javits Convention Center in Manhattan to celebrate all things pop culture from comics, anime, video games, TV, movies, collectibles, posters, and of course the best artist alley there is. After being forced to go fully digital in 2020 due to the pandemic things began to feel semi-normal again when NYCC came back to in person conventions with their 2021 show. While the show did have some digital elements and did suffer from some larger and familiar exhibitors passing up on in person shows the ReedPop team should still be commended on likely putting on the largest convention since the pandemic started. Even though it was sad not seeing some familiar faces and not seeing any book publishers there was still plenty to do and see throughout the weekend and it just allowed newer companies that may have not exhibited in the past a chance to shine.

But now that my preamble has been taken care of it's time to get back to my typical NYCC coverage of all things good and great about the show. As I always say there is always a tremendous amount to do throughout the weekend including panels, exhibit floor, artist alley, and activations and even with some exhibitors still feeling nervous about coming back to in person events there was still so much to cover so as normal I'll be separating my coverage of the floor into a few categories including art and artists, statues and designer toys, panels, activations, and more.

While some art galleries decided to celebrate the show virtually with week long releases there were still plenty of artists and art print galleries at the convention and it certainly didn't stop me from finding new and interesting artists that I might otherwise have missed in normal years, so let's take a look.
Spoke Art
https://spoke-art.com/
For the poster scene Spoke-Art became the focal point of the show, at least for the first hour of the show when fans descend on the booth to grab the extremely rare Chuck Sperry prints; with the regular limited to 250 copies and the variants limited ot 20 each these were a hot ticket item and gone very quick. At NYCC Spoke Art also worked with AJ Masthay, Tom Whalen, Casey Weldon, Dakota Randall, Geoff Trapp, Germain Barthélemy, Jason Raish, Steve Thomas, Van Orton Design, Luke Martin, Matt Ritchie, and Rucking Fotten.
Iconic by Collectionzz
https://iconic.collectionzz.com/
I very rarely focus on music prints but then I passed by the Iconic by Collectionzz booth at NYCC. Founded in 2015 Collectionzz set out to allow collectors to share their collections with eachother virtually but then in 2019 they began working with major music bands and record labels to bring limited edition screenprints commemorating major moments in the music industry. The team has collaborated with top artists including Dan Mumford, Matt Tyan Tobin, Marko Manev, Tracie Ching, and Akiko Stehrenberger to name a few!

Nakatomi, Inc.
https://www.nakatomiinc.com
Based in Austin, Nakatomi is a pop culture/art collective and screenprint studio with a full-service printshop. Recently they collaborated with Tom Whalen to create a print for the Cybertronic Spree Party 'Til We Break Tour which included a foil variant for NYCC.

Benjo Blocks
https://www.benjoblocks.com/
Over the last few years it seems there have been a newish market in the art print screen – wood block prints. Joining Brian Reedy and Attack Peter in my wheelhouse of artists employing this medium is Terenz Sitchon of Benjo Blocks. At NYCC Benjo Blocks had a nice display of cool prints; check out the website for some cool art with The Witcher, Star Wars, Spawn Gundam, Dragonball, and more themes. I expect to see more good thinnngs from Benjo Blocks.
Boxwood
http://www.boxwoodboards.com
Aaron Holley took his professional experience working with top brands including Star Wars, Aeria Games, EA Sports and turned that passion to his company Boxwood Board Design. With a line of fine art prints, board, tech, and wall bark Aaron is producing some high quality and limited run art pieces. While the art isn't the standard movie and TV show fair as a fan of more fantasy inspired art the booth immediately drew my attention at NYCC.

Ukiyo-pop
http://ukiyopop.com/
Brian David Judkins is a Chicago based painter and author and the artist behind Ukiyo-pop. His art style meshes traditional Japanese art with modern fandoms including Star Wars, Batman, Spider-Man, Dragon Ball and more. He also works in multi-pane formats creating some amazing diptychs and triptychs. I only regret passing on his really cool Mandalorian triptych at NYCC; his Rogue One 'A Desperate Warning' and A New Hope 'Battle for Hope' also drew my eye!

Jason Edmiston
http://jasonedmiston.com/
What can't be said about Jason Edmiston. A regular in the Block area, Edmiston made his return to NYCC in style with his usual assortment prints in his popular Eyes Without A Face series with a new set of releases including Big Bird, Iron Man, Maverick (and an upside down Maverick random variant), and a Gogo Yubari. Jason also had a few original pieces for sale which were won through a lottery which could easily set you back $2,000 American before you left the booth, up for grabs were an original Iron Man EWAF, a Hereditary 5×5 house, and a High Roller Sam 'Ace' Rothstein Casino Dice diptych.

Montygog's Art-O-Rama and Strong Stuff – Tom Whalen Illustration
http://www.strongstuff.net/
https://www.daveperilloart.com/
Dave Perillo represented the normal duo that is normally Montygog's Art-O-Rama and Strong Stuff booth on the show floor. With high spirits and his normal set of releases David had a slew of new releases including a set of four 4"x4" TMNT Pizza Party prints and other prints across a wide spectrum from Disney (Robin Hood and Sleeping Beauty), DC (Justice League Unlimited and Batman Beyond) and posters based on individual chapters of The Mandalorian. Helping out his buddy Tom Whalen there was a Friday the 13th poster for sale.

Tracie Ching
http://www.tracieching.com/
Tracie Ching came out for her second NYCC with her own booth in the Block selling copies of current and past prints including a 2001, Attack the Block, and Spider-Man and Spider-Gwen print.

Brian Ewing
http://www.brianewing.com/
Brian's been in the biz for a while now and is involved in many music and pop art imagery. He's worked with top names and companies in the industry.

Tom Velez
http://www.tomvelez.com
Don't want to say too much but we may be seeing more of Tom's work in the screen printing soon so check his work out now!

David Mack
https://www.facebook.com/profile.php?id=100044270192139
Though I don't recall every seeing any art prints from David Mack his Kabuki art and awesome art just has to be mentioned here. Also considering he is a very down-to-earth and genuine person makes you want to give him a shout out whenever he makes a convention appearance.

NYCC Charity Art Auction
https://www.stjude.org/donate/donate-to-st-jude.html
While I've attended the Charity Auction for a few years now I've never included it in my post show report. It may not get a lot of attention during the convention but the charity auction is, in my opinion, one of the most fulfilling activities each year at NYCC. Each year artists create or donate pieces of art to be auctioned off with money collected going to St. Jude Children's Research Hospital which is used in the research and treatment of children with cancer and other catastrophic diseases. Since its beginning the art auction has raised over $710,000 for this purpose. The entire team behind pulling it off needs to be commended and really much more attention should be given to the art auction leading up to the show. If you ever attend a NYCC do yourself a favor and stop in on the auction, bid on some art, and help save some lives!