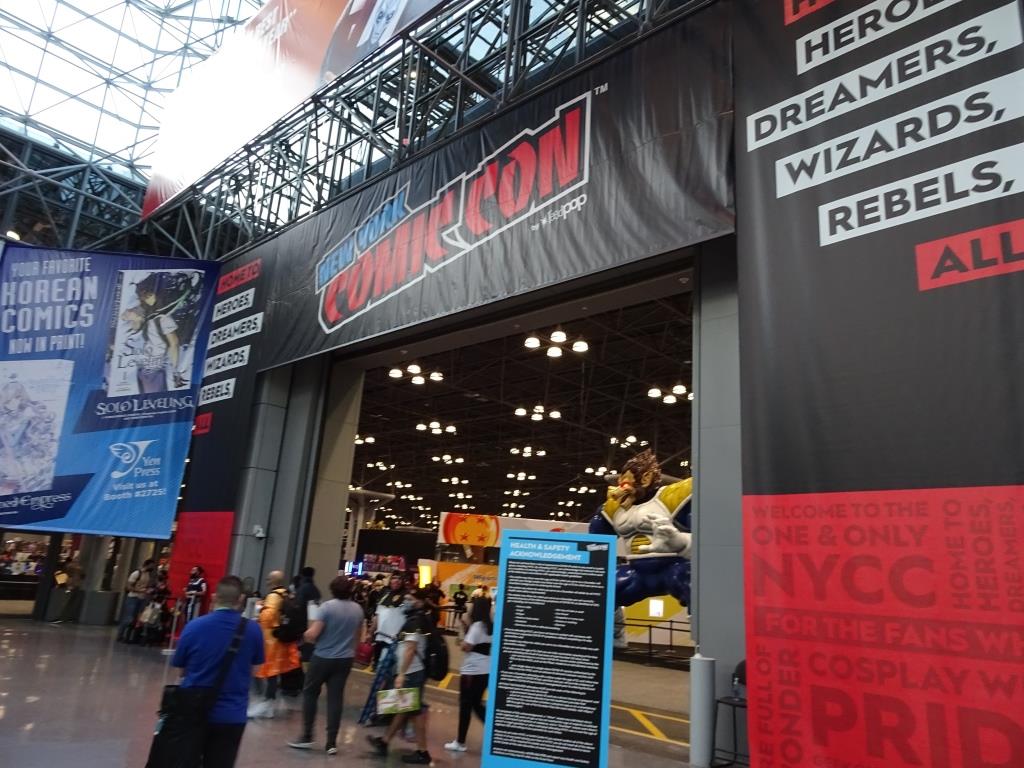 With four full days of programming and events New York Comic Con (NYCC) brings hundreds of thousands of fans each year to the Jacob K. Javits Convention Center in Manhattan to celebrate all things pop culture from comics, anime, video games, TV, movies, collectibles, posters, and of course the best artist alley there is. After being forced to go fully digital in 2020 due to the pandemic things began to feel semi-normal again when NYCC came back to in person conventions with their 2021 show. While the show did have some digital elements and did suffer from some larger and familiar exhibitors passing up on in person shows the ReedPop team should still be commended on likely putting on the largest convention since the pandemic started. Even though it was sad not seeing some familiar faces and not having any book publishers on hand there was still plenty to do and see throughout the weekend and it just allowed newer companies that may have not exhibited in the past a chance to shine.

But now that my preamble has been taken care of it's time to get back to my typical NYCC coverage of all things good and great about the show. As I always say there is always a tremendous amount to do throughout the weekend including panels, exhibit floor, artist alley, and activations and even with some exhibitors still feeling nervous about coming back to in person events there was still so much to cover so as normal I'll be separating my coverage of the floor into a few categories including art and artists, statues and designer toys, panels, activations, and more.
For now let's look at a few companies that focus on collectible figures, statues, and designer toys. There are a bunch of familiar faces and some new ones here so let's begin…
Diamond Select
https://www.diamondselecttoys.com/
A familiar name in the collectible figures, resins, busts, statues, and more Diamond Select is a premier distributors of adult collectibles with licenses across the spectrum including DC Comics, Marvel Comics, Star Wars, Star Trek, Transformers, Ghostbusters, Cobra Kai, and more.
I was really impressed by the Star Wars busts and statues as well as the Cobra Kai figures but really what blew me away the most was the Lord of the Rings figures including this super detailed Sauron build-a-figure.

XM Studios
https://www.xm-studios.com/
Becoming a regular at the convention XM Studios showcased their amazingly crafted and highly detailed statues. While they showcased a bunch of DC statues including an amazing Penguin statue Daimyo and a Recovery Suit Superman the real showcase were their four Godzilla pieces including two busts, one of Shin Godzilla and one of Godzilla 2001, and the huge Godzilla vs Space Godzilla statues from the Godzilla vs Space Godzilla 1994 movie. They also had an astounding Wonder Woman statue surrounded by her rogues gallery of villains.

Bait
https://www.baitme.com/
BAIT always seems to have a presence in the convention scene. A premium retailer BAIT collaborates with global partners to license and sell limited products including apparel, footwear, and collectibles. AT NYCC BAIT had a very well represented booth with Batman and Star Wars apparel; Astro Boy, J Balvin, and Ryu Kokies, and an exclusive set of Mighty Atom Astro Boy FiGPiNs.

Cryptozoic Entertainment
https://www.cryptozoic.com/
Cryptozoic Entertainment, Inc. is a premier developer and publisher of original and licensed board games, card games, comics, trading cards, and collectibles. While they continued to have their board games at their booth at NYCC they were showcasing their collectible figures including a delicious Batman Returns Catwoman, DC Lil Bombshells, Cyptkins Unleashed figures, Wonder Woman polyresin statue, and their upcoming Batman: The Dark Knight Returns game along with the game minis.

Bluefin/Bandai
https://www.bluefinbrands.com/
Bluefin is a leading North American master distributor of toys, collectibles, novelty and hobby products. Bluefin's extensive catalog is highlighted by a diverse range of high quality, officially licensed products from leading brands and manufacturers from Japan, Hong Kong and the U.S. They are the official exclusive North American distributor for Bandai Collectors, aka "Tamashii Nations," Bandai Hobby, Bandai Shokugan, Mr. Hobby and GSI Creos, SEN-TI-NEL, Flame Toys and is the exclusive U.S. distributor for Storm Collectibles. Bluefin is also the official North American consumer products and retail development partner for Studio Ghibli.
For NYCC Bandai took up a huge swath of the show floor split between a few areas that were dedicated to a few of their major brands in one corner they had a huge display of figures from a various range of their products including a life size Samurai Daisho 0Darth Vader, a human sized Godzilla from thre Godzilla V. Kong movie and a scaled Gundam. Tamashii Nations portion of the booth also had a bunch of figures from anime, Star Wars, and Gundam.
In the Demon Slayer (https://demonslayer-hinokami.sega.com/) section a display showcased a number of Figarts figures and Figarts mini as well as Proplica's (replica props) of swords wielded by the characters in the show.
Bandai also paid homage to Dragonball Z with a massive display with photo opportunities and a huge display of figures from the Dragonball Z show.

Good Smile Company
https://www.goodsmile.info/en/
A familiar face at the New York Toy Fair and NYCC, Good Smile Company is a Japanese manufacturer of vinyl figures, large scale figures, and statues based on anime, manga, video games, and licensed content. For me two highlights from the booth were their The BOYS Homelander figure and a D&D Trucker Hat.

Martian Toys
https://martiantoys.com/
The designer toys market is one that I've become familiar with over the last few years and a familiar sight from other shows has become Martian Toys who specialize in one-of-a-kind custom designer vinyl toys. Following their typical form Martian Toys had a custom It's a Mad Mad Mad World NYCC custom show.

Tenacious Toys
https://www.tenacioustoys.com/
Tenacious Toys is the premier online retailer specializing in limited edition art toys in vinyl, resin and PVC, as well as imported action figures and one-off custom toys. Similar to other designer toy booths Tenacious Toys features custom vinyls and figures along with a cool The Walking Dead Ezekiel and Game of Thrones Tormund.

VLTD
https://vltd.co/
A new face to Hi-Def Ninja VLTD offers a variety of designer toys, figures including 100% Soft Dumpster Fires, Pops! Duny's and more. Similar to other stores VLTD offered their own varaints of figures including an amazing SLAVE to the SIREN: "Dead Sea" 6″ Vinyl Art Figure by Martian Toys x RXse7en – A VLTD Exclusive.

Invasion Toys
https://invasiontoys.com/
More designer toys! Another newish company, established in 2019, Invasion toys sells limited editions toys, resin & vinyl toys, collectible cards, accessories, and more! Unfortunately due to a misunderstanding Invasion Toys had to cut their visit to NYCC a bit short and before I could get a chance to chat with them but they do plan on returning in 2022. They did have a very cool Klav (Creeping Death Robot Club) who I have in the opast covered Legendary 'TANK CLUB' sofubi and a custom "Technical Difficulties" show which you can check out on their website.

Nugglife
http://www.nugglifeny.com/
Nugglife NYa street wear / art lifestyle brand, inspired by the supreme hustler and focusing on all things cannabis without ever having to show a single weed leaf. Consisting of tee's, cut & sewn pieces, and accessories that match the quality and attention to detail of the custom toy line, everything they produce are low run so once gone it won't be reproduced!

Concrete Jungle Studio
https://concretejunglestudio.com/
An animation, digital sculpture and illustration studio created by Steven Cartoccio , Concrete Jungle, and based out of New York Steve creates resin figures based on music artists such as Run The Jewels, Kool Keith and CZARFACE, Redman, Notorious B.I,G., and Sean Price.