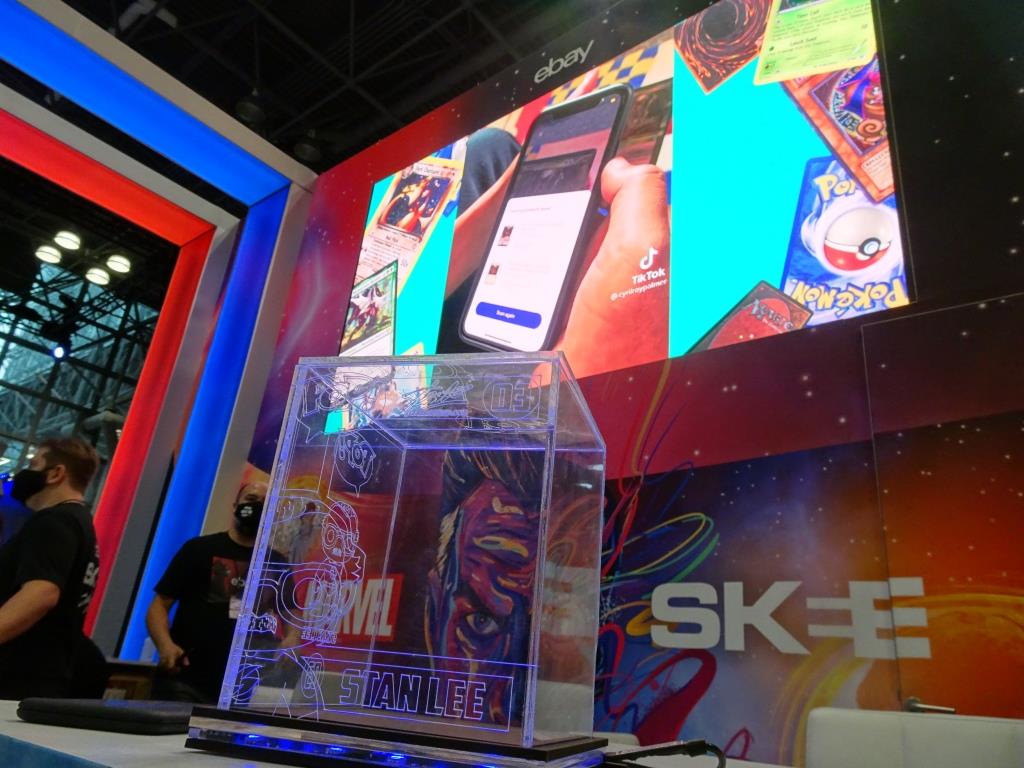 With four full days of programming and events New York Comic Con (NYCC) brings hundreds of thousands of fans each year to the Jacob K. Javits Convention Center in Manhattan to celebrate all things pop culture from comics, anime, video games, TV, movies, collectibles, posters, and of course the best artist alley there is. After being forced to go fully digital in 2020 due to the pandemic things began to feel semi-normal again when NYCC came back to in person conventions with their 2021 show. While the show did have some digital elements and did suffer from some larger and familiar exhibitors passing up on in person shows the ReedPop team should still be commended on likely putting on the largest convention since the pandemic started. Even though it was sad not seeing some familiar faces and no book publishers were on hand there was still plenty to do and see throughout the weekend and it just allowed newer companies that may have not exhibited in the past a chance to shine.
When you think comic cons eBay is not usually the first thing that pops into your head, unless it's because you are visiting the website to see how much you may have to pay for that convention exclusive you missed out on. But at this year's NYCC eBay stole the show with their booth layout, giveaways, and scavenger hunt. Each morning and throughout the weekend it felt as if there was always a crowd around their booth with fans getting swag or scavengers trying to get hints or get a status update on the scavenger hunt (more on that later.) With all that going on no other booth on the floor commanded as much attention as eBay did.
Occupying a fairly large footprint, the eBay booth had about 10 rotating display cases showing off rare items, all of which were up for bid, including a sealed Pokemon booster box, rated and unrated Charizard cards, an Empire Strikes Back Darth Vader, and CGC graded comics including an Issue 1 Daredevil, Issue 1 Giant-Size X-Men, Ghost rider, and Batman to name a few. The booth also had photo opportunities as well.
However just showcasing items normally wouldn't drag attendees to a booth and cause them to wait on a line that snaked around the convention floor each morning; so why was the line so long? The answer to that were the giveaways and appearances at the booth. Each morning eBay gave fans a ticket which let them come back later in the day to redeem for some cool swag. Among the goodies was a stackable $10 eBay gift card, a Funko Pop! (rotated between a glow-in-the-dark minion from Despicable Me, a Pride BB-8 or Minnie Mouse, or an Inspector Gadget), a DJ Skee designed a one-of-a-kind Doctor Strange variant comic book cover, or a set of Dark Knight inspired trading cards from a collaboration between DJ Skee and King Saladeen.


On hand on Thursday to help kick off the event were both DJ Skee, a California based artist, musician, entrepreneur, and philanthropist who has worked with top entertainers including Lorde, Post Malone, Kendrick Lamar, and Lady Gaga and King Saladeen a West Philadelphia based artist and philanthropist who has worked with Topps, NFL, Junk Food, eBay, and more. Working with eBay DJ Skee designed a  Doctor Strange variant cover for Marvel while he also collaborated with King Saladeen on Dark Knight inspired trading cards. When speaking with Den of Geek (https://www.denofgeek.com/comics/ebay-dj-skee-doctor-strange-variant-cover-new-york-comic-con/) DJ Skee noted that designing the Marvel cover was a dream come true and he took the psychedelic origins of Doctor Strange to heart when eBay asked him to create a variant cover for the Marvel superhero. He also noted that the cover evokes the magical colors worthy of the Sorcerer Supreme as well as the trippy music with which the comic is often associated. DJ Skee's work didn't stop there as he also had a hand in designing the eBay booth for NYCC this year.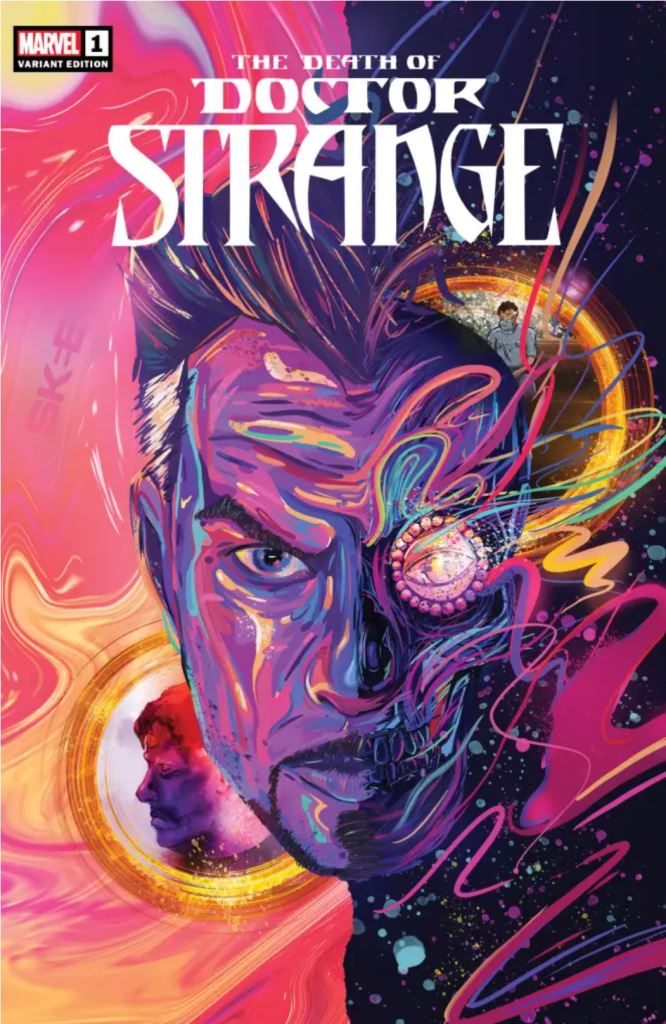 But wait, there's more! If that wasn't enough to get attendees attention eBay put the proverbial nail in the coffin with the ultimate scavenger hunt; solidifying them as a top exhibitor in 2021. Partnering with Den of Geek eBay created and hid 10 clear plastic cases, each with a different etching, throughout the entire convention center. Each case had a unique design related to the prize they were to receive and to the 10 fans that were able to find them ultimate prizes awaited. Finding them however was not going to be easy as the clues to find the cases were very vague. The cases were basically anywhere inside the convention center with most being in plain sight or visible, within reachable distance from standing on the floor, and not in a bathroom. That was it, good luck, go out, explore, and find a case!

Unfortunately my hunting did not begin on Thursday as I was not aware of the scavenger hunt. However the cases were so well hidden that none were found on the first day of the convention. By Friday the cases were rearranged to be a bit less hidden and the hunt was on between myself and some fellow scavengers that wanted to claim king of con by finding the rarest of rare NYCC swag item. While three lucky souls did find cases on Friday it was not meant to be for me as after searching high and low I still went home empty handed. Knowing Saturday morning that there were only seven left and time was running out I was inspired to be one of the seven to find a hidden case and set out with a purpose. All of which ended extremely quickly when I found one by 10:30AM on Saturday morning. I won't reveal the spot where it was found but I will say it may have been fate that drew me to check where I did or my OCD, either one works. But like the eBay people said it was in an area that anyone could have found and it was reachable from the floor and certainly was not in a restroom!

Now as anyone who knows me personally can guess the next part of my day. I did not go straight back to the eBay booth to claim my prize, instead I carried that case out in the open throughout the convention center the entire day like a badge of honor. The case and I explored the entirety of the show floor, panel rooms, exhibitors, the expanded areas of the Javit's, and even the food trucks. A massive amount of enjoyment came by answering coyly to the people who asked where it was found. Only in the evening before I was ready to head out did I make my way over to the eBay booth to finally claim my prize, I even had a little fun at the eBay booth asking how many were left to an unsuspecting eBay team member.
As to the prize itself, well unfortunately I don't know what all the prizes were. As I mentioned above each case had a different etching on it, but not having seen the cases I am not privy to all the prizes. A social media search has yielded only one other winner who received a Tony Stark (Unmasked) SDCC 2013 Funko Pop! though I am certain the other prizes were equally amazing and getting to keep the found case is and of itself a rare souvenier from the show. I was however informed that the case I found was in fact the top valued prize in the form of an autographed and authenticated Stan Lee Collectibles series 2015 Comikaze Stan Lee (Superhero) (Red) Funko Pop!; a exceptionall worthy prize for any collection and again getting to keep the clear case is an exclusive in and of itself. Excelsior!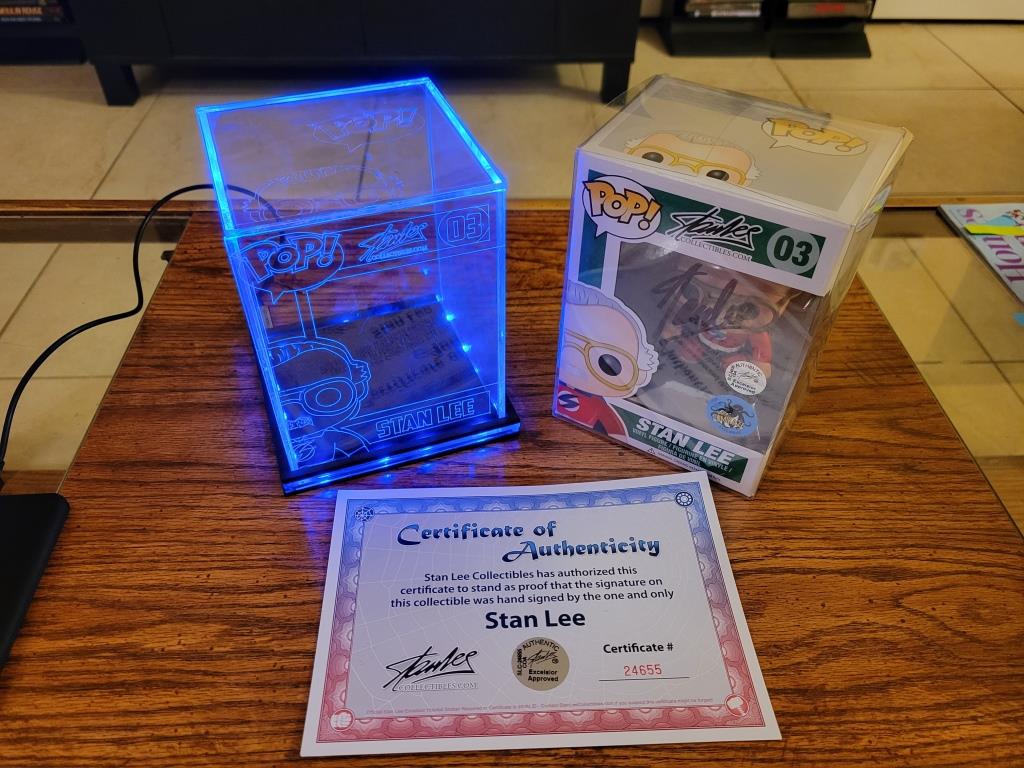 By the end of the day on Saturday nine cases were found, though two were put back into the wild on Sunday as it was vendor's that had found them and returned them to the booth as they did not know that was part of the contest and by the end of the convention only eight cases were claimed making it an even rarer find.

So eBay with their collaborations with DJ Skee, King Saladeen and Den of Geek and with their in-booth giveaway's and an awesome scavenger hunt became a top exhibitor for New York Comic Con 2021.