THE ADDAMS FAMILY  is a 1991 American supernatural black comedy film based on the characters from the cartoon created by cartoonist Charles Addams and the 1964 TV series produced by David Levy.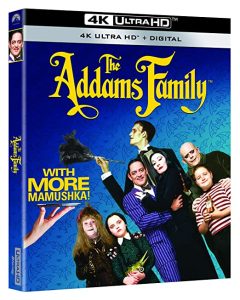 THE MOVIE:
THE ADDAMS FAMILY 1991 film is the perfect representation of the original 1964 tv series. I watched this film for the first time recently and I am pretty ashamed to say that it took me so long. I had no idea how great it truly was and viewing in in 4K Ultra HD was even better.
The film follows a quite wealthy family that live within a house with many rare oddities, including a severed hand as their house servant. A plan is conceived to find the family's vault located within the home that is full of valuables. A crooked accountant and a loan shark convince the loan sharks son to go convince the family he is their long lost Uncle Fester (Christopher Lloyd). Of course, the plan isn't as easy and well executed as they think it is going to be.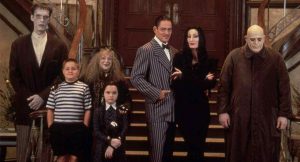 VIDEO/AUDIO QUALITY:
This was truly a film that was a very great transfer to 4K. The sharpness and definition in this film is the kind of thing viewers love to watch on the screen. Even with how dark lit most of the film is the definition is very well done and the audience is in for a great treat with the upgrade to 4K Ultra HD. The audio for this film was also slightly updated it seems. The dialogue was very clear and I had zero complaints. Since this film is set in a old creepy home the creeks and sounds made through the home are also picked up with the audio easily.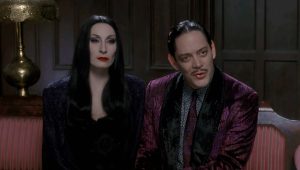 Disc Details:
4K Ultra HD Disc
Bluray Disc
Digital Copy
Bonus Features:
Introduction to more Mamushka Version by Director Barry Sonnenfeld
Filmmaker Focus: Barry Sonnenfeld on The Addams Family
Archival Featurette
Running Time:
99 Min.
Edition Ratings:
PG-13
Region Coding:
Region A
Video Resolution:
Resolution: 4K Ultra HD & 1080p
Audio Mixes:
English
French
Subtitles:
English
French