BEAVIS AND BUTTHEAD DO AMERICA is a 1996 American adult animated comedy film based on the MTV animated television series Beavis and Butt-Head.[5] The film was co-written and directed by series creator Mike Judge, who reprises his roles from the series; Demi Moore, Bruce Willis, Robert Stack, and Cloris Leachman star in supporting roles.
Own BEAVIS AND BUTTHEAD DO AMERICA NOW!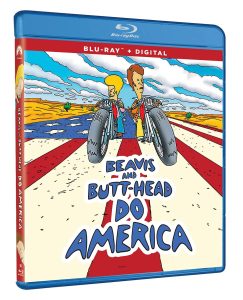 THE MOVIE:
The creator of Beavis and Butthead really went all out in the first full-length feature film BEAVIS AND BUTTHEAD DO AMERICA. The plot mod the film is that Beavis and Butthead discover their tv has been stolen so they set across America to relocate their missing television. They end up stumbling across a motel which offers a television in every room, which they get the bright idea to attempt to steal every television.
Overall, this is just a super fun film for fans of the raunchy animated style such as Beavis and Butthead. Defiantly a film made for the fans, which creator Mike Judge was able to deliver on.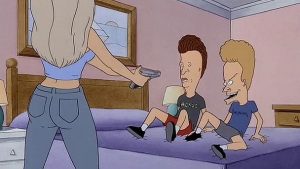 VIDEO/AUDIO QUALITY:
The audio and visual aspects of this release to bluray was very well done on all fronts. They were able to revitalize the visual animation of The Beavis and Butthead characters and make the viewing experience even more enjoyable in full 1080p quality. The sound was also able to be remixed to provide even better clean audio so the character voices and sounds were crisp and clean throughout the film.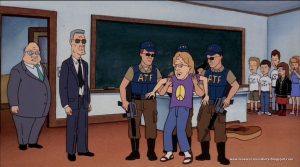 Disc Details:
Bluray Disc
Digital Copy
Bonus Features:
Commentary by Mike Judge and Yvette Kaplan
The Big Picture
We're Gonna Score! Scoring Beavis and Butthead Do America
The Smackdown
MTV News: Celebrity Shorts
Trailers
TV Spots
Running Time:
80 Min.
Edition Ratings:
PG-13
Region Coding:
Region Free
Video Resolution:
Resolution: 1080p High Definition
Audio Mixes:
English
French
Subtitles:
English
French