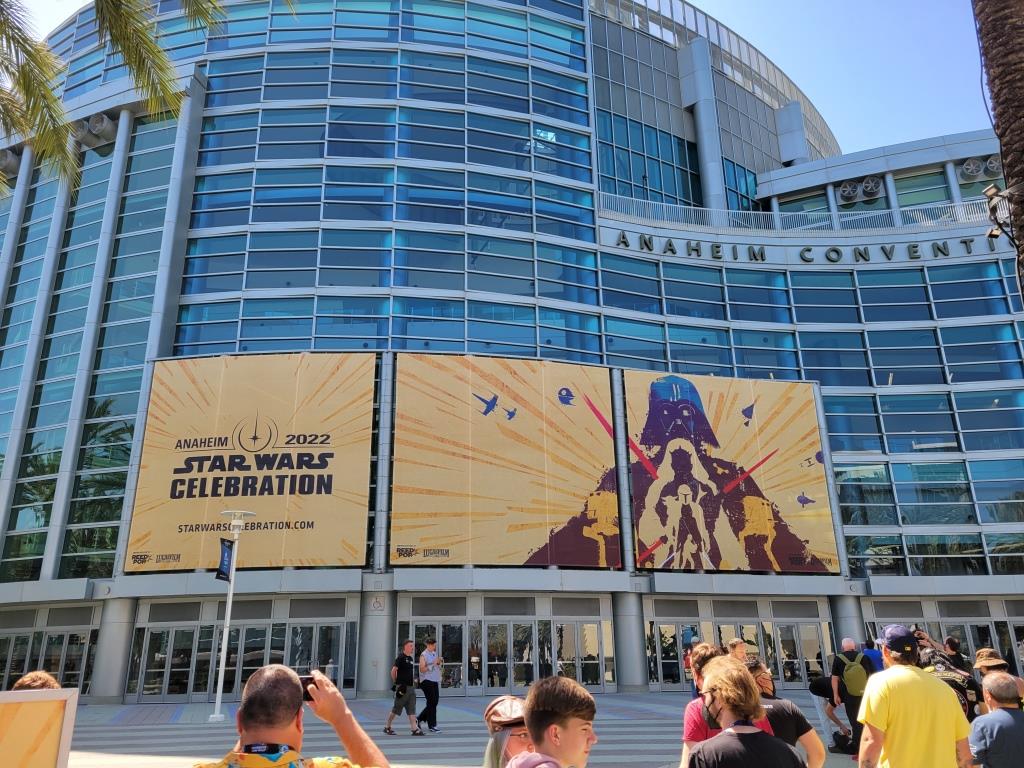 After an almost three year break from conventions Star Wars Celebration was back in business; this time returning to the Anaheim Convention Center right across the street from Disneyland and Galaxy's Edge. Unlike other comic cons that feature an extremely wide array of fandoms Star Wars Celebration, as the name implies, bring together fans for a four day showcase of all things Star Wars related.
While the show is just Star Wars focused four days still never feels like enough time to fully experience everything happening during the show with so much to going on from panels, exhibitors, exhibits, dioramas, art booths, cosplaying, and even a tattoo parlor. Pin and swag collecting and trading even have their own strong presence at the show. As normal I'll therefore be breaking down my coverage based on the different aspects of the show.
Panels are the lifeblood of any convention; not only are they where studios make their biggest announcements but they also serve as a place where everything can be discussed from collecting, cosplay, educator discussions, representation across the industry, and everything in-between. This year was no different with three very large panel rooms and a host of smaller ones. With no new movies on the horizon Star Wars Celebration did present a slew of panels based on upcoming shows including a Lucasfilm Showcase, an Obi-Wan Kenobi premiere, and sneak peaks of The Bad Batch and a new show Tales of the Jedi. Even panels discussing LEGO Star Wars, Hasbro Star Wars, and poster collecting as it relates to Star Wars was covered.

For the most part the show did fully return to a full in person event with very limited digital elements and unlike in previous years the panels were  not live streamed for people not attending the show therefore making having gone to the convention that much more special. So here's a look at some of the panels I attended throughout the four day show.

Lucasfilm's Studio Showcase
The biggest panel at Star Wars Celebration this year was the Lucasfilm Studio Showcase. Basically this is where fans were given a sneak peak at many upcoming projects from the about to release Obi-Wan Kenobi to the return of The Mandalorian and Andor, as well as a sneak peak at Ahsoka, Skeleton Crew featuring the voice of Jude Law, as well as the upcoming Willow Disney+ show featuring the return of Warwick Davis and Joanne Whalley, and Indiana Jones project. The panel featured many of the actors including Ewan McGregor and Hayden Christensen, Moses Ingram, Diego Luna, Katee Sackhoff along top brass including Kathleen Kennedy, John Favreau, and Dave Filoni. Overall it was a great kick off panel.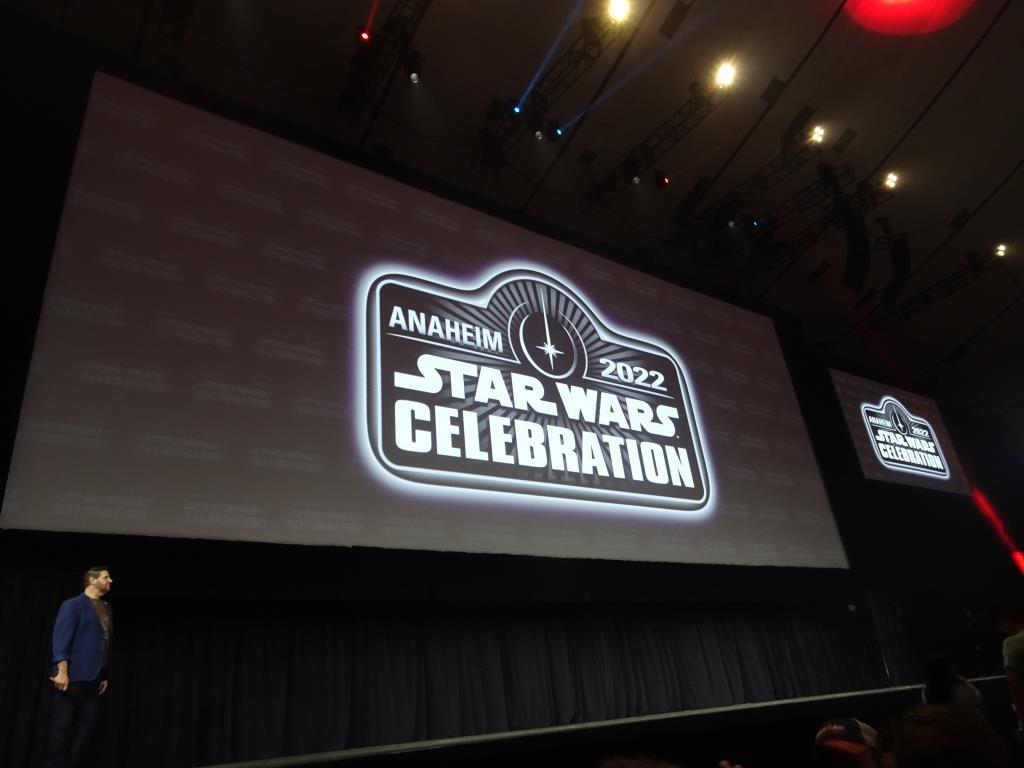 But what ultimately turned it into an epic panel was when Kathleen Kennedy came out to wish John Williams a happy 90th birthday and then promptly introduced John Williams to conduct the Pacific Symphony Orchestra for the opening Obi-Wan Kenobi theme, the Indiana Jones theme, and the Imperial March from Empire Strikes Back. If that wasn't enough Harrison Ford also came out to wish John Williams a happy birthday with a tear jerking speech which also led to the crowd in attendance to sing happy birthday to John Williams, a true forever memory.
As if all that was not enough fans were then told to get a wristband in order to come back to the arena later in the day for the red carpet premiere of Obi-Wan Kenobi where we would get to see the first two episodes hours ahead of the rest of the world!


Star Wars: Obi-Wan Kenobi Premiere
Roll out the red carpet they did, literally. At 7 PM all the Star Wars fans that were able to attend the morning Lucasfils Studio Showcase panel came back to the Celebration stage where they passed through a red carpet with Obi-Wan Kenobi themed cars and costumes worn by the characters. Cast were on the other side being interviewed and as we passed into the arena fans were also given some popcorn and soda to enjoy the first two episodes. To liven up the crown before the episodes started the crowd was enticed to dance and shimmy in order to get special Obi-Wan Kenobi branded frosted flakes and Obi-Wan Kenobi branded Pringles. Before the episodes aired the cast did come out to talk for few minutes and greet the crowd.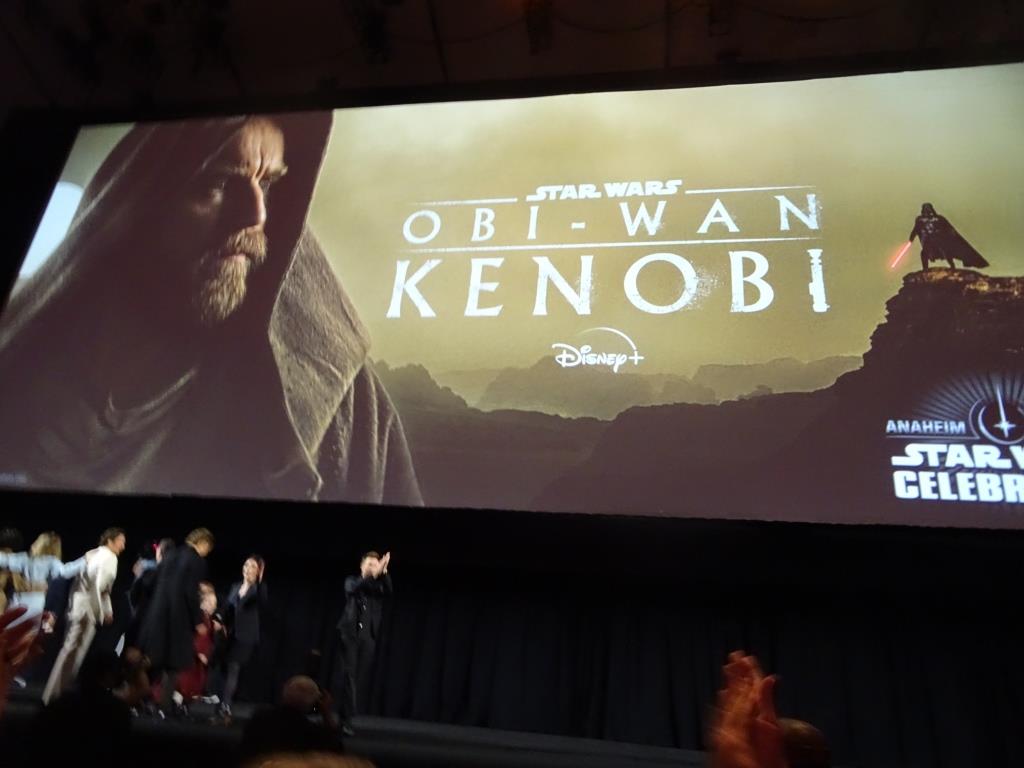 Mando+ : A Conversation with Jon Favreau & Dave Filoni
Jon Favreau and Dave Filoni were on hand on Saturday morning to give a bit of a deeper dive into the recent Disney+ series including The Mandalorian, The Book of Boba Fett, and Ahsoka. Unlike the Lucasefilm Showcase this panel had much more focus on these projects with cast from across the series on hand including Pedro Pascal, Temuera Morrison, Katee Sackhoff, Carey Jones, Carl Weathers, and Giancarlo Esposito. Temura even performed a traditional Haka dance when coming out on stage. While the crowd certainly went insane when they were shown an extended trailer for The Mandalorian which featured a glimpse at Mandalore the crowd lost it's mind when Rosario Dawson, who had skipped the Lucasfilm Showcase panel but flew out that day for the Mando+ panel, came out along with Natasha Liu Bordizzo who will be playing Sabine Wren along with chopper. If that is not enough a sneak peek at the series definitely teased other Star Wars Rebels alum including Hera and Ezra!


Star Wars: The Bad Batch Season 2
Host David Collins discussed the upcoming season of The Bad Batch with executive producer and supervising director Brad Rau, executive producer and head writer Jen Corbett, story editor Matt Michnovetz, and actors Dee Bradley Baker (the Bad Batch) and Michelle Ang (Omega). Some highlights included a discussion and sneak peak of season two along with a an amazing scene reading between Baker and Ang. If that's not all fans received one the nicest panel posters of the weekend for attending.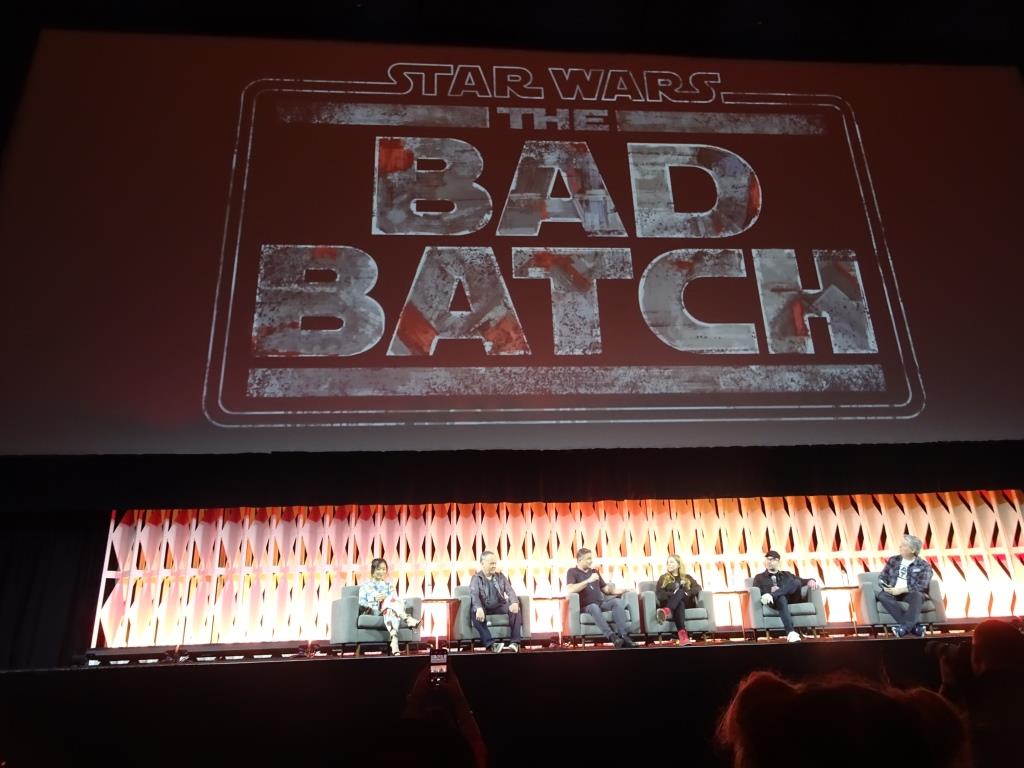 Tales of the Jedi
Amy Ratcliffe and Dave Filoni discussed the upcoming anthology series Tales of the Jedi. These animated shorts will go into some of the series favorite characters including Count Dooku, Ahsoka, and even Mace Windu. Fans were treated to a full episode exploring Ahsoka as a baby, though clips did tease more Ahsoka episodes as well.  

Star Wars: Attack of the Clones 20th Anniversary Celebration
A retrospective celebrating the 20th Anniversary of the Attack of the Clones movie with guest stars Daniel Logan, Temuera Morrison, Hayden Christensen, and Ewan McGregor.

"Light & Magic"
This six part documentary series which will air on Disney+ documentary will showcase what went on behind the scenes Industrial Light & Magic (ILM) to create the amazing specials effects and animation from some of the biggest blockbusters in Hollywood. The panel featured Lawrence Kasdan and Ron  Howard along with Dennis Muren, Phil Tippett, Joe Johnston and Rose Duignan, and Lynwen Brennan.

Hasbro Star Wars Panel
Hasbro & Lucasfilm team members came out to discuss and reveal new products across the Star Wars line. They provided and in-depth look at everything from the Black Series, Vintage Series, Retro lines. Some of the highlights included new Obi-Wan Kenobi figures from the Disney+ series including a Third Sister, Obi-Wan Kenobi, Grand Inquisitor, and Darth Vader and a Disney shop exclusive Obi-Wan Kenobi and Darth Vader two pack based on Ralph McQuarrie designs. Additionally from the Obi-Wan Kenobi series there were three versions of the newest droid young Leia has as a companion – L0-LA59 (LOLA). A new Star Wars Monopoly villains game was also revealed. For fans of The Mandalorian a Vintage Collection Dark Trooper was revealed but the coolest part about the figure is it comes with its own storage unit that can connect with other Dark Troopers to create a row of them. A new Artillery Stormtrooper helmet was also revealed.
Sneak peeks revealed some Fallen Order Figures as well as Knights of the Old Republic. The two largest standouts however were a Jon Favreau (Paz Vizsla) convention exclusive figure and a new Haslab Third Sister Force FX Elite Lightsaber project.

The Summer of LEGO Star Wars
LEGO and Lucasfilm were out celebrating the Summer of LEGO Star Wars. Panelists discussed everything from new sets, games, and animation highlighting all the ways fans can interact with Star Wars LEGO lens.

The Art of Star Wars Poster Collecting: '70s to Modern
Panelists discuss the ins and outs of collecting vintage, alternative, and modern Star Wars movie posters from the 1970's through the modern age. The group discussed everything from looking for authentic versus fakes and even had visuals of posters from around the world. While this panel wasn't the large glitzy panels like some of the others I attended it was well worth the time spent listening to the panelists.