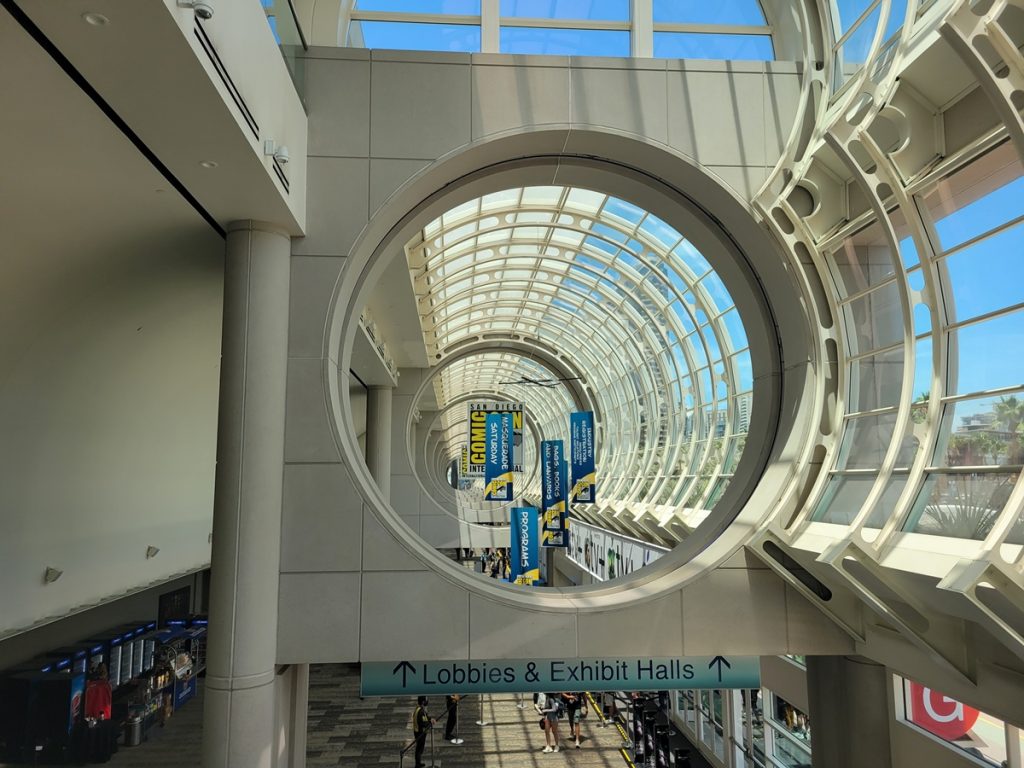 San Diego Comic-Con (SDCC), the premier US convention, was finally able to come back to an in person show after an almost three year break. While other conventions seemed may have only missed one of their annual shows SDCC was hit a but harder missing bother their 2020 and 2021 show and with only a smaller November show in 2021 the convention scene was very empty in the summer months. However SDCC was back, mostly, in tip top shape taking over the entire convention center and most of the Gaslamp District of downtown San Diego bringing the latest TV shows and movies and the newest products from across all media. While the show did feel a bit smaller as compared to pre-pandemic  and the exclusive offering were a bit lighter this year there was still a huge representation across the board and if anything the booths that did come did try to make their appearance more special.
One of my favorite aspects of any convention and what makes any show special are the varied ways any fan can experience a convention whether it is trying to get the best exclusives, sit in on the hottest panels, go to parties, find new authors in the publishers area, or just hang out in the comic books area looking through bins of comics there is no one way to experience this convention and nowhere else can you find as high a variety than at SDCC. Also as each year passes the way in which individuals try to experience a show changes so when thinking in terms of the largest comic cons it isn't a matter of trying to see and do everything but rather trying to experience the parts of the show you will want to experience.

That said. as I generally like to do I'll be breaking down my coverage based on the different aspects of the show and of course by no means is my coverage a complete look at everything there is to see while on the exhibit floor at Comic-Con (since there are over 1,000 exhibitors with everything from toys, collectibles, movie, television, games, books, comics, and news) but rather a snapshot of some of the aspects of the show I find entertaining. Here I'll be taking a look at a some of my favorite booths on the floor with more of a toy and figure focus. Look out for more articles with a separate focus on art galleries and artists.

Mezco
https://www.mezcotoyz.com/
Mezco Toyz, based in Long Island City, makes action figures and other collectibles based on original and licensed properties. Over the last few years there has been a subtle shift from license properties to Mezco's own Rumble Society IP so a lot of the display area really focused on the original figures including Agent Mez, Krig, Captain Nemo, Doc Nocturnal, and a host of other figures in that line of One:12 Collective figures. That's not to say there were no Marvel, DC, Ghostbusters, Horror, or other figures, they certainly were represented from the One:12 Collective along with 5 Points, Living Dead Dolls, Mez-itz, and Mezco Designer Series lines.
Super7
https://super7.com/
While Super7 has been around for a while they are in my opinion growing into one of the top companies in their space. Their ReAction line continues to grow and grow while their offerings in G.I. Joe, Thundercats, Teenage Mutant Ninja Turtles, Disney, and Peanuts all round out a very expansive collection of licensed properties. Additionally their ability to fit into the designer toy market as witnessed from the Five Points Festival makes them a very versatile company. With some top people in the toy manufacturing area working for the company there is only one way for Super7 to go.
Jazwares
https://www.jazwares.com/
Jazwares is quickly rising into a top tier company in the industry. Their very diverse portfolio has only been increasing with the success of All Elite Wrestling (AEW) and their line of AEW figures as well as Pokemon, Halo, Squishmallows, Blippi, and the launch of their Micro Galaxy Squadron Star Wars ships which debuted at Star Wars Celebration. The success of their convention exclusives which included a blue translucent Tie fighter limited to 500, a 1,000 run limited edition Mr. Brodie AEW figure, and their Master Chief Halo figure speaks to the demand this company is going to continue to draw in future years.
LEGO
https://www.lego.com/en-us
The LEGO booth is another very busy area of the convention floor usually filled with displays of figures, huge models, activities, and a store. The big attraction this year however was actually at the Nintendo booth where a massive 14 foot tall, 662,872 brick, moving Bowser made his debut. The display, which took over 3,000 hours to build features moving arms, head, eyes, eyebrows, and jaw operated via a control panel and set with sound effects and background music. There was also a display of figures in the LEGO Nintendo series. At the actual LEGO booth a vending machine game was giving out mini creator sets to fans that played. Unfortunately to the letdown of many LEGO passed this year with any exclusive sets or minifigure giveaways, which while that did save many rabid fans hours of line waiting was a bit sad, hopefully by 2023 LEGO will resume their convention set offerings!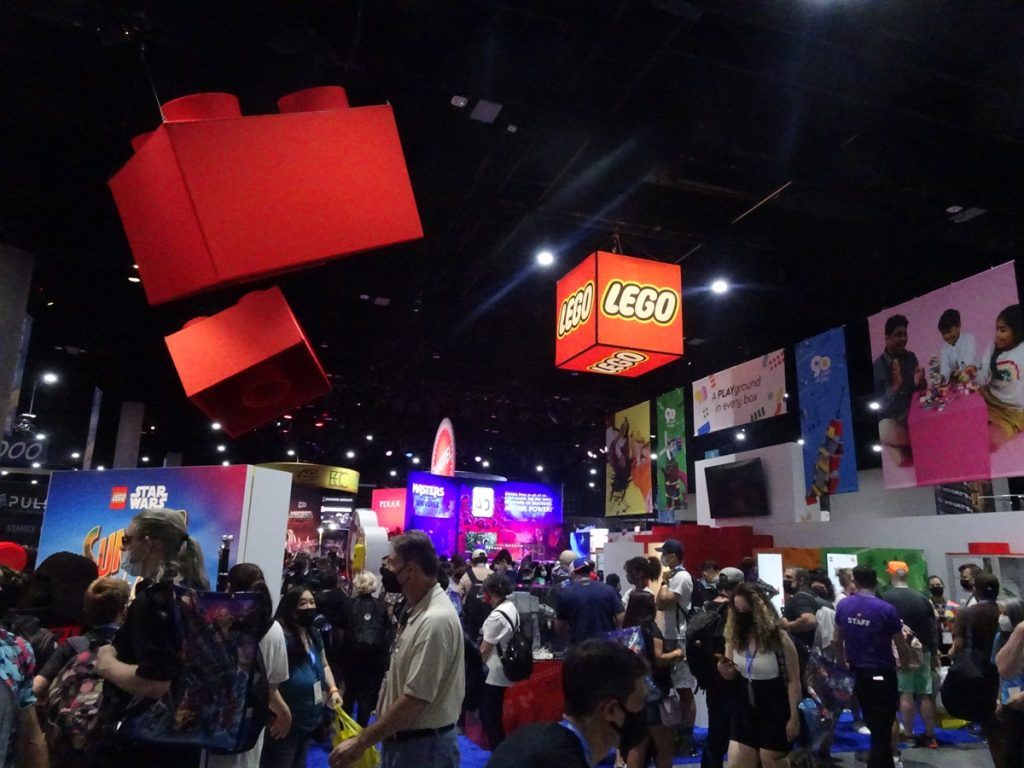 Mattel
https://about.mattel.com/
Being one of the few brands with a sales booth this year the Mattel shop booth became the busy booth of the convention. With a massive amount of convention exclusives including WWE, Hot Wheels, Masters of the Universe, Star Wars, Monster High, Pixar, Minecraft, and more Mattel was the booth that had fans carrying around large bags of exclusives.

Their booth on the floor was divided into a few sections showing of their top brands including WWE, Jurassic Park, Pixar's Buzz Lightyear, Monster High, Minecraft, and Masters of the Universe. The booth also had a front area for happenings throughout the convention such as a poster signing with the He-Man collaboration with Cryptoys which will combine an NFT platform with the toys and entertainment side.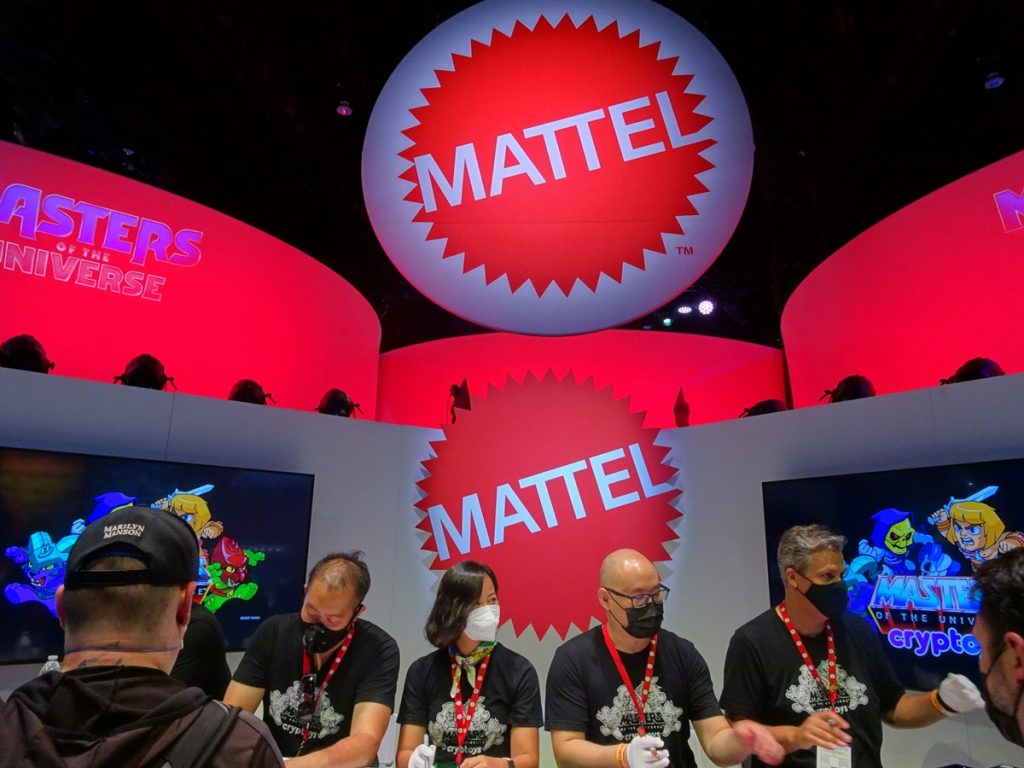 Underverse
https://underverse.com/
Underverse is Ashley Wood's design driven company, an outcropping of World of 3A, Underverse is strictly focused on original IP including World War Robot, Tomorrow Kings, Popbot, Adventure Kartel with high quality, low run figures as well as animation, video-games, publishing, and couture fashion. Some of their stuff is adult themed so word of caution when heading to their site.
Iron Studios
www.ironstudios.com.br
Iron Studios a Brazilian company specializes in the manufacture of collectible statues from ¼ to 1/10 scale and works with property licenses from Disney, Marvel Comics, DC Comics, Star Wars and plenty of more of today's hottest companies including Lord of the Rings, Harry Potter, Jaws, Back to the Future, Jurassic Park, and Stan Lee to name a few. They also had a full scale Lord Voldemort, Gandalf, and Thanos statue on display.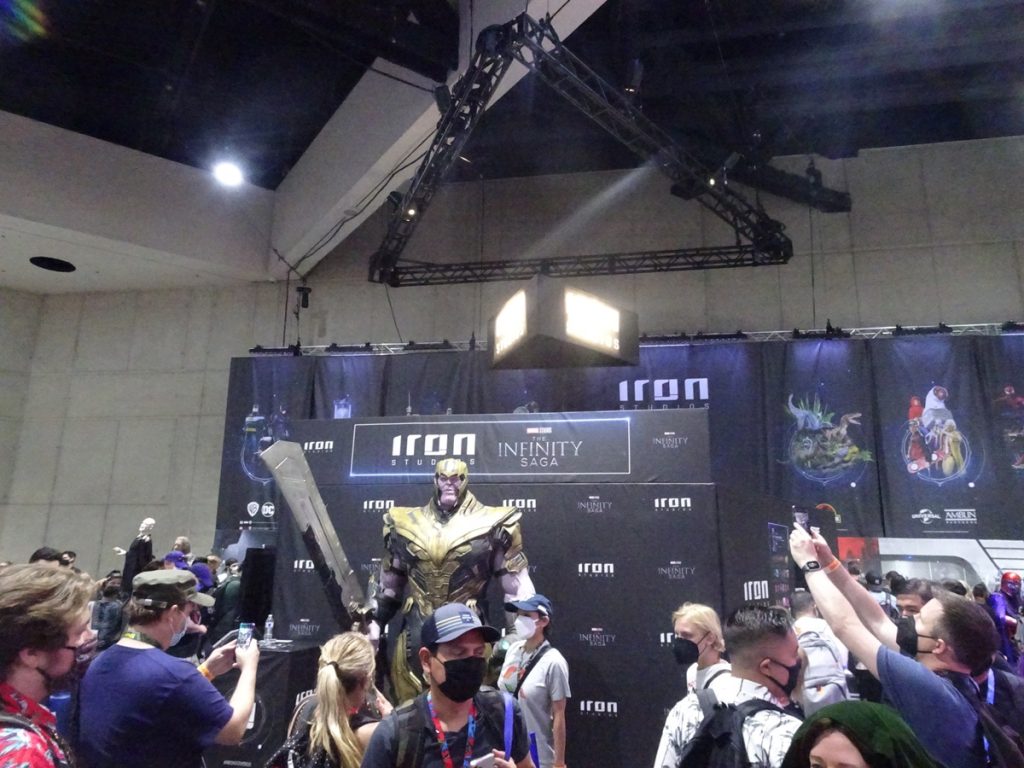 Tweeterhead
https://tweeterhead.com
Tweeterhead was a new company that I came across on the convention floor. Set up right next to the Sideshow booth their display included an array of properties in the DC, Masters of the Universe, and other properties such as Elvira and The Munsters. The team which has expanded offers quality collectibles for fans, and partnering with Sideshow for distribution will only let them grow and evolve. Their simple goal – Great product for great fans.
Blitzway
https://blitzway.com/
Another company that I had not previously been aware of Blitzway produces scaled figures and statues from a host of properties. Their Mortal Kombat and Power Ranger line were really something to behold but what really drew me in was their Transformers and Marvel armored series figures. Though a bit pricey for me the Flame Toys Rodimus figure on display is really calling me.
Cryptozoic Entertainment
https://www.cryptozoic.com/
Cryptozoic Entertainment, Inc. is a premier developer and publisher of original and licensed board games, card games, comics, trading cards, collectibles and vinyl figures. They produce DC vinyl figures in various sizes from Lil DC Comics Bombshells blind boxes to their DC Bombshells Golden Goddess line. They also have a line of Cryptkins vinyl figures featuring creatures based on folklore such as Kraken, Cerberus, Unicorn, Gryphon, and Blue Dragon. They are also known for their DC deck building card game, one of the first games I was introduced to when I started getting into board gaming. Along with their DC designer series statues of Superman, Wonder Woman, and Batman, Cryptozoic had a line of designer series Batmobile statues.
Netflix
The Netflix booth had a steady stream of visitors all weekend. Utilizing a QR code each morning fans ran to the booth to get a spot in line to be able to win various Netflix themed prizes including pins, shirts, posters, and even figures for grand prize winners. I sadly was not able to get there in the morning in time to run through the booth but it looked like a lot of fun, even the cast of Sandman showed up to the booth to partake.
Star Wars Costumes
As is typical in the Lucasfilm area of the show floor there was a display of costumes from the Disney Plus series' including The Book of Boba Fett, The Mandalorian, Obi-Wan Kenobi, and Andor.