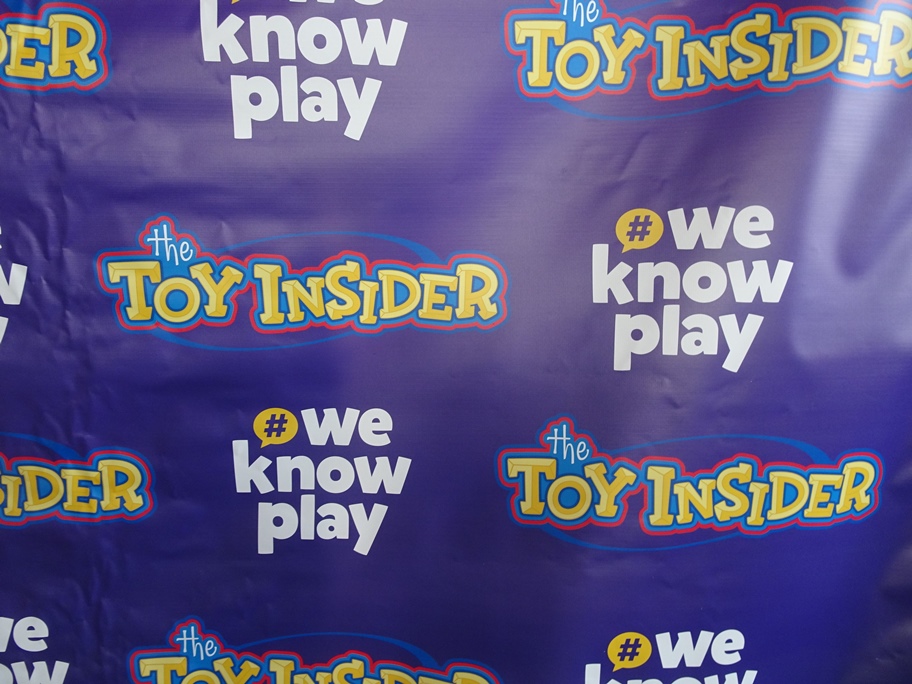 The Toy Insider held their annual Holiday of Play industry event at Pier 59 in New York City. Similar to Sweet Suite the event brings together top companies with media and influencers to showcase all the top toys as well as a gift guide ahead of the holiday season which includes a Hot 20, items under $20, and STEM gifts. Along with food and drink a host of companies were on hand to show off their upcoming releases for the holiday season including some familiar faces like LEGO, Bandai, Mattel, Spin Master and Playmates along with others such as The Loyal Subjects.
The Toy Insider is a perfect resource for researching and finding reviews of toys, technology, and entertainment. With their years of experience The Toy Insider posts reviews of products throughout the entire year assessing products through a tested review process that includes quality, price, and playability. Additionally twice a year they put out gift guides for Summer and Holiday. Simply put The Toy Insider knows play. You can follow them through all forms of social media as well: Twitter, Instagram, YouTube, and Facebook.

As normal while there are more companies than I covered at the Holiday of Play I will be focusing on products that are more relevant.

LEGO
https://www.lego.com/en-us
LEGO showcased a wide variety of sets across their various lines including a Icons Chevrolet Camaro,  Z28, a Nintendo Super Mario Bros. Peach's Castle, Star Wars Inquisitor Transport Scythe, Marvel I Am Groot figure, and to celebrate the companies 90th anniversary a super sized Galaxy Explorer Spece System. I'm always happy to see the newest sets from LEGO and always looking out for whats to come from all their various lines.

The Loyal Subjects
https://theloyalsubjects.com/
The Loyal Subjects boasts a few different line of products from their multitude of licensed properties including Game of Thrones, Cowboy Bepop, Teenage Mutant Ninja Turtles, Kiss, Lord of the Rings, Marvel, and more. Along with their Action Vinyls line of 3.25" figures with up to 15 points of articulation the company has a 1:15 scale BST AXN line featuring up to 31 points of articulation, a 6" fashion doll For Keeps line, and their Superama figures. Their BST AXN line were really a hit amongst the collector crowd.

Bandai
https://www.bluefinbrands.com/
Bluefin is a leading North American master distributor of toys, collectibles, novelty and hobby products. They have an extremely diverse catalog of licensed products across the US, Hong Kong, and Japan and are the official exclusive North American distributor for Bandai Collectors, aka "Tamashii Nations" Bandai Hobby, and more. At Holiday of Play Bandai had a bit of everything on display from some The Loyal Subjects For Keeps Dolls to a few different Tamagotchi's including classic Tamagotchi's, a Toy Story Tamagatchi, and TinyTAN Tamagatchi. I was even told based on the success of the R2D2 Tamagtchi from Star Wars Celebration that a Grogu one is next in line. Bandai was also displaying figures across a multitude of lines including Stranger Things, Dragon Ball, and Anime Heros from One Piece, Naruto, and Digimon.
Jazwares
https://www.jazwares.com/
Jazwares is becoming a staple at these toy events and at conventions. Their portfolio includes a wide variety of collectibles including AEW, Pokemon, Halo, Squishmallows, Blippi, and Micro Galaxy Squadron.  Since their debut at Star Wars Celebration their Star Wars ships have found a big collectors audience and even their Squishmallows line is begun to intrigue me.
Their products were also nominated by The Toy Insider for multiple categories in their holiday gift guide including their "Hot 20" and "12 under $20."

Playmates
https://playmatestoys.com/
Playmates Toys has been producing some of the top imaginative products for over 50 years. Their line-up includes Teenage Mutant Ninja Turtles, Stranger Things, Street Fighter, Star Trek, Disney's Miraculous, Ben 10, Super G, Pop Tops and Frozen. Aside from a line of Star Trek figures and a replica USS Enterprise and Phaser Playmates had a series of Versus action figures featuring Teenage Mutant Ninja Turtles versus Street Fighter and Teenage Mutant Ninja Turtle versus Stranger Things. Not sure what the turtles are doing fighting the characters from Stranger Things but these 6" were extremely posable and also were very smooth in the joints when handling plus the upside down packaging for the Stranger Things mash-up was a nice touch.

Spin Master
https://www.spinmaster.com/en-US
Spin Master have been designing, developing, manufacturing, and marketing consumer products for children since 1994. They have been also been the recipient of the most innovative TOTY awards in the past. They did not have a tremendous amount on display but I really liked their Zombaes line of figures. However one of the more interesting items from the Holiday of Play came from them in the form of their Rubik's Phantom, a Rubik's cube that is heat activated that reveals the color of each tile adding another layer of challenge. I'm honestly not sure how this didn't make the "12 under $20" list unless it was revealed just a drop too late!

Mattel
https://about.mattel.com/ Though Mattel has a strong line of products they were a bit limited in what they brought to show off at the Holiday off Play but I did want to highlight these two Mega Pokemon sets.