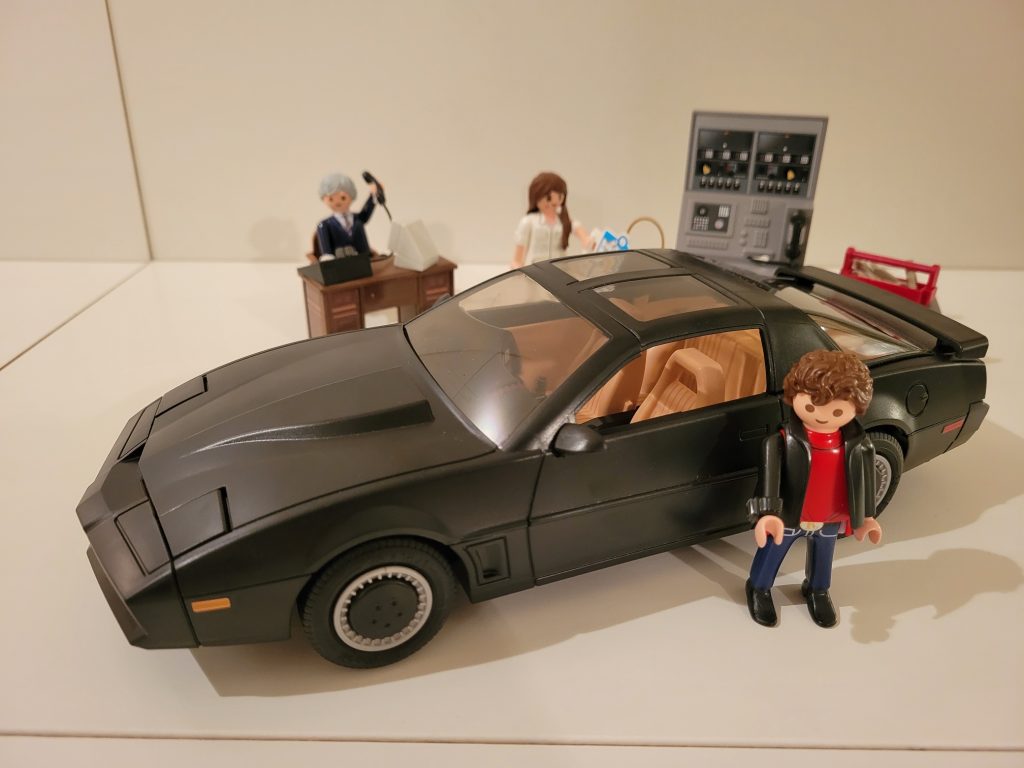 Announced earlier this year Playmobil recently released their Knight Rider Knight Industries Two Thousand (K.I.T.T.) set. Based on the iconic Pontiac Firebird from the David Hasselhoff led show this sleek souped up vehicle is sure to rev up some nostalgia for the classic 1980's show.

"Knight Rider, a shadowy flight into the dangerous world of a man who does not exist. Michael Knight, a young loner on a crusade to champion the cause of the innocent, the helpless, the powerless, in a world of criminals who operate above the law." A detective thought to be dead, now under a new identity. He is driven by justice and set out to take down crime with the help of K.I.T.T., a futuristic artificially intelligent car outfitted with high-tech gadgets and weapons.
Playmobil was kind enough to send this review copy of this Knight Rider K.I.T.T. set; so let's take a closer look at it and I'll give you some overall thoughts at the end!

Right Away Michael!
Packaging
While maybe not a limited edition item with special packaging the outside of the box is still pleasing on the eyes and could sit on a shelf if you were displaying a larger Knight Rider collection. The art features a fairly muted design with K.I.T.T. front and center and a totally rad sunset in the background. However as the box art also has lots of specs and product information I think anyone purchasing this set for display purposes will be displaying the vehicle itself and not keep it sealed in the box.
Inside the Box
Once you get into the box the contents are split into two smaller cardboard sections. Though it comes with a bit more cardboard pieces I did appreciate that these pieces wedge the figures and K.I.T.T. nicely into the box to prevent them from moving around and I feel is an improvement over previous sets that did not have this feature.

The first cardboard section is a piece that contains the figures, laid out in segmented sections and where all the extra accessories and pieces for assembly including a desk for Devon and a tech center for Bonnie are stored. This section is also laid out with the character's name and the title of the show which I feel can be used as a way to let you display the three figures in case you wanted a cleaner display without the other accessories. For those wishing to display the figures I could see this piece sitting slightly raised behind K.I.T.T..
The second cardboard section is a cutout where the main body of K.I.T.T. is wedged. There is not much else to mention here other that I do think it would be nice if there was a way to fold this cutout or otherwise make a sort of diorama that could enhanced displaying it on a shelf.
Like other Playmobil sets there is some assembly and stickering required, though with only 59 pieces this generally doesn't take so long. There are a two main bags; one just being the wheels that require a bit of snapping into place and a second which contains little bits and pieces for the other accessories mentioned above.
Instructions, Accessories, and Figures
While maybe a minor thing one of the first things I noticed and appreciated when assembling the set is actually the instruction manual. What stood out for me was that it included little bios, which featured photos of both the actual actors and them in their Playmobil form as well as a brief bio for K.I.T.T.. It was just a nice small added touch
While Michael's focus may be on riding K.I.T.T. the other characters do need something to do and the set does include a few accessories for each character such as a desk for Devon to sit at and a tech center for Bonnie to work at. I am actually quite impressed with the detail in Devon's desk as well as Bonnie's camera so while they may not be most people's focus they are a nice add-on. There is also a clipboard and toolkit included as well in the set for when K.I.T.T. needs some repairs.
The figures themselves are decked out in outfits that the characters themselves wore so that added touch is appreciated. Michael even has his signature wavy hair and a high tech watch for his wrist. The only thing with regards to the figures I am not a fan of is that their elbows don't bend making it difficult to recreate the image of Michael resting his hand on the door like on the box cover or for Devon to cross his arms or hold a telephone properly; a minor gripe I know but one that would have made this set more unique.
Knight Industries Two Thousand (K.I.T.T.)
The vehicle itself faithfully recreates the shows sleek Pontiac Firebird in Playmobil form. The exterior has a 1980's muscle car look and the interior mimics that same vibe. The vehicle also comes with some nice features too including a removable hood (which allows for you to place the figures into K.I.T.T.), flip-up headlights, a "printer" under the dashboard with a mugshot printout, a rotating license plate, and a grappling hook which attaches to the underside of the rear of the vehicle.
What good would a K.I.T.T. set be without some electronics and sounds. With a tap of the ventilation inlet K.I.T.T. wakes up and introduces himself and a red light scrolls under the front hood like in the show, tap the inlet once more and K.I.T.T. cycles through a few original voice catchphrases from the show, press and hold it for a few seconds and K.I.T.T. powers down with a sign off. 
Final Thoughts
That's in a nutshell is a rundown of the set. So here are some final thoughts.

One of the things I really enjoy about reviewing Playmobil vehicles is their ability to create a quality product that faithfully mimics what you see on the show or movie it is based on. Playmobil faithfully did this with the Ghostbuster's Ecto-1 and Back to the Future DeLorean sets which I previously reviewed and I continue to believe they did it here again. Their sets has a nice sturdy feel which translates well to both children playing with them and to adults using them for display. I am also generally appreciative when I see rubber wheels on toys as I feel that has bit more authentic feel and the play feels smoother with them. Unless your thing is photography I imagine most people getting the set are going to focus on K.I.T.T. and less on the other accessories such as the desk and tech center but at the same time attention to detail was still given to these figures which does not go unnoticed. Having the figures dressed in show accurate apparel is a nice added touch.
That said there are a few things I think could have been improved on. As the set retails for $89.99, which is a bit of a higher price point, I think K.I.T.T. could have done with a bit more electronics added. While it is certainly not a big deal it would have been nice if when flipped-up the headlights also lit up. I would have also potentially liked to have seen the taillights light up as well. Instead the use of the electronics is limited to the scrolling light under the hood, the flashing light on the driver's side dashboard, and the voice catchphrases. Overall it is not a dealbreaker but something I do think that should have been added to the set.
If you are a fan of the original series or you just want a sleek vehicle for your child that brings back memories of watching the show I do think it's worth picking up.

Until then K.I.T.T. signing off!
You can purchase Knight Rider – K.I.T.T. directly from the site as well as other online retailers such as Amazon which does as of the writing of this review have a bit lower of a price.

And just for your nostalgic viewing pleasure; the opening theme to Knight Rider!