LEGO
https://www.lego.com/en-us
LEGO is often at the top of the list for any fan at San Diego Comic-Con. Their booth routinely has a lot going on during the four day convention and often boasts some sort of theme along with play areas, LEGO builds, a store, and in years past exclusive sets and mini-figures. Unfortunately since returning to SDCC after the missed COVID years the LEGO group has forgone their exclusives, much to the ire of their collector fans, and instead focused on the other areas of their booth. This year LEGO went with a retro Blockbuster theme with employees decked out in Blockbuster themed clothing and a booth layout reminiscent of a Blockbuster store with shelves featuring newly released sets and a back wall area where kids could free build. A part of the booth also featured a store area selling a limited number of sets during the day. Additionally during each day of the convention fans could get a photo with one of the larger builds (Sonic, Captain America, Star Wars Speeder Bike) in the booth space which would earn them a minifigure pin. Though some lucky fans who were able to find hidden movie cases around the convention center and could return them to booth for a full set. While there wasn't a minifigure giveaway per-se this year there was still an exclusive minifigure build where fans could sign up to build a figure in their likeness which came with an exclusive torso piece asking people to 'be kind rewind.
Mattel
https://about.mattel.com/
Mattel remains one of the top toy brand companies exhibiting at comic con. Their booth space is fairly large and divided into many sections showing off their range of brands including WWE, Jurassic Park, Hot Wheels, Monster High, Minecraft, and Masters of the Universe. At the front of the booth an area was set up for various signings throughout the convention. The Hot Wheels section also had a racing track where fans could win some cool swag. Another booth space was utilized just to sell their show exclusives which this year included a Masters of the Universe: Revelation Motherboard, Little People Collector The Avatar: The Last Airbender Set, Monster High Freak Du Chic Draculaura Figure, Star Wars: Return of the Jedi. This Hot Wheels AT-ST, and a Hot Wheels RacerVerse Marvel 2-Pack, Hot Wheels Jurassic Park Jeep Wrangler & Dr. Ian Malcolm, WWE Ultimate Edition Muhammad Ali Action Figure Set. Though in order to get through their sales booth you needed to have won a lottery spot prior to the show starting.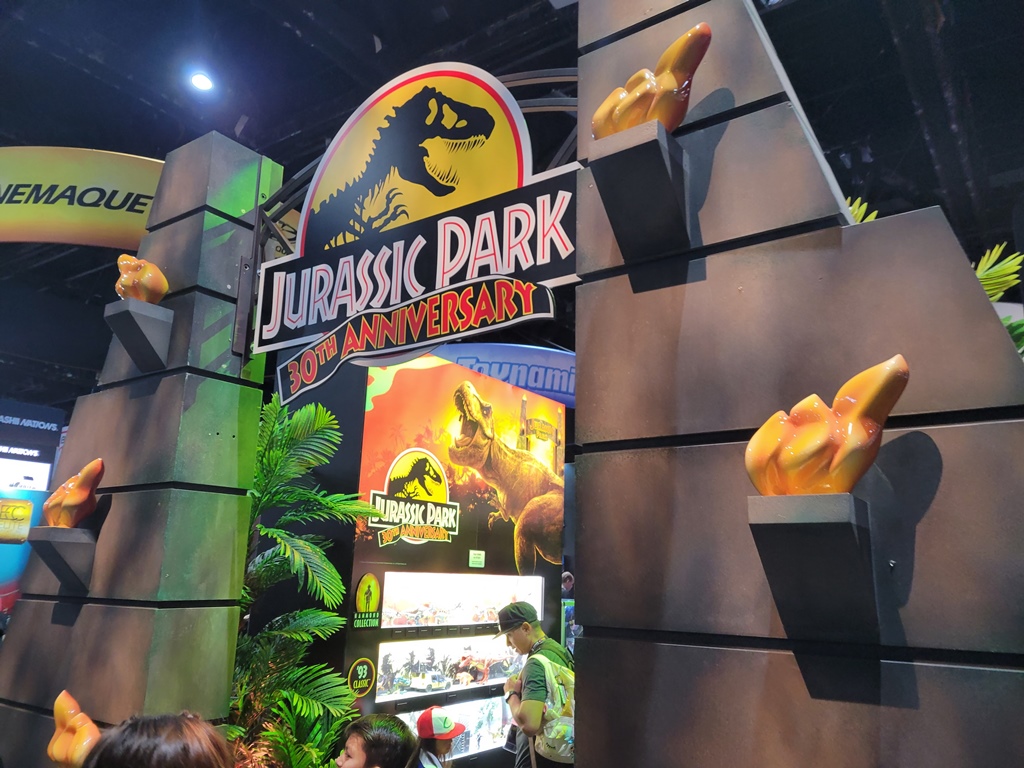 Jazwares
https://www.jazwares.com/
Jazwares has become the fourth largest toy company in the US with a strong portfolio including their line of All Elite Wrestling (AEW) figures, Pokémon, Halo, Micro Galaxy Squadron Star Wars ships, and their very own Squishmallows plush stuffed toys. They were also one of the few companies with actual San Diego Comic-Con labeled exclusives in limited numbers. That said the company had growing pains as their booth experience this year was not managed well and created some very poor fan experiences throughout the convention leaving lots of room for improvement in future years; which I do hope to see.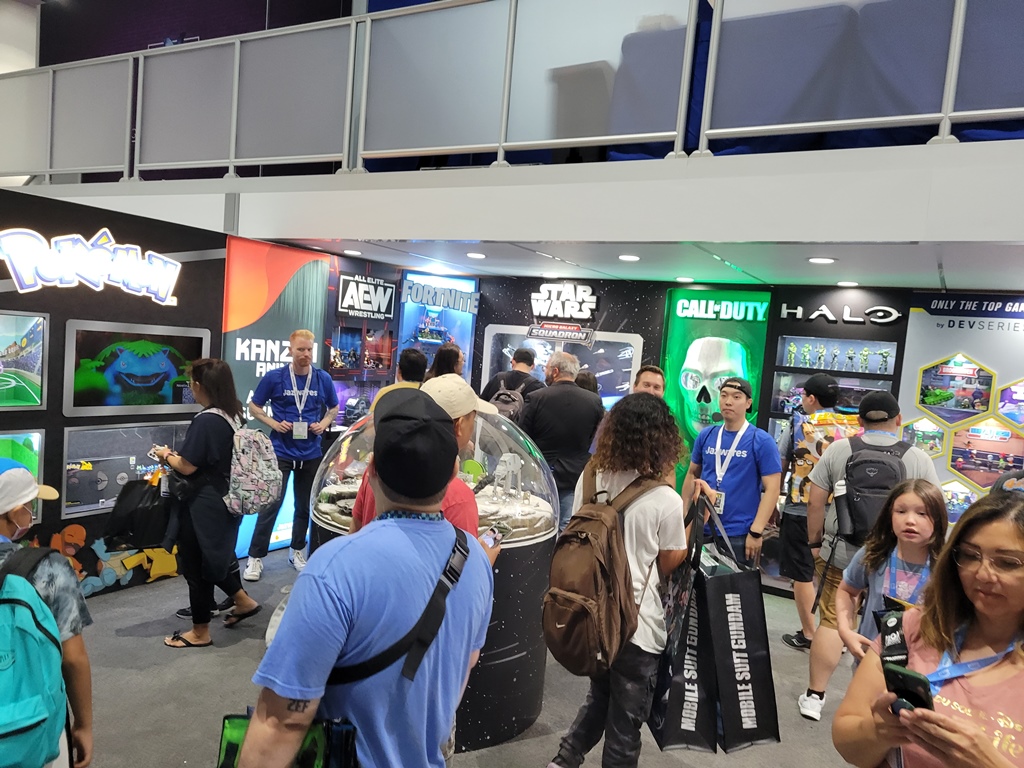 Super Impulse
https://superimpulse.com/
Making their San Diego Comic-Con debut Super Impulse offers a range of products most notably the World's Smallest which feature miniature versions of iconic toys like Super Soaker, Etch-A-Sketch, Rubik's Cube, Sorry, Battleship, Cornhole, Beer Pong and more! But that's not all another part of the line, which I was not familiar with until heading over to their booth this year, is their Micro Figures which are very tiny figures in packaging of many iconic brands including Transformers, Dungeons & Dragons, Masters of the Universe, Teenage Mutant Ninja Turtles, Monster High, South Park, Star Trek, and even Wednesday. Finally as I mentioned from my coverage at Sweet Suite Super Impulse has a line of Poptaters which are smaller versions of the classic Mr. Potato Head with licensed crossovers and with interchangeable pieces!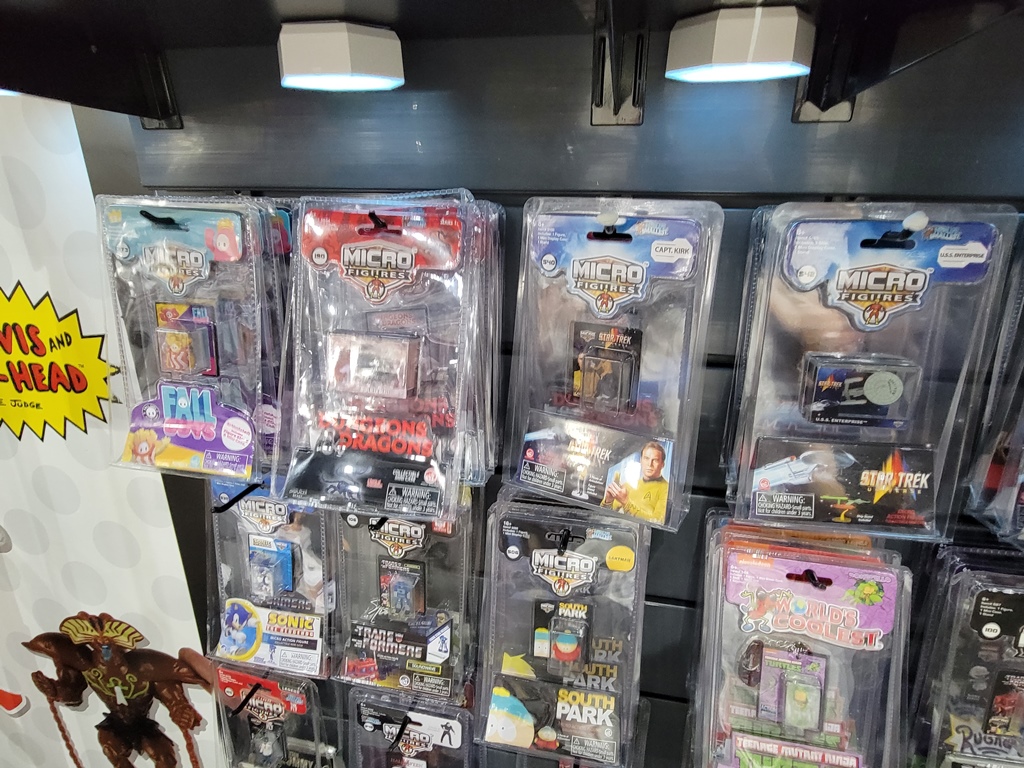 Funko
https://funko.com/
Funko is the premier makers of Pop! Vinyl and pop-culture licensed toys including Marvel, Hasbro, The Walking Dead, Game of Thrones, DC Comics, Star Wars, Anime, and pretty much any property. You can't go to almost any retail store and avoid a Funko Pop!. This year Funko seemingly took over the entire back corner of the convention center with their Funkoville set-up featuring areas for Pop! sales, Loungefly, 7 Bucks a Pop, Blockbuster Rewind, Mondo, Bitty Mart and Funko Games Spaces. Each booth area had exclusives to purchase some which were part of the lottery while others were wristbands handed out in the morning or plain old walk up. Another fun aspect in the Funkoville area was a pin hunt. Each booth space had a unique pin and which could be obtained while a few people were also walking around the area randomly handing out pins throughout the convention.

I was also fortunate enough to reconnect with my friends in the Funko Games group at the Funko Games X Den of Geek Rooftop Gaming party where I was introduced to a few of their newest games including Indiana Jones Sands of Adventure Game, The Texas Chainsaw Massacre Slaughterhouse Game, Star Trek Cryptic Game, Scream The Game, and Star Wars Rivals. The event was a great way to connect with the Funko Games team about all these great games and grab a branded Kolsch beer from Mission Brewery.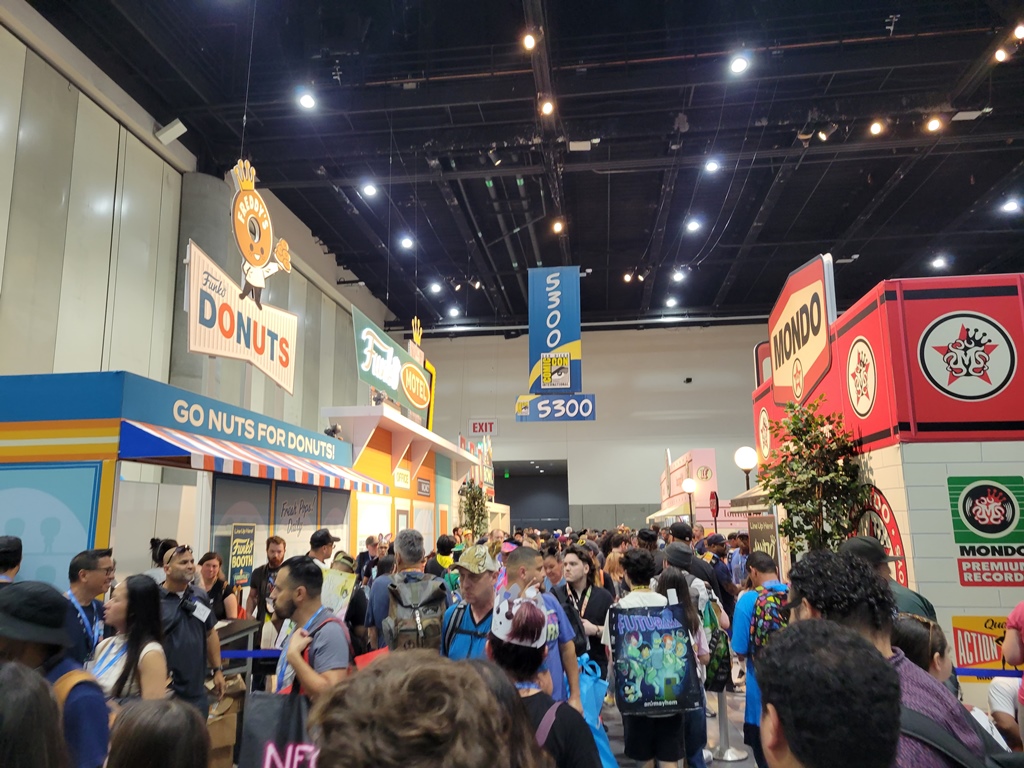 Factory Entertainment
www.factoryent.com
Factory Entertainment, Inc. is a leading manufacturer and distributor of high-quality licensed toys, collectibles and home goods featuring a wide variety of entertainment properties and pop culture personalities, including Star Trek, Harry Potter, DC Comics, Game Of Thrones, Monty Python, Men in Black, Ghostbusters, Universal Monsters, Jurassic World, Back to the Future, Jaws, Friday the 13th, Nightmare On Elm Street, the Goonies and many others. Along with the standard fair of collectibles and knick-knacks the big reveal from Factory Entertainment was a trio of premium Star Trek ships in their new FEMasterworks line. Each individually hand-crafted studio scale replicas are created in the United States by professional model makers and are designed to become the centerpiece of any collection. The first three ships in the line are the U.S.S. Enterprise NCC-1701, U.S.S. Excelsior NCC-2000, and the U.S.S. Enterprise NCC-1701-D.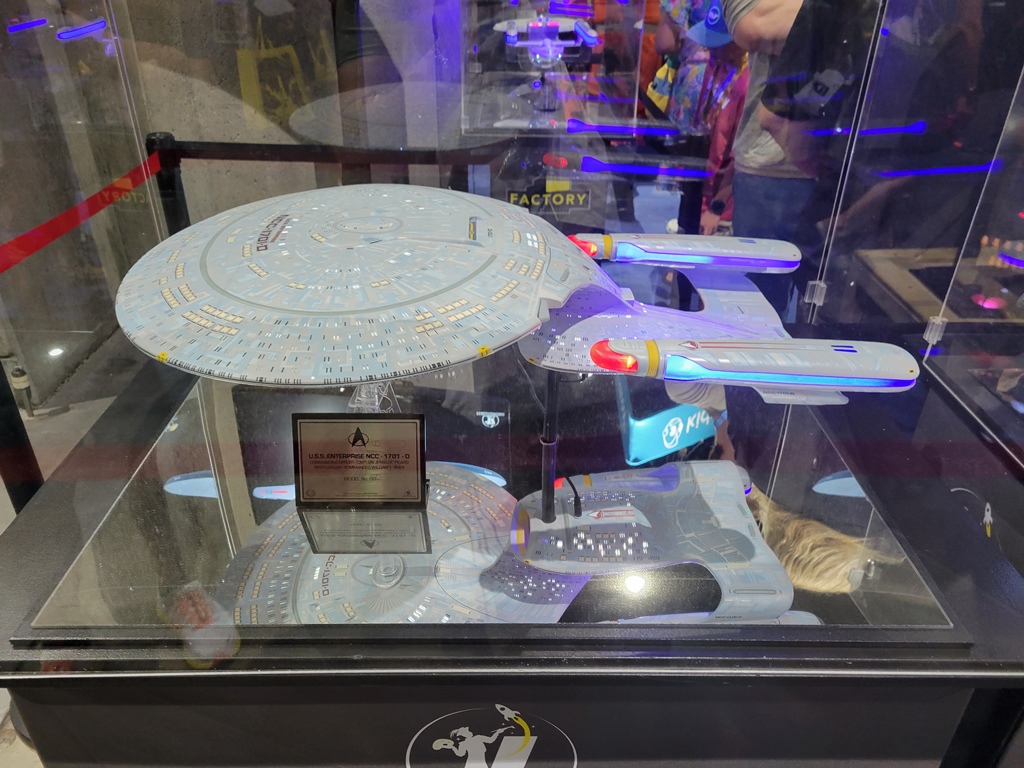 Z2 Comics
http://www.Z2comics.com
Z2 Comics collaborates with top artists, musicians and pop-culture icons to produce graphic novels and collectibles. Distributed globally via Simon & Schuster, Z2 produces unique graphic novel properties, collaborating with top music acts such as Gorillaz , Blondie, Jason Derulo, The Grateful Dead, Machine Gun Kelly, Sublime, Beethoven, RZA, Mötley Crüe, Poppy, and many more. On top of their regular presence at conventions and other events they also have acted as a partner with Paramount+ and Fandom over the last two years for the Fandom party, one of the hottest convention parties. Their The Illustrated Al: The Songs of "Weird Al" Yankovic was a product that caught my attention.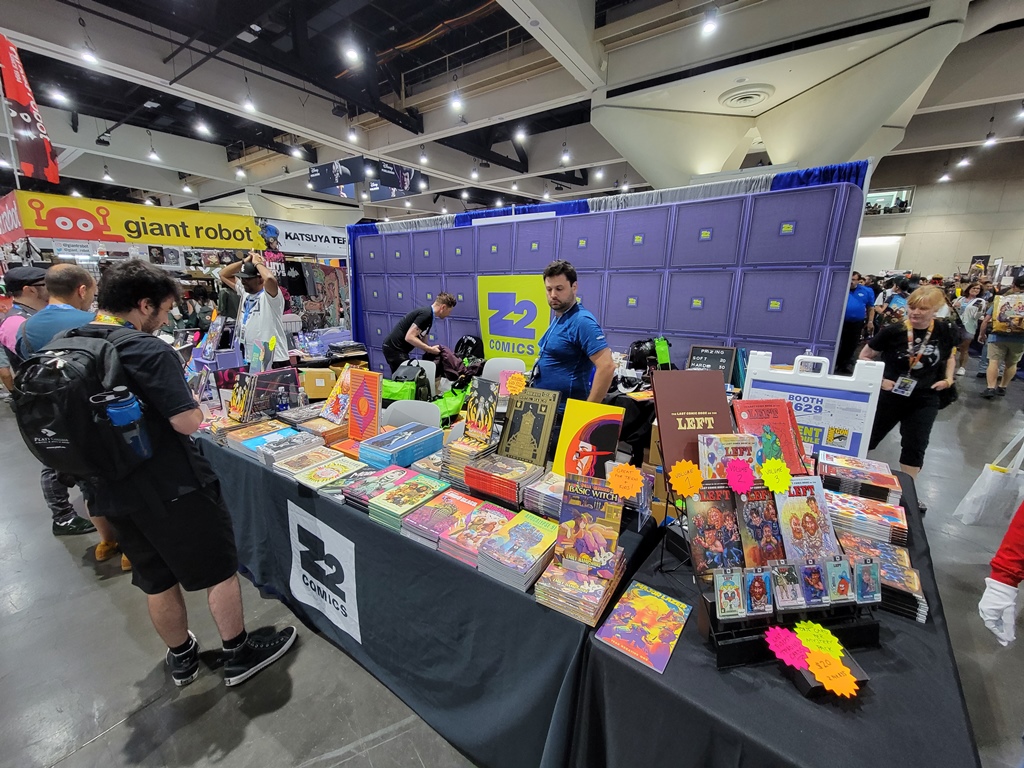 RockLove Jewelry
http://www.rocklove.com/
Rocklove Jewelry fuses creator and designer Allison Cimino's love of history, fantasy, and sci-fi with her training as a silversmith to develop a line of sterling silver collections. Handmade in NY the RockLove line uses the highest quality precious metals, genuine gemstones, antique relics, and fair trade organic materials. While they did have a scattering of products throughout they show floor their main area was in the Star Wars Pavillion of the show floor where they debuted a new Crystal Lightsaber Collection and new additions to the Mini Ships and Droids Necklace Collection.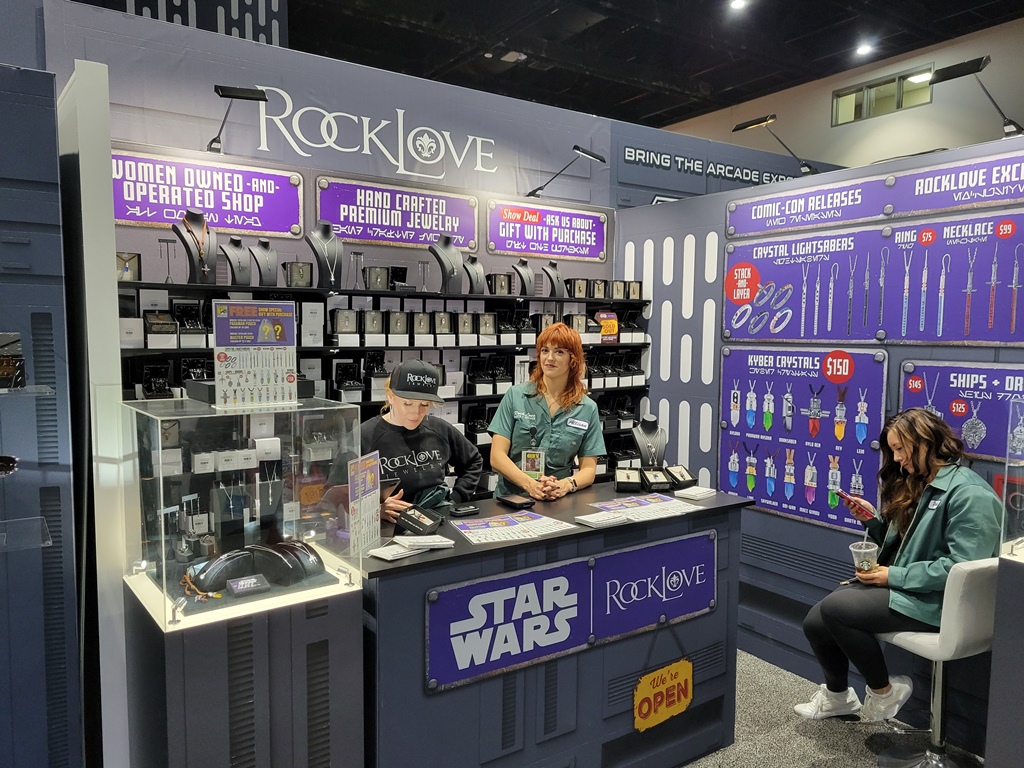 Star Wars Costumes and Props
Also in the Star wars Pavilion was the typical display of costumes, replicas, set pieces, and props this time from the upcoming Disney Plus Ahsoka series.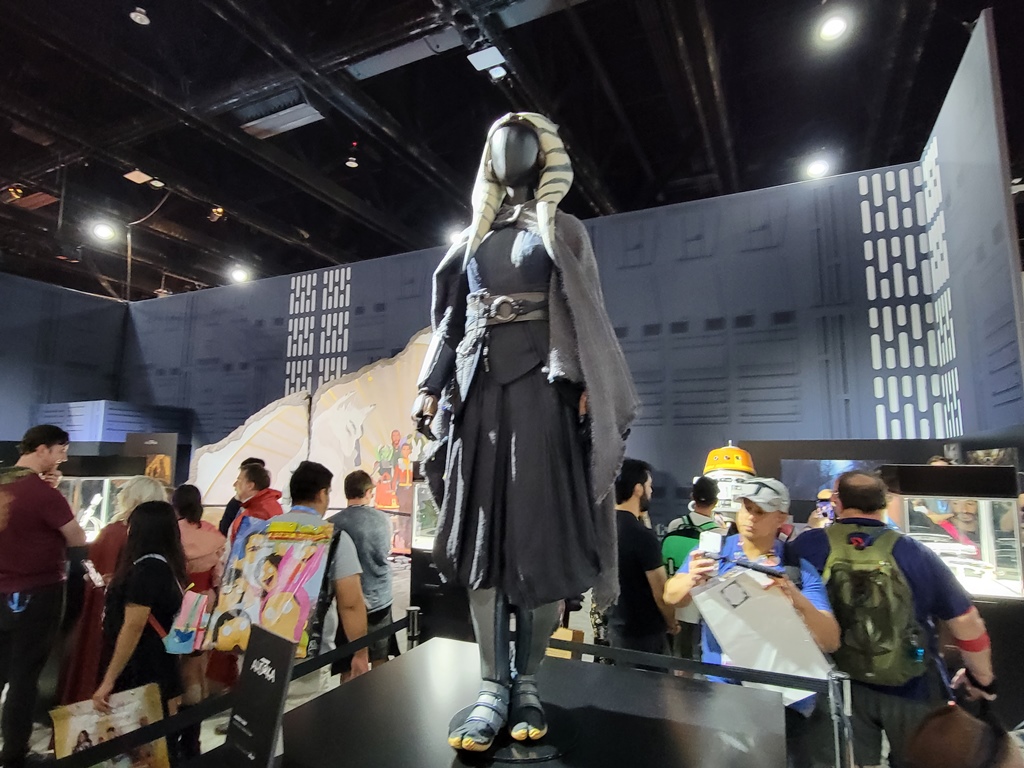 Nanoblock
https://nanoblockus.com/
Nanoblock miniature brick building sets let builders create detailed 3D works of art while being manufactured to the highest tolerances and are small enough to fit in your hand. Being distributed by Bandai they are able to create a host of properties including Pokémon, Sonic, Dragon Ball Z, Kirby, as well as a host of other anime, Hello Kitty, animals, architecture and more.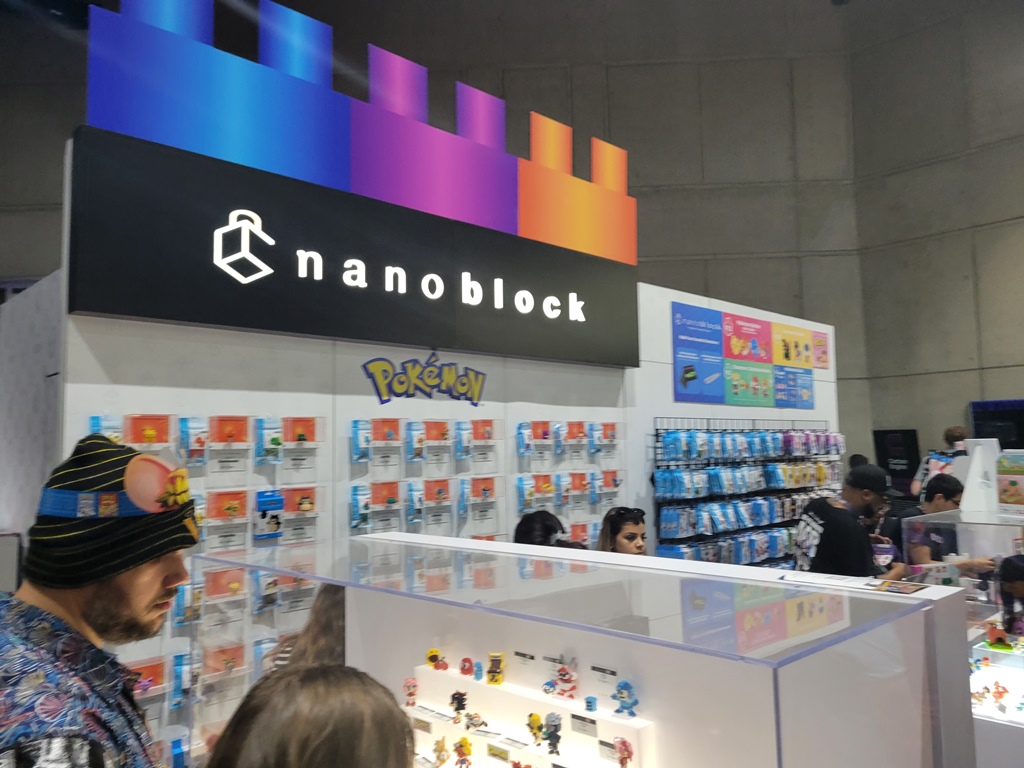 Pudgy Penguins
https://pudgypenguins.com/
The Pudgy Penguins toy line based on the NFTs of the same name also made an appearance at SDCC showing of their line of figures, collectible blind box Igloo pack collectibles, and plush toys.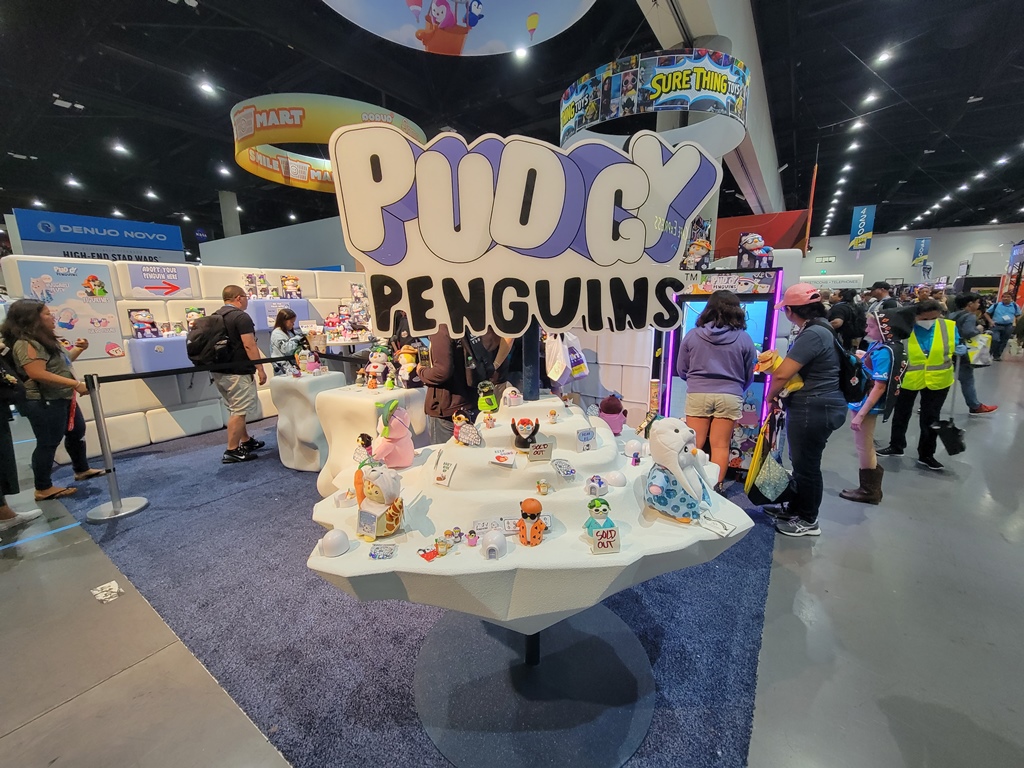 4D Build – Spinmaster
https://www.spinmaster.com/en-US/
4D has an incredible line-up of 3D model construction kits. Fans can create buildings, ships, figures, animals, and props from top licenses. Their Star Wars T-65 X-Wing Starfighter and Harry Potter Hogwarts Express Model Kit Puzzle was really eye opening and feel like perfect display pieces for movie and puzzle fans.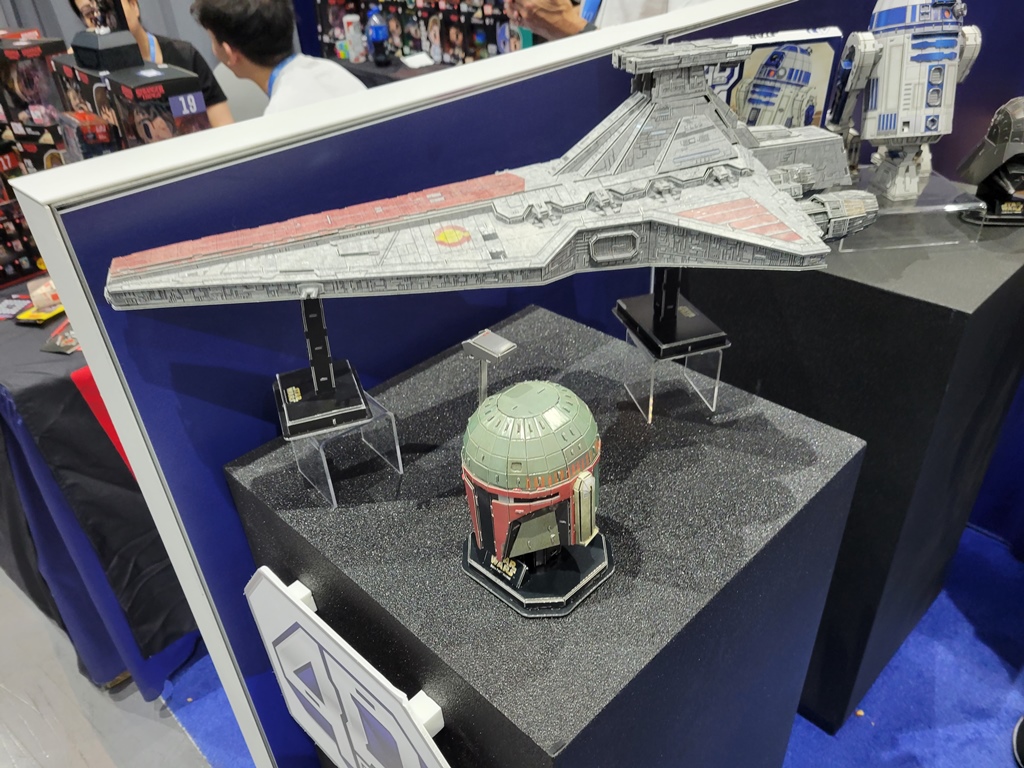 Tamagotchi
https://tamagotchi.com/
Year after year Tamagotchi keeps up its relevance and fan base. The digital pets are available in many varieties from the original version and numerous skinned licensed versions. There is a Tamagotchi for everyone.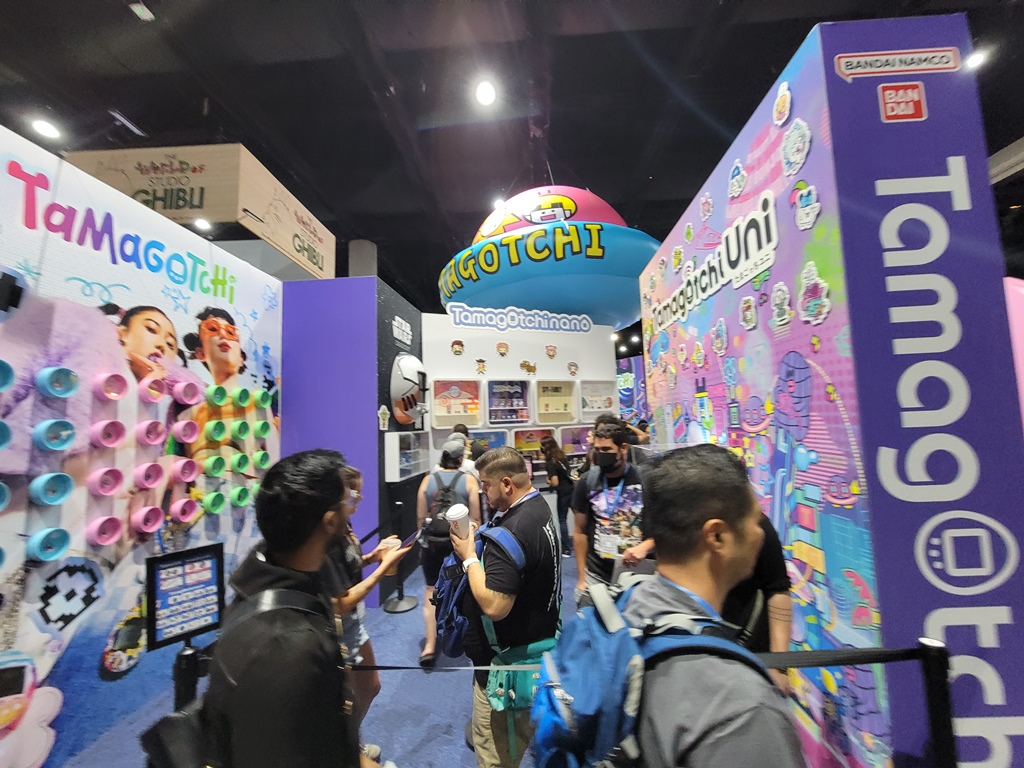 DC Entertainment
After taking a year off DC Entertainment was back on the show floor albeit with a bit of a more tame booth presence. They had a small display of costumes for Aquaman and Blue Beetle as well as a store area selling a few collectible figures and comics. Another portion of the booth was also utilized for signings. Gone were the massive stopping around the booth when a cast signing was occurring but it was still good to see them return in some form and hopefully next year we see a bigger presence.