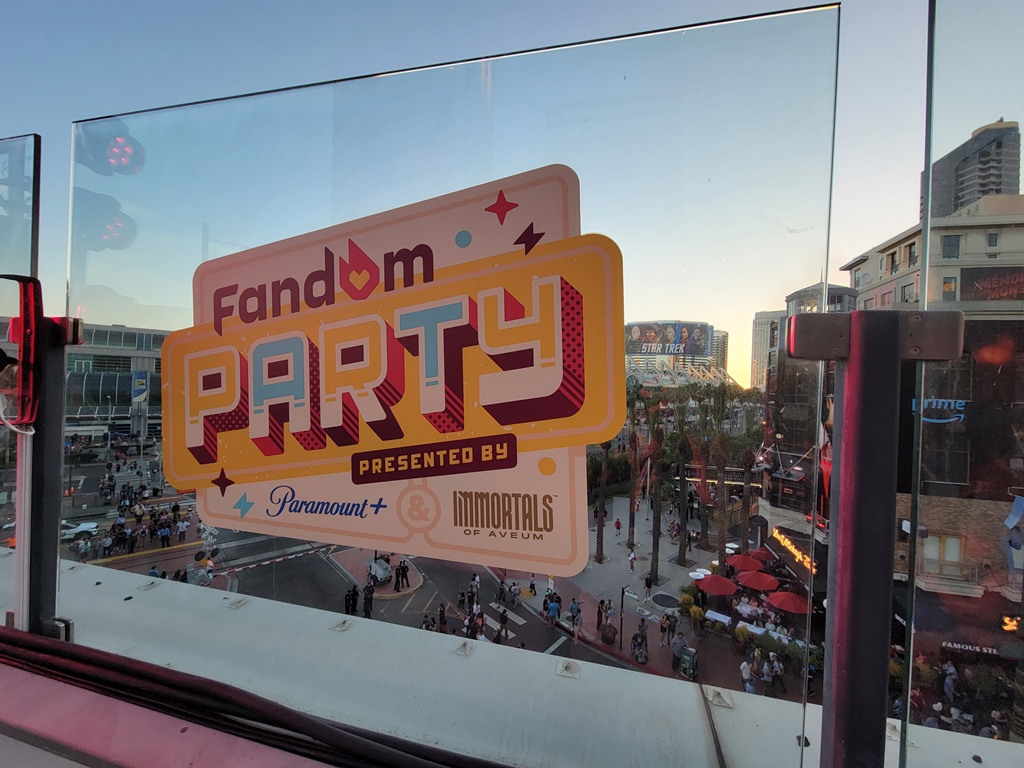 The Fandom Party
Fandom, the world's leading platform for in-depth information on entertainment, gaming, and pop culture hosts one of Comic-Cons most exclusive parties. For their 6th annual party Fandom again partnered with Paramount+, Electronic Arts (EA), and graphic novel publisher Z2 Comics to deliver a night filled with drinks, food, exclusive content, and a performance by K-Pop band NCT DOJAEJUNG at Float Rooftop Bar and Lounge in the Hard Rock Hotel.
Fans who were able to attend by winning a contest through Twitter upon entering the venue were provided a collectible event lanyard which included a Pinfinity AR Fandom pin which doubled as a sort of badge for attending the party. The AR feature of the pin also allowed attendees to get Fandom themed filters added to their photos for their social media posting.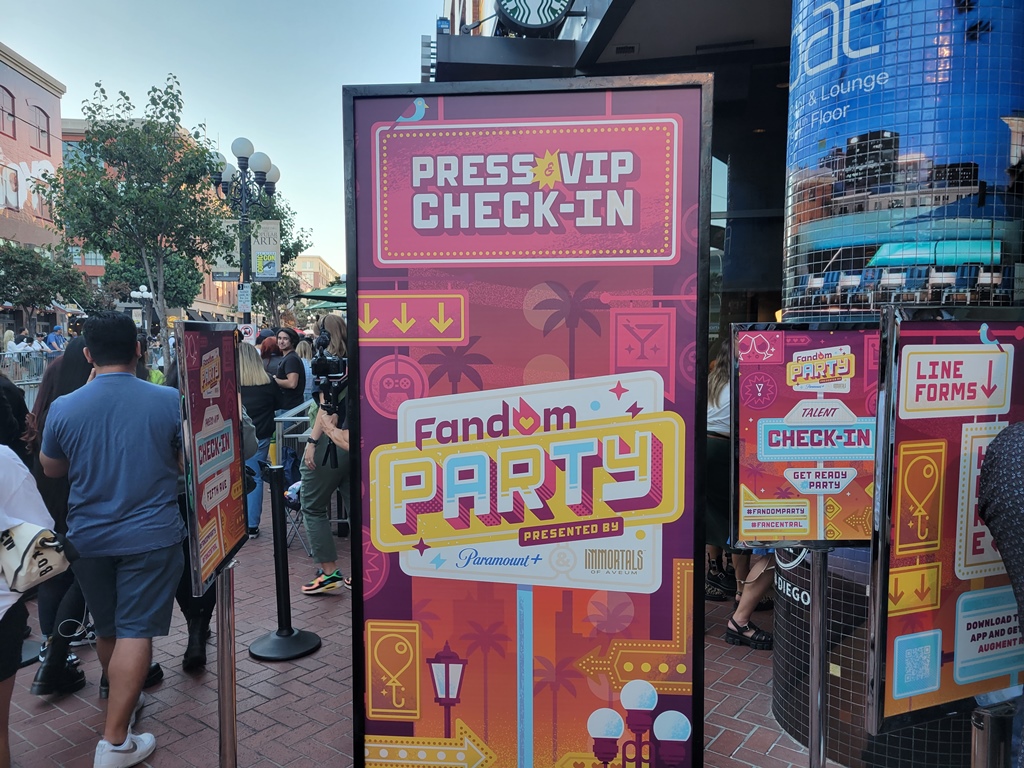 The event location was decked out with Paramount+ content promoting their Star Trek: Strange New Worlds, Yellowjackets and Transformers: Rise of the Beasts shows including photo booths, arcade games, activations, and themed drinks and food. EA was also on hand showing off a sneak peek of their upcoming video game Immortals of Aveum™. Z2 Comics and Pinfinity also had a themed space with a wall of their content.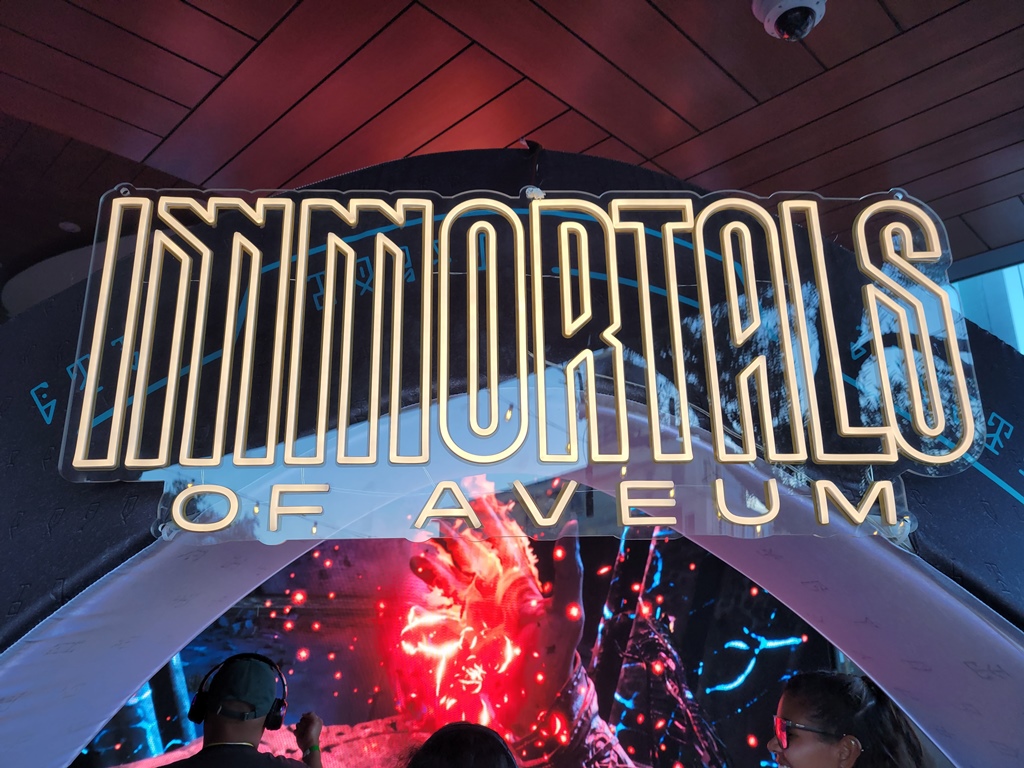 To end the night Fandom brought out NCT DOJAEJUNG a group composed of DOYOUNG, JAEHYUN, and JUNGWOO a new unit of the South Korean boy band NCT for their first US performance. On top of their quick rise in popularity NCT 127, which also features members DOYOUNG, JAEHYUN, and JUNGWOO, have teamed up with Z2 Comics, Universal Music Group, and its Korean label SM Entertainment to publish NCT 127: Limitless, an original graphic from the band. NCT DOJAEJUNG put on a memorable set at the show which made all the K-Pop fans swoon.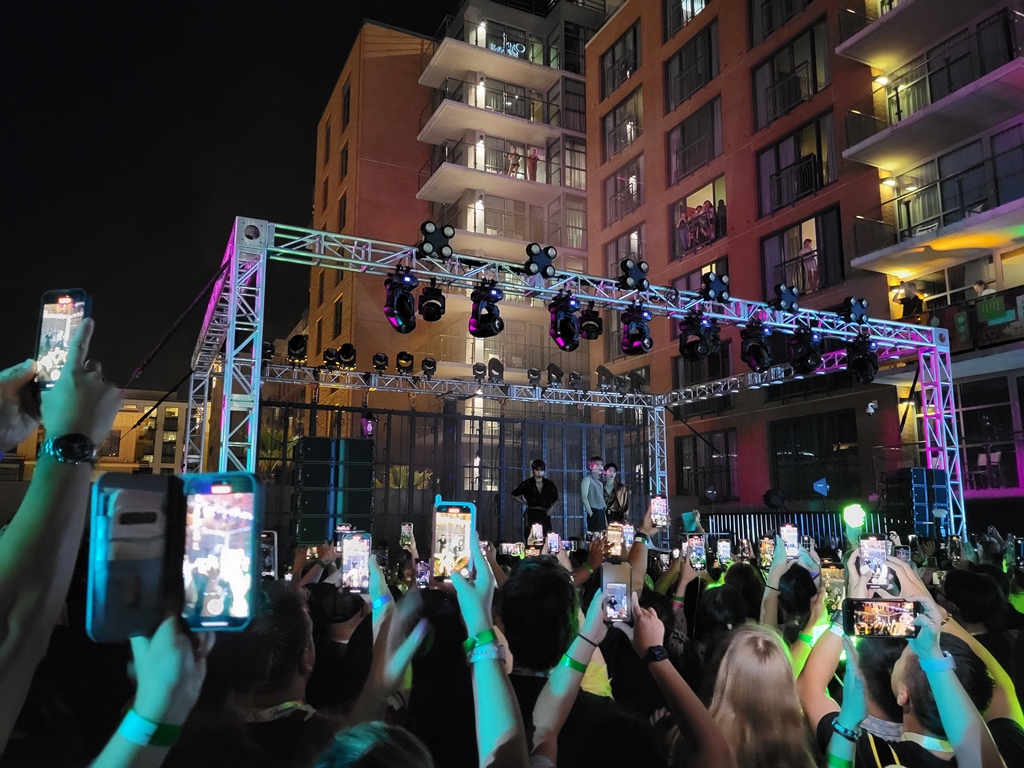 For the second year in a row I was fortunate enough to be able to attend the Fandom party and experience one of the premier after hour events at the convention. Here's to next year!
Neopets Era Party
But that's not the only after hours event that I attended this year. As I mentioned with a lighter panel schedule from the SAG strike I had a bit more free time on my hands and I was able to also attend a few other after hours events one of which was the Neopets Era Party and immersive event held at Deck665.

Neopets, an immersive online virtual pet game which lets players adopt, customize, and interact with Neopets in the vast world of Neopia is known for its multi-generational, passionate community and offers its 150 million worldwide players a vast world of storytelling, collecting, pet care, and exciting social gaming.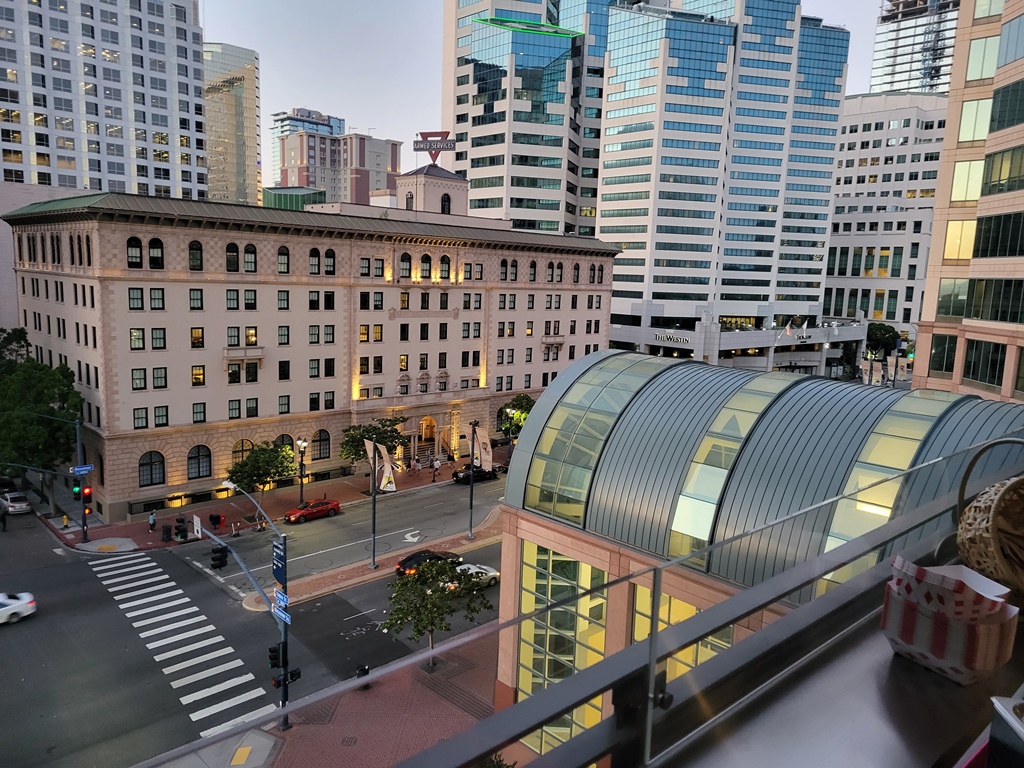 The party was very exciting for Neopets fans as not only was there a brand presentation discussing new leadership, a new and updated website, new plots, and the announcement of John Legend (yes that John Legend) as a brand ambassador but it was also fun and fantastic filled night with a DJ, food and drinks, games, photo-ops, and a swag bag upon leaving. Neopets also had a booth on the show floor allowing fans to purchase exclusive merchandise and meet The Neopets Team.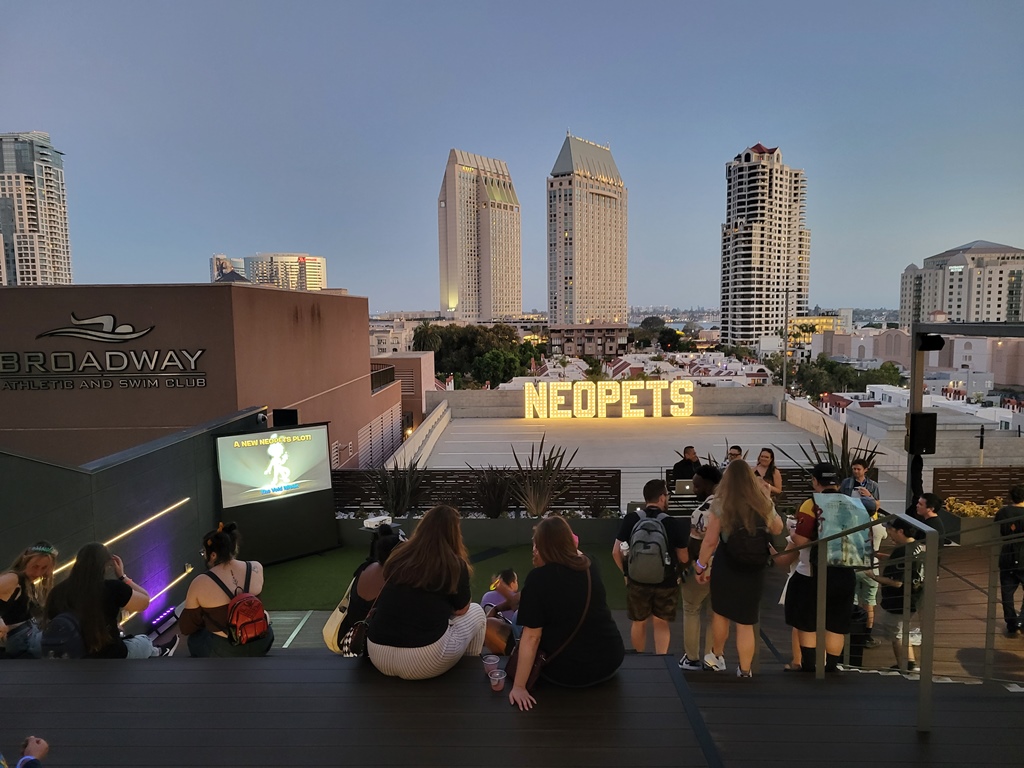 Den of Geek
Finally Den of Geek made a splash by hosting events throughout the four day convention. For those who don't routinely attend comic conventions where their magazines are handed out, Den of Geek is an entertainment website covering all things pop culture. For the show Den of Geek hosted four distinct themed parties and coming back from the convention I now realize that I in fact did attend each of these events so let's take a look at how each one was different.
Den of Geek X Project K Spice Punk Party
Before San Diego Comic-Con started not much was known about Project K, formally known as Kalki 2898, except that there was going to be, for the first time ever, an Indian cinema film panel in Hall H.. But before the Thursday Hall H panel Den of Geek and the people behind Project K held a Spice Punk (what Project K is calling the genre) themed party on Wednesday evening at the courtyard of the Horton Grand Hotel.
The party was still a bit mysterious as there was not a lot known or talked about regarding the movie other than it being touted as a Indian Mytho-Sci-fi Epic and the event mainly served as a bit of intrigue into the upcoming 2024 movie. It was still a fun night which featured themed drinks and food including an incredible lamb flatbread and mango mousse tartelette. Some of the actors were in attendance though sadly in a separate part of the venue, though they did venture out in the evening to mingle with fans for a few minutes.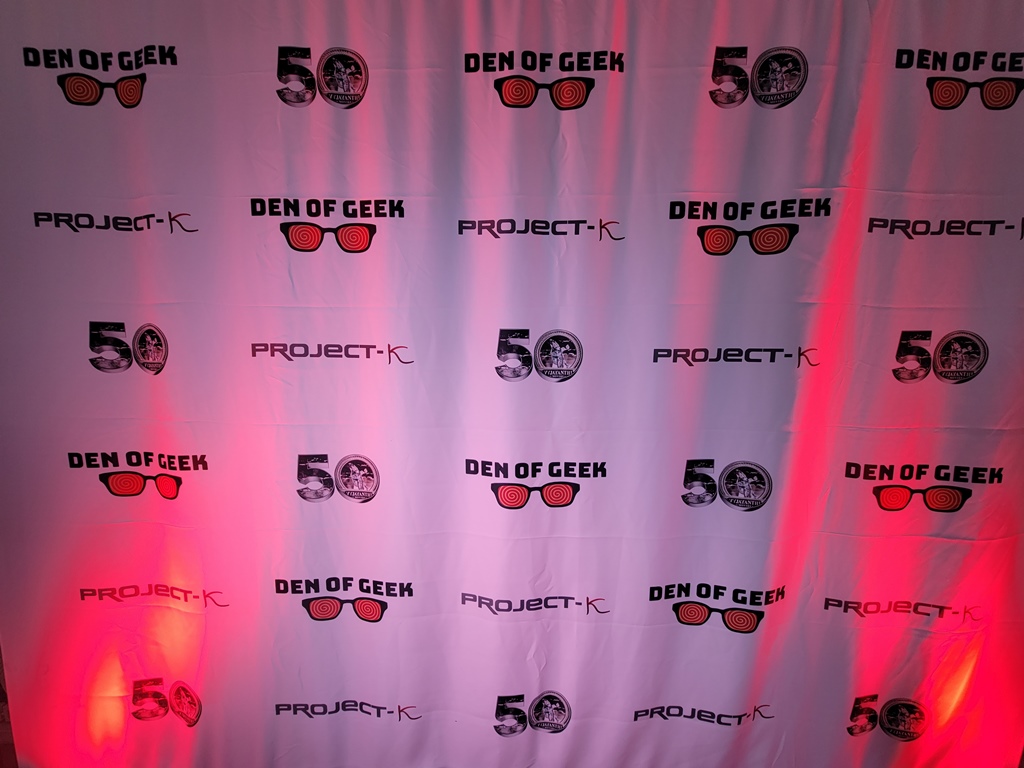 The one thing the party did do however was pique my interest and it ultimately solidified my desire to step into the world of Project K and attend the Hall H panel the next day. Also because of the SAG strike many of the entertainment panels couldn't go on since there would be no actors to help promote the product but since the actors for Project K are not part of SAG the panel was able to feature an A-list team of Indian actors. This in my view gave Project K the chance to be one of the more memorable panels at this year's convention.
The panel started off with a drum solo and dance performance which was enthusiastically received and then continued into a film reel showing off a bit of history of Indian cinema and introducing attendees to the actors. I admit heading into the panel I was not really aware of the star power in attendance but after the film reel and speaking with some friends I have begun to grasp the intense following that that the three main actors who came out for the panel (Prabhas, Amitabh Bachchan, Kamal Haasan) really have.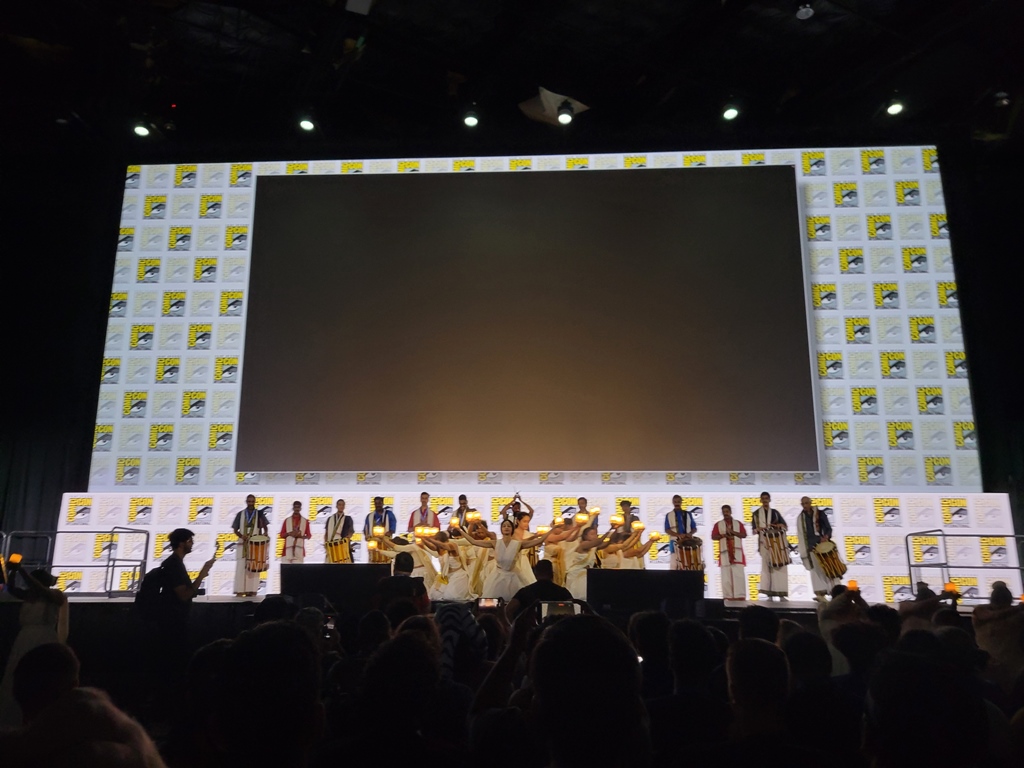 The panel then followed a fairly standard platform of discussing the upcoming movie which was alluded to as drawing heavily from Indian cultural and mythology with a Sci-Fi twist and at one point was described as 'The Beginning of the End.' The panelists really did seem happy to be at the premier US convention so overall it was a good panel and one of the few I attended the entire convention.
Den of Geek X Funko Games Rooftop Tabletop Gaming Party
Next up from Den of Geek was their Rooftop Tabletop Gaming party with Funko Games held at the Ultimate Skybox. Technically this event was not so much an after hours event as it was mid-afternoon event but in either case having worked with Funko Games in the past I was very interested in seeing some of their newest releases while being able to get a few mid-afternoon bites and a Funko Games branded Kolsch beer from Mission Brewery which I may or may not have brought a 4-pack home with me.

As I mentioned in my toys round-up article Funko Games showed off Indiana Jones Sands of Adventure Game a timed co-op game where you are trying to rescue the Ark of the Covenant, The Texas Chainsaw Massacre Slaughterhouse Game a one versus many survival game, Star Trek Cryptic Game, Scream The Game, and Star Wars Rivals a quick paced game where you are trying to overpower your opponents at a location to win it.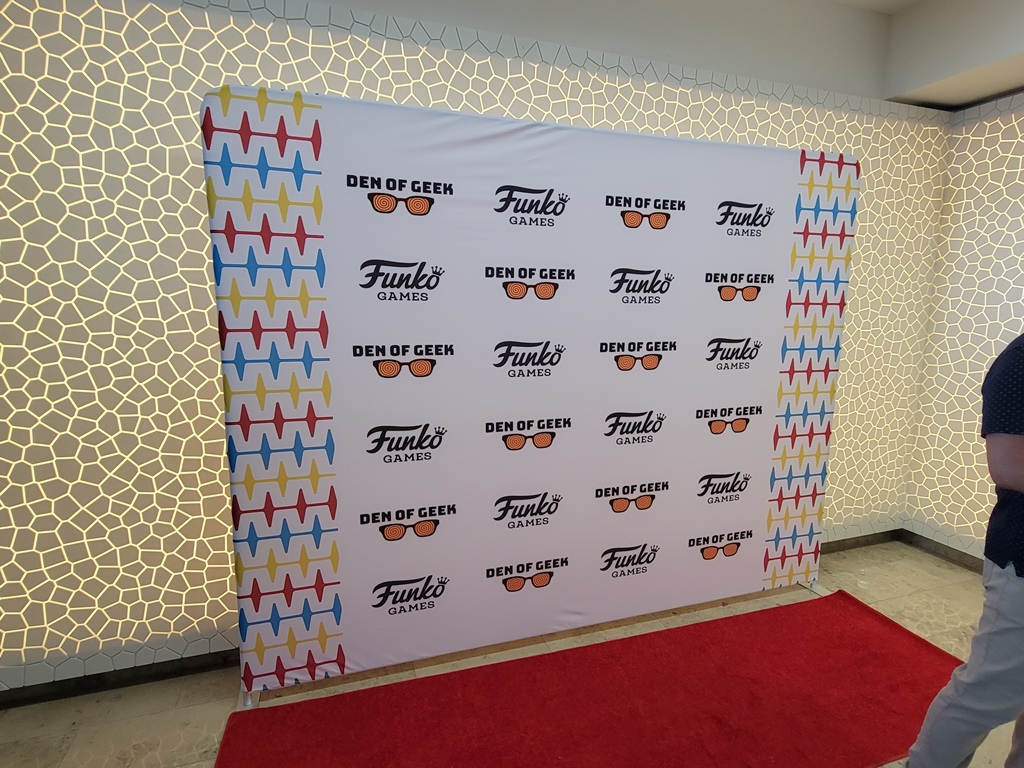 Den of Geek X Gala Games Event
If tabletop gaming is not your thing well the Den of Geek also had an event with the folks at Gala Games. So who are Gala Games, well they are the leader in web3 entertainment. Gala Games are a blockchain game developer creating the largest decentralized network of gamers in the world. Their mission is to make blockchain games fans will want to play, whether you are blockchain proficient or not. What makes them unique is that anything through gameplay you could earn cryptocurrencies and NFTs which can be verified on the blockchain and can be traded to another person or used in game.
So Gala Games got together with Den of Geek at Mission Brewery to provide an exclusive look at some of their games, provide some Tacos, and let attendees grab a beer or two. While there I tested out their Spider Tanks game which is described as a PVP Brawler. I admit I am not the biggest video game player but I enjoyed it and what I found interesting is that the tanks you own could also be rented out to other players playing the game. It was a fun afternoon and really helped introduce this new gaming mechanic to me.

Gala Games also has a few other games in their portfolio including Last Expedition A PVPVE extraction FPS; The Walking Dead Empires a multiplayer survival game; Meow Match a match-3 puzzles game, and Dragon Strike: An epic new match-3 RPG game to name a few.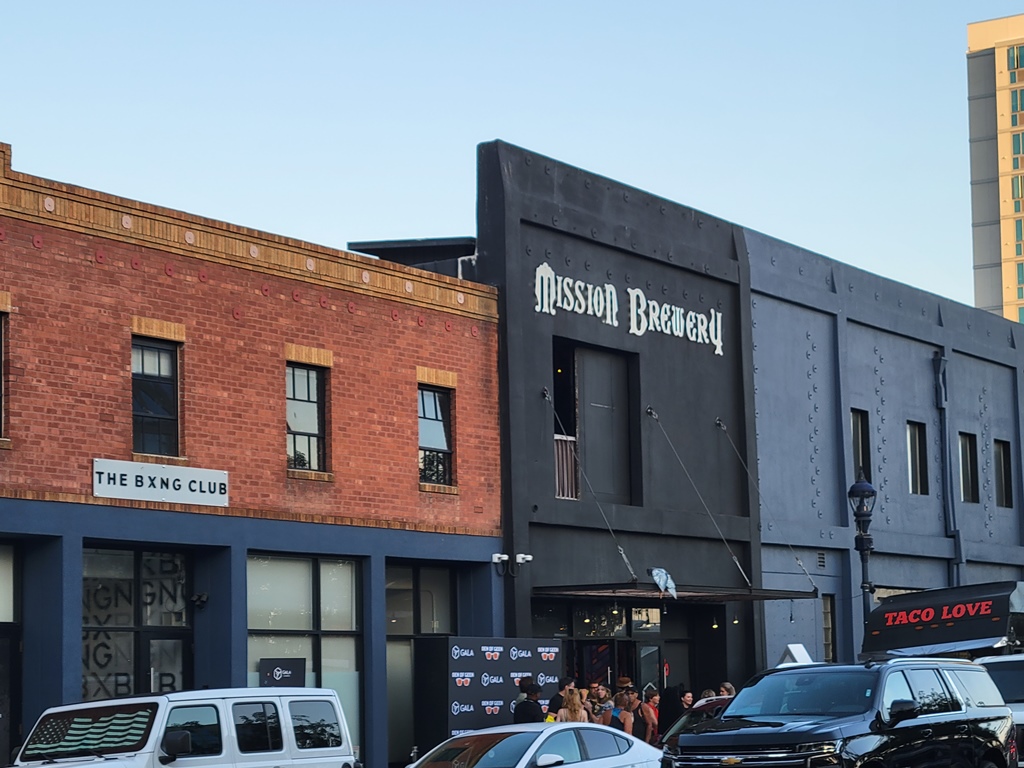 Den of Geek X National Geographic Lounge
Finally Den of Geek worked with National Geographic for their Comic-Con lounge at Margaritaville and was themed based on Nat Geo's upcoming shows Running Wild with Bear Grylls: The Challenge, Animals Up Close with Bertie Gregory, Arctic Ascent with Alex Honnold, and Never Say Never with Jeff Jenkins. The lounge featured food and drinks along with photo-ops and a painting area. Of all the Den of Geek events at this convention this one was a bit different in that I found myself with some free time on Saturday afternoon and decided to join some friends who were attending this from a fan side and wasn't originally intending on covering the event but after coming home and realizing this was also put on by Den of Geek I decided to add it to my coverage. This event also happened to have some of the best cocktails and food served during the weekend.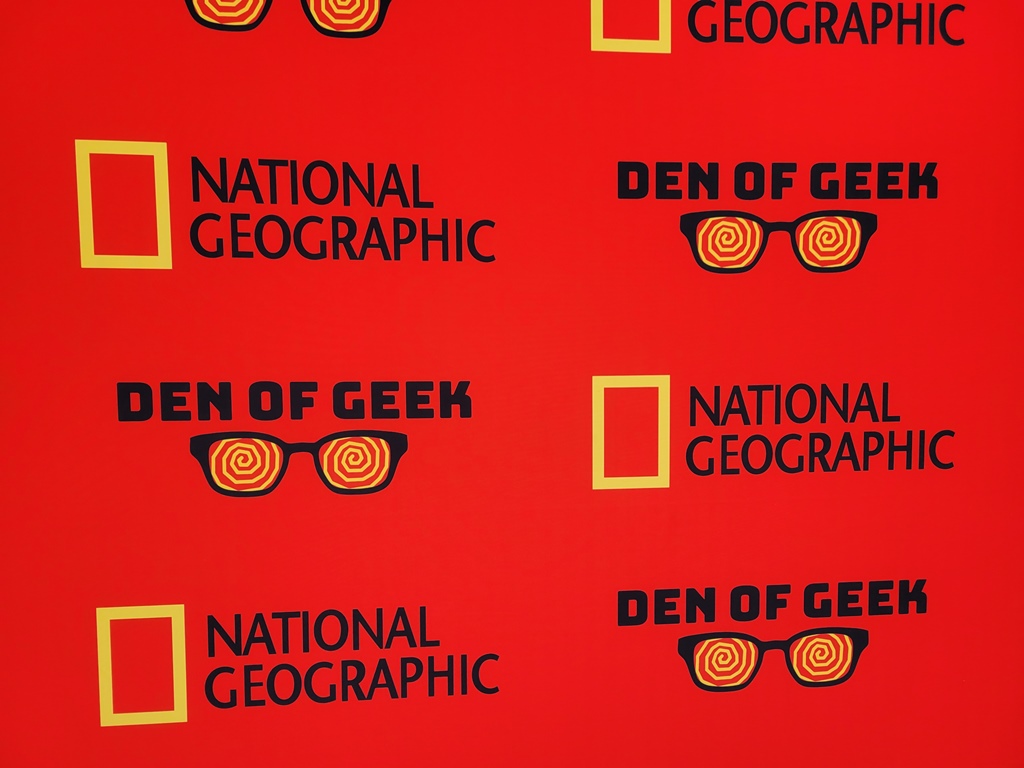 All in all Den of Geek really put on a stellar line-up of events with each one having a unique aesthetic and vibe depending on the intended audience and I was greatly appreciative to connect with some of their team in person as well as the connections these events helped me establish and re-establish.
Prime Video also decided to hold nightly events at Venue808 for Jury Duty and Good Omens. Unfortunately I was unable to make those fit into my schedule but hopefully in future years I'll slide them in. So like I mentioned earlier after hour events can really be used to help a company connect fans of upcoming show or release to help drive interest and as a way to relax after a long convention filled day!