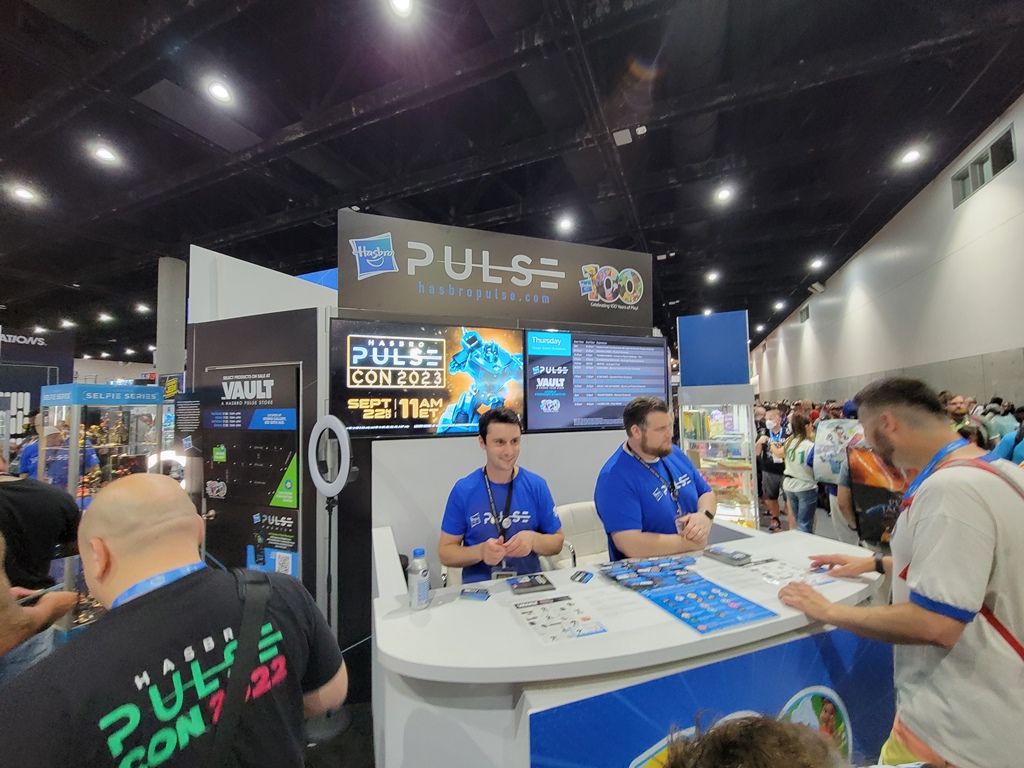 Finally I get to one of my favorite articles as it involves one of my favorite overall brands – Hasbro. The sheer amount of properties this company has can sometimes feel intimidating but we will manage and year after year at San Diego Comic-Con I eagerly anticipate the news and reveals that comes out of all the different Hasbro brands. While their approach to conventions has changed over the last few years such as the removal of their dedicated Hasbro Pulse shop booth Hasbro has started to bring backsome of these elements such as have a offsite Pop-Up store selling product and even limited numbers of their exclusives.

Because of their sheer size Hasbro has one of the larger footprints on the show floor but this year their branding was also seen in many more places including at various Paramount+ themed events, the Petco Park Interactive Zone, and at their The Vault offsite pop-up where they had an assortment of products for sale including the Black Krrsantan Black Series figure and the G.I. Joe
Hasbro offers-up everything from toys, games, figures, and roleplay items for their youngest fan to the most fervent collector for almost every brand they own. Going to their booth is filled with display cases filled with products and as new reveals are announced at the show the space is continually being filled with new product throughout the convention. The booth space is also a spot where there are plenty of opportunities to interact with the teams involved with the different properties as well as signings and giveaways over the course of the show.

But before the show floor opened Hasbro started the convention out with the return of their Brand Preview Breakfast. This event, which is held Thursday morning of the convention, is a great way to fuel up before all the craziness of the convention begins while also getting a close-up look at some of the products across all the company's brands. The event is also a great way to interact with members of the various Hasbro teams in a more enclosed setting as well as catch-up with fellow collectors and reporters. Since there are products across the various product lines at the breakfast you'll likely see a few photos from various brands from both the booth space and the breakfast below. I also have generally posted images of nearly all the revealed figures from the various brands in their respective threads on our internal boards but there is really nothing comparable to walking through the Hasbro booth and seeing their amazing displays in person.
So let's take a look at the various Hasbro brands and what they were up to at San Diego Comic-Con.
Selfie Series
After the launch of the Selfie Series line at SDCC last year Hasbro came back this year and unveiled an updated app revising their Selfie Series line-up. The updated app promised a few new updates including new hair styles, sculpted beards, and the addition of eyeglasses. Additionally anyone that ordered a figure at the SDCC booth also received a unique package sleeve commemorating the convention and a branded figure stand.
The Selfie Series, for those unfamiliar, is a product line that allows fans to get their face 3D printed onto a premium six inch scale, fully articulated figure, from one of Hasbro's brands including Ghostbusters, Marvel, Star Wars, Power Rangers, and G.I. Joe. The price point of $59.99 has not changed and while each figure will set you back more than a standard six inch figure it is currently one of the only ways to get your very own action figure made from an officially licensed Hasbro brand.

The Selfie Series to me was the breakout announcement from Hasbro last year so I am happy to see its return and update a year later. Last year I went with a Ghostbusters figure of myself which I then reviewed. While I was overall happy with the experience I did feel there was some room for improvement so this year I again went for a Ghostbuster Selfie Series figure to see if I could smooth out some of the issues I had and get a better design but I also could not help myself and decided to go for a Rebel Pilot figure as well. The team in charge of the line was again on hand, with an updated booth set-up, to help fans scan their face and walk them through the process, which is one thing I think makes most people interested in getting a figure feel more comfortable with. The team were very helpful throughout the process. So be on the lookout for my review when these get to me, hopefully sometime in September.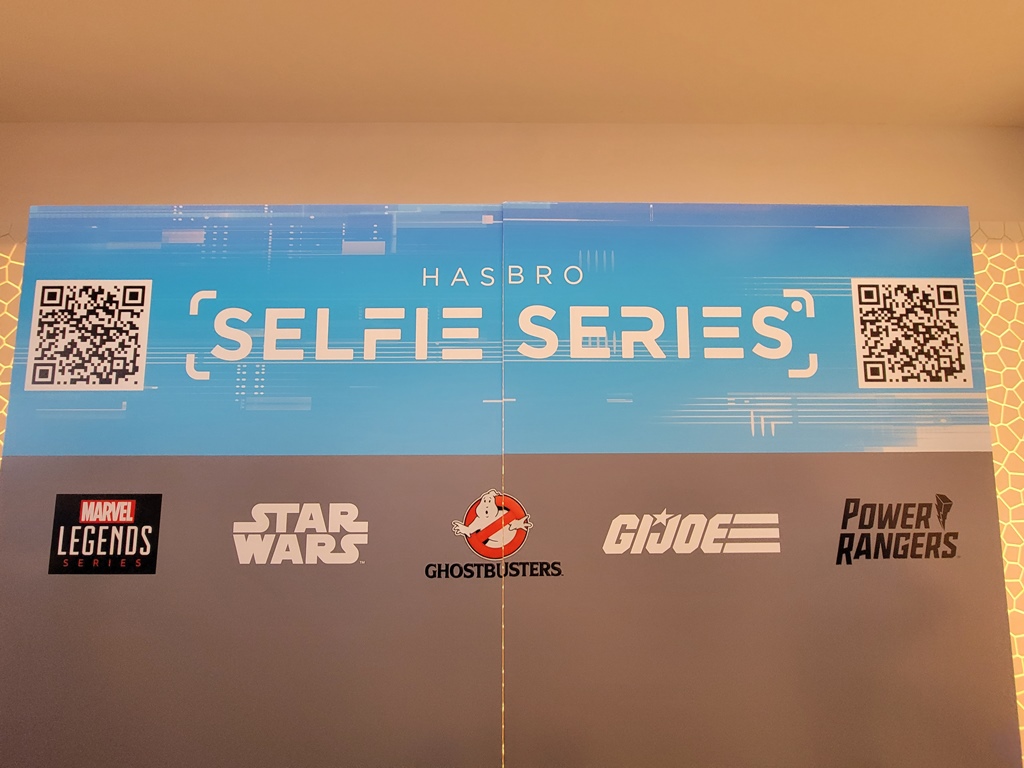 Transformers
Transformers showcased a number of figures from across their scales and series including Earthspark, Shattered Glass, Studio Series, and Legacy. One of my favorite items was the core class Dinobots set which can combine into Volcanicus. In celebration of the Rise of the Beasts movie the Mirage Porsche was used as centerpiece display. Some original Beast Wars figures were also on display. Check out our running Transformers thread here.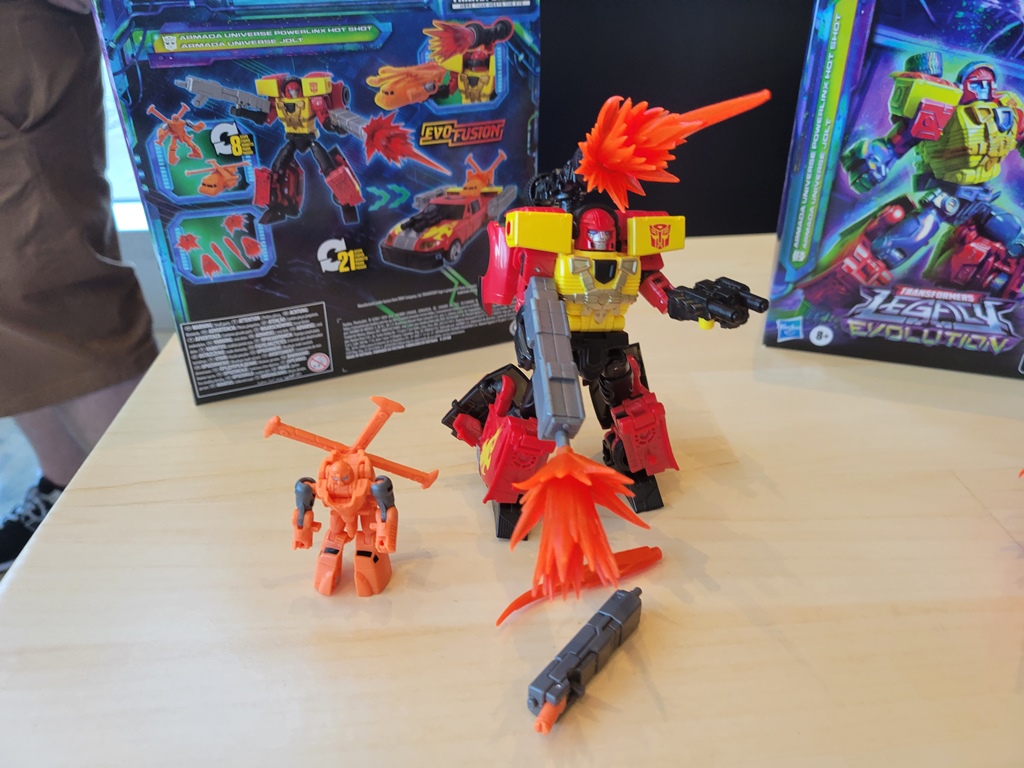 Robosen X Hasbro Grimlock Flagship Robot
One of the standout items from the brand breakfast was the announcement of the next figure in the Robosen line the Grimlock Flagship Robot. The king of the Dinobots auto converts from robot to T-Rex form and can be fully programmable for lots of action as well as over 42 voice commands. Grimlock also has over 150 lines of dialogue recorded by original voice actor, Gregg Berger. At $1,499 it is a bit out of my price range but for the ultimate collector this is the item to own.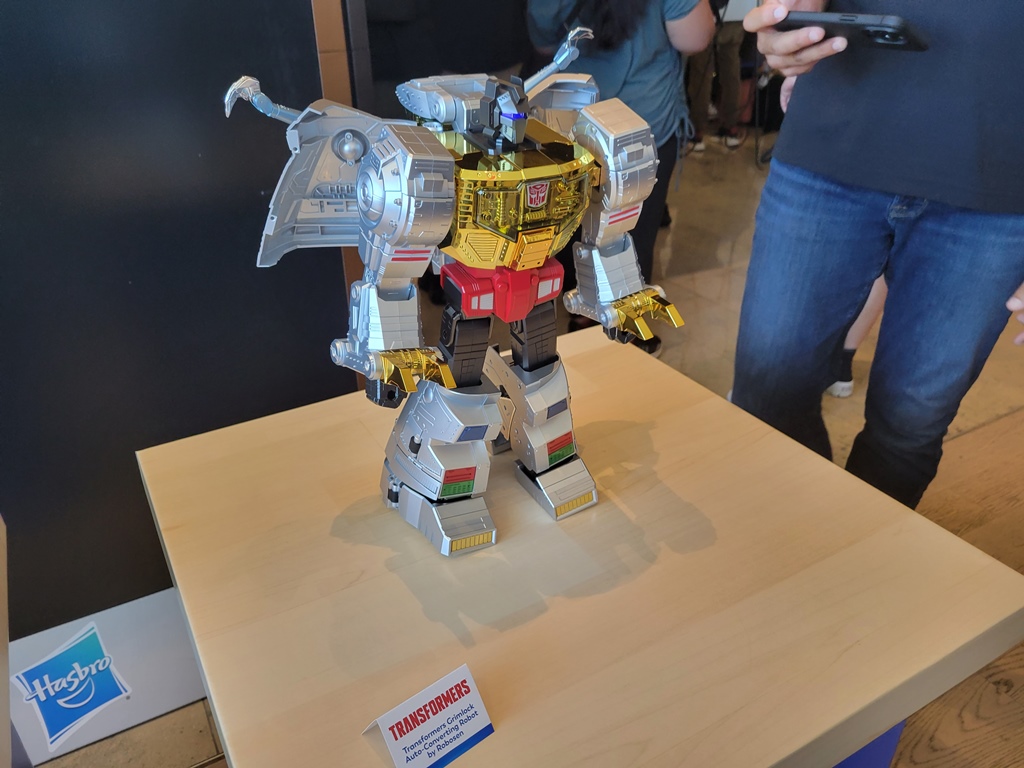 Star Wars
Plenty of new Star Wars figures were revealed across Hasbro's different levels of products. Highlights included a new Haslab Vintage series The Ghost crowdfunding project which has already hit its funding target as well as a slew of new Ahsoka products including a new addition to the Force FX Elite lightsaber series and a new Droidables figure line. You can check out individual product images here and head to Hasbro Pulse to purchase!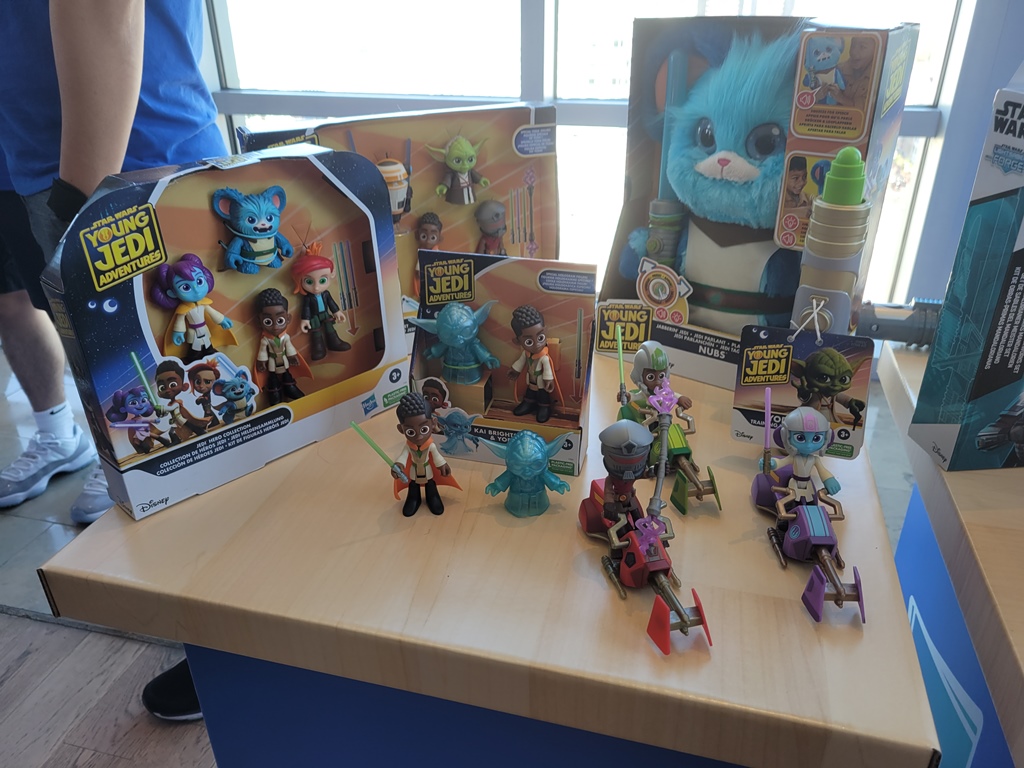 Marvel
Marvel revealed a slew of new items throughout the convention across all their product lines. A new Groove 'N Grow Groot was too cute! Check out our running Hasbro Marvel thread here.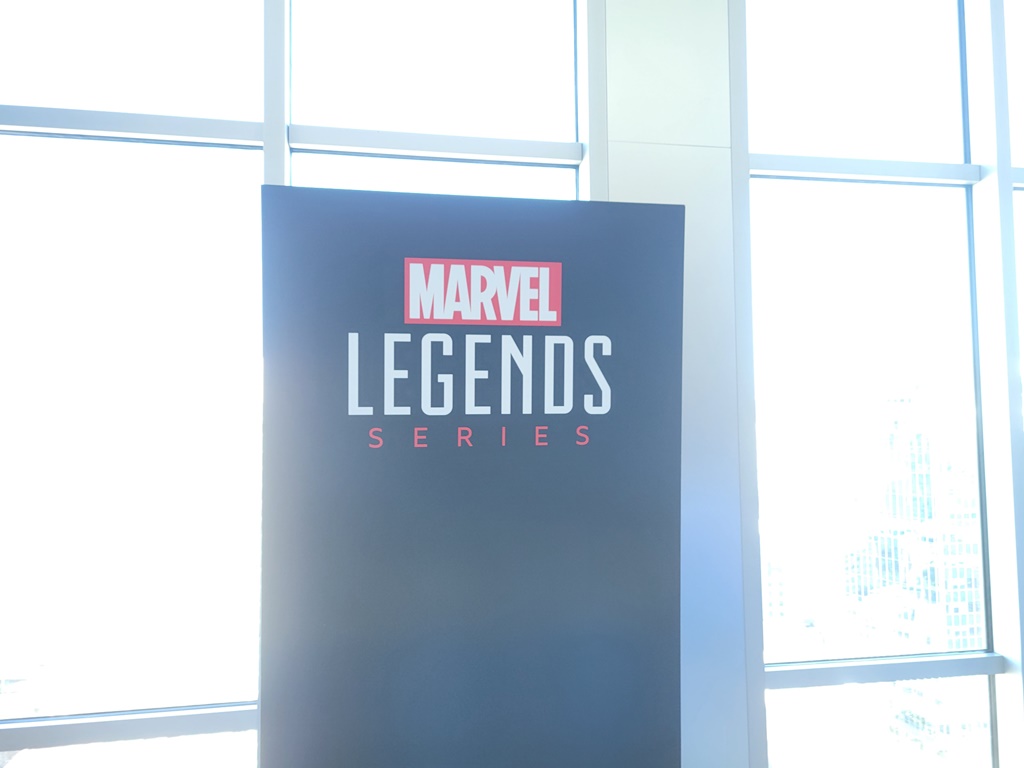 Indiana Jones
With the release of the latest Indiana Jones installment – The Dial of Destiny – Hasbro has heavily leaned into their line-up of Indiana Jones inspired figures. Their 6" scale Adventure Series line has really been filled out with a few different Indiana Jones figures across all the movies as well as supporting cast. A fair amount of the released Indiana Jones figures can be found here; feel free to pop in and discuss.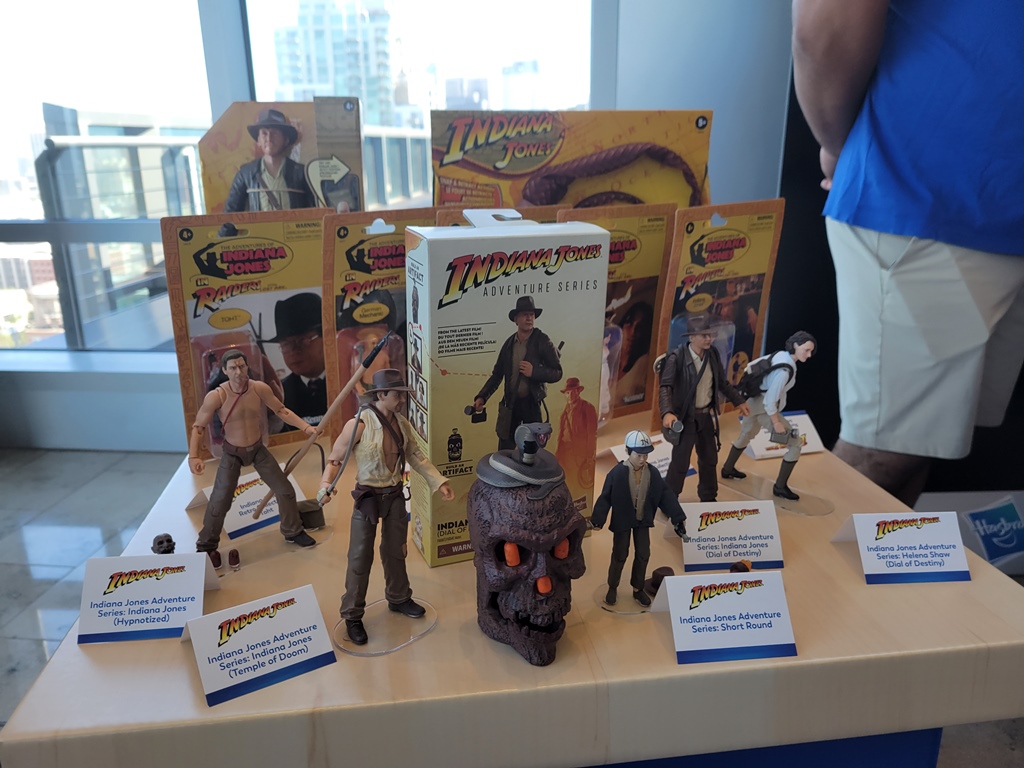 G.I. Joe
G.I. Joe showed off the Cobra H.I.S.S. tank in person as well as some new figures in their line.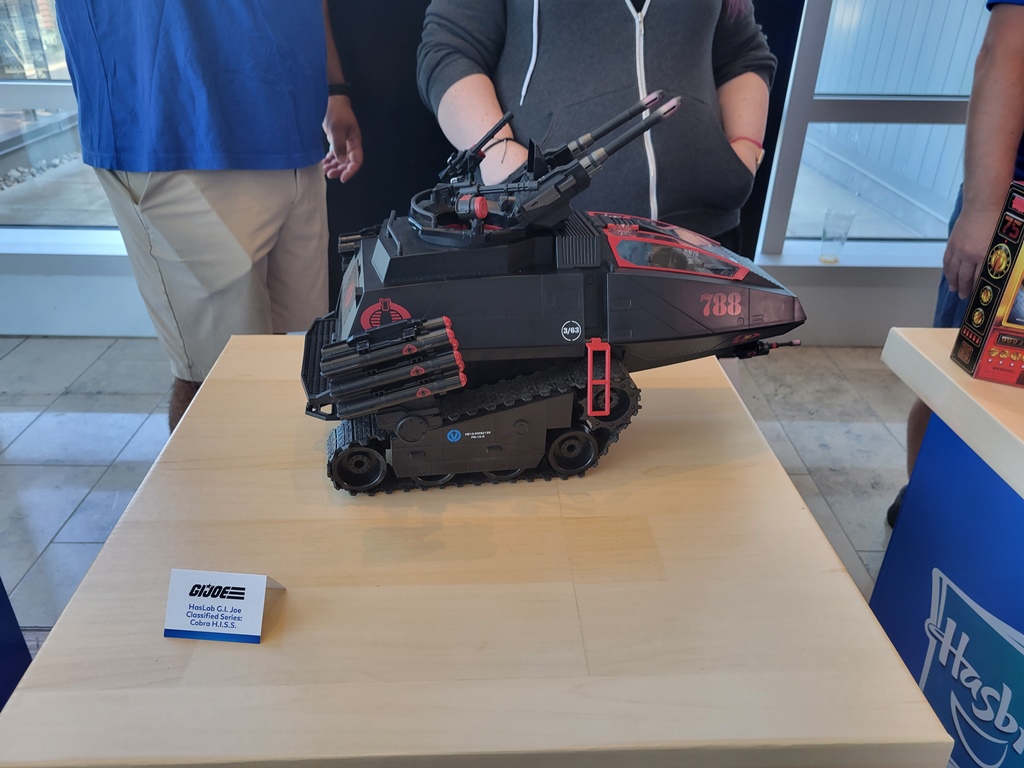 Mighty Morphin Power Rangers
The Power Rangers lightning collection was a bit quieter this year but there was still a display of figures including the Cobra Kai crossover line.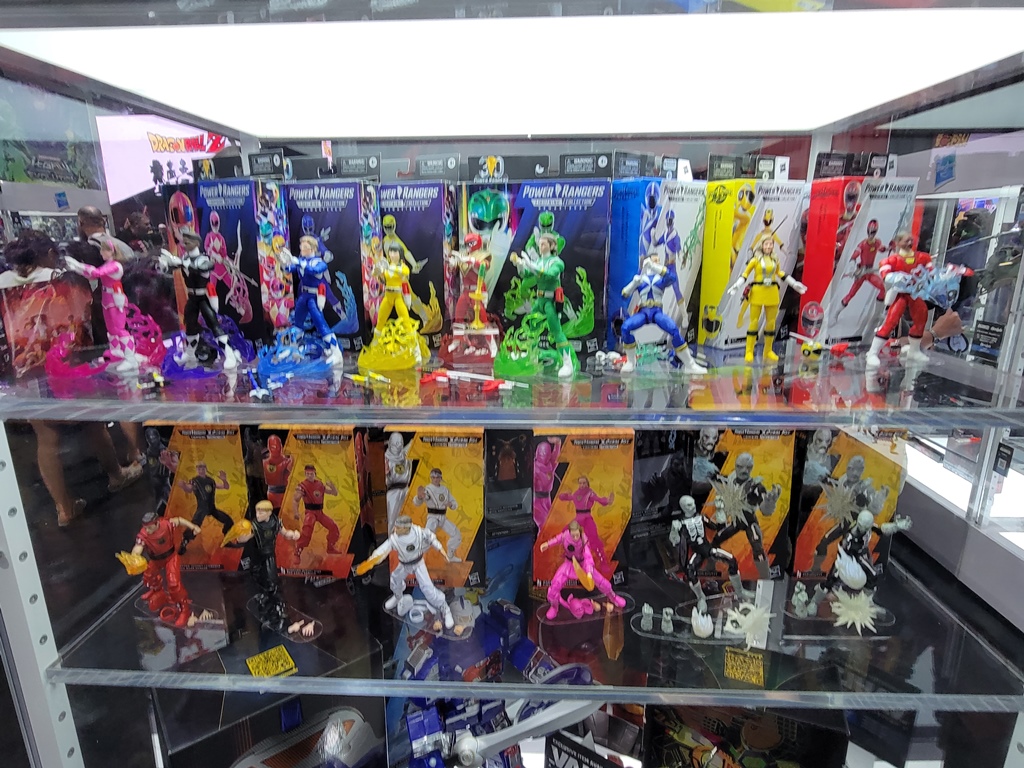 Dungeons & Dragons
The Dungeons & Dragons line seems to have gotten a bit more attention this year. Outside of some new  core books there was a new Insight Editions Dungeons & Dragons: The Ultimate Pop-Up Book and a line of RSVLTS branded DND shirts. Since I am a huge Drizzt fan I was also excited to see a display case illed with Drizzt products including plush, figures, a DK Visual Dictionary, and a display copy of R.A. Salvatore's newest book Lolth's Warrior. Also on display were some RockLove Jewlery products, other figures, and a display of original figures and campaigns.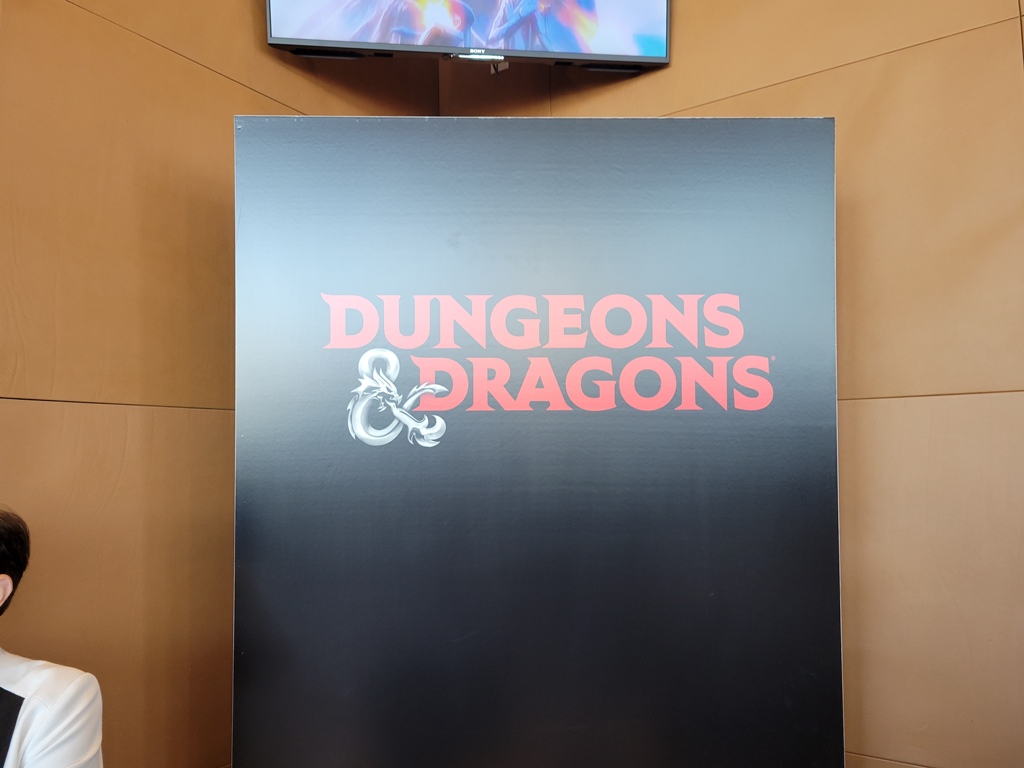 Magic: The Gathering
Magic were showing off sets of their Lord of the Rings crossover sets as well as a new Secret Lair X Street Fighter and Commander Masters sets. Magic: The Gathering also had a few statues and adult roleplay items on display. Be sure to be ready for this loot drop when it is available from Magic: The Gathering!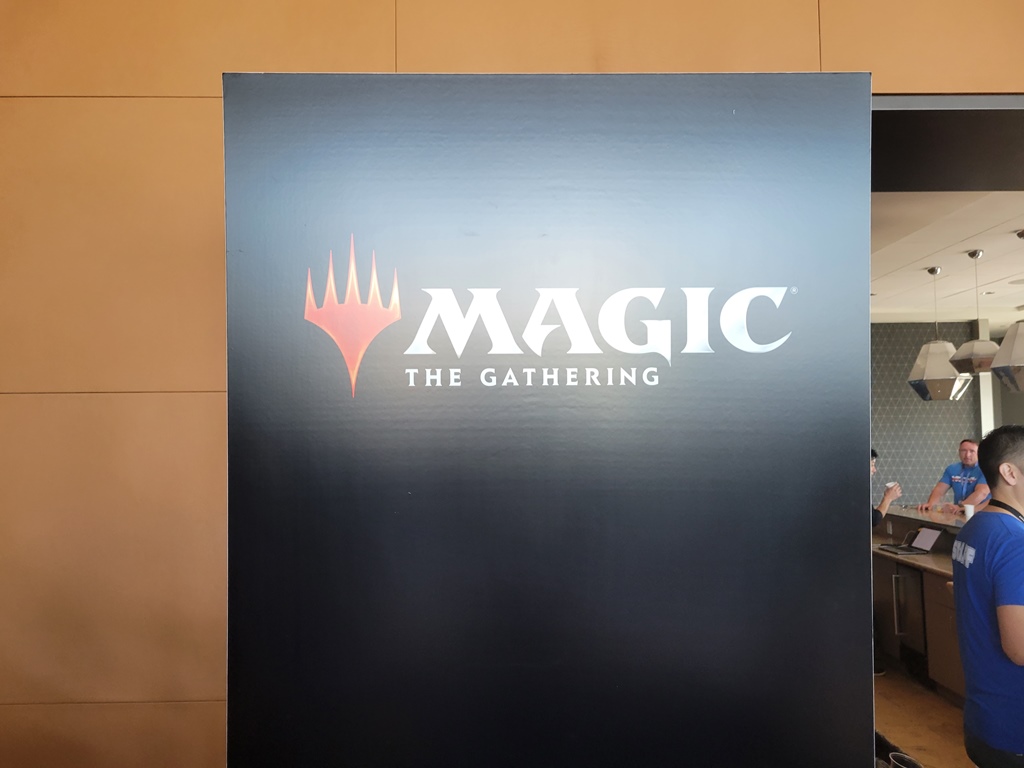 Nerf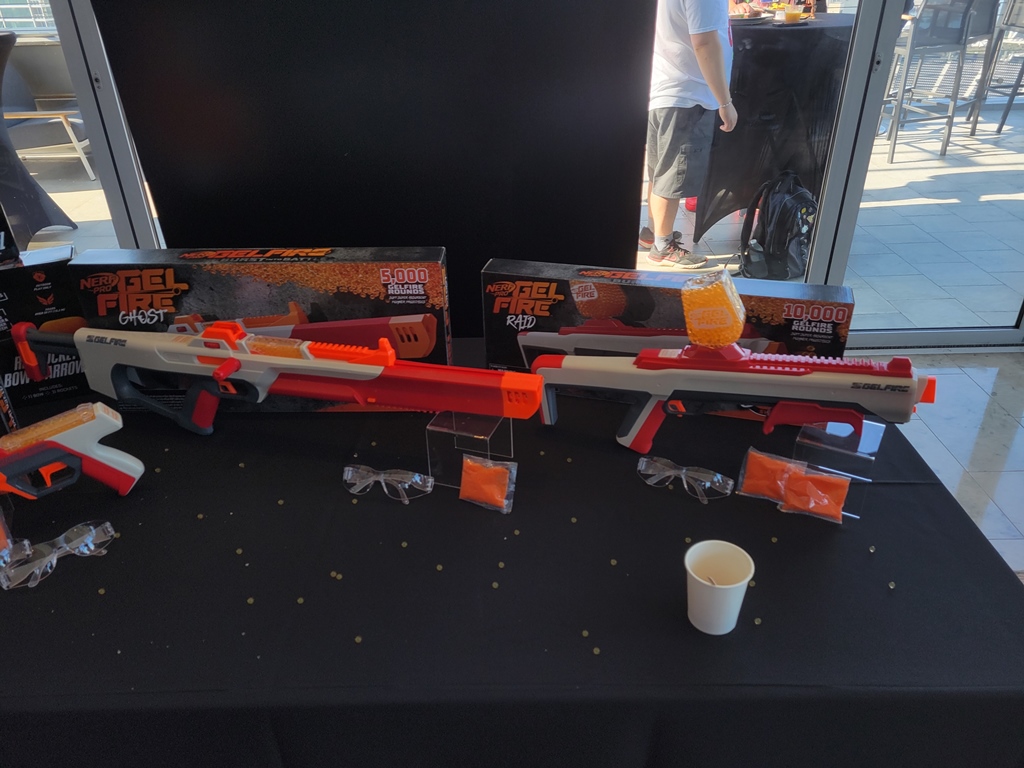 Gaming and Furby
As announced earlier there was a re-introduction to the Furby line and Hasbro Gaming has a Monopoly: Hasbro 100th Edition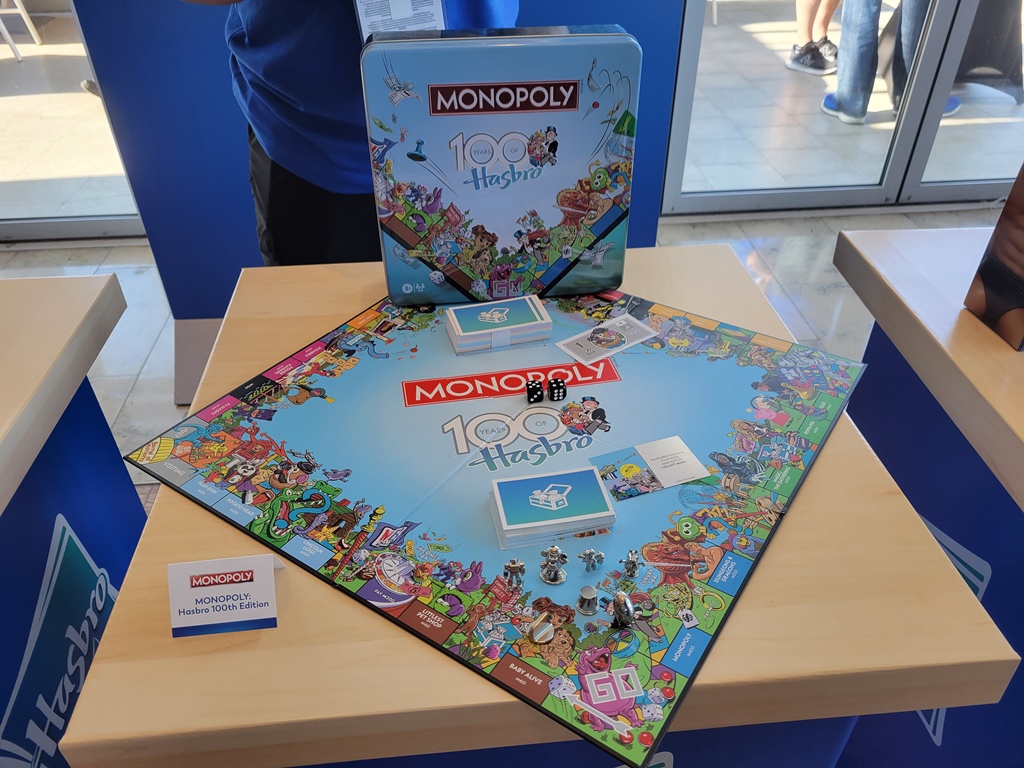 Miscellaneous
At the breakfast Hasbro also reminded fans of their versatility in partnerships with the LEGO Optimus Prime which was released in 2022 as well as other collaborations with the likes of Funko and Loungefly.