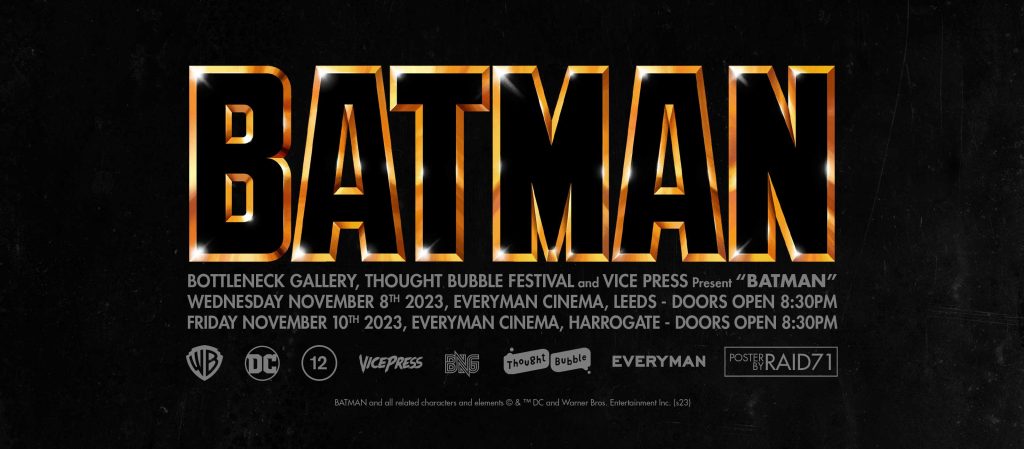 "You wanna get nuts? Come on! Let's get nuts!"
This year we will be back at Thought Bubble with a host of new posters and have yet again partnered with Everyman Cinemas, this year to host a screening of Batman '89. Raid71 has produced an exclusive poster for the screenings which is released in collaboration with Bottleneck Gallery.
As well as our usual screening at the Everyman Harrogate the night before the Thought Bubble convention, this year we we are also adding in a screening at Everyman Leeds.
Limited to an edition of 150, the 24×36 inch screening exclusive poster will be exactly that – exclusive to the screenings. It will not be available for sale online. Unlike in the past where we have had the poster available to purchase ahead of the screening, this year the poster will only be available to purchase on site, at the cinema on the day.
Vice Press will be on site at each screening from 7:30pm, where you can check out and pick up copies of the poster, with Matt and James introducing the film. Raid71 will also be at the Harrogate screening to sign copies!
Everyman Cinema, Leeds – Wednesday The 8th Of November – 8:30pm Doors, 9pm Start
Everyman Cinema, Harrogate – Friday the 10th of November – 8:30pm Doors. 9pm Start
Tickets are on sale now over at the Everyman website. Just follow the link below. You can also check out some FAQs for the event HERE!
https://www.everymancinema.com/film-listing/320017-vice-press-x-thought-bubble-present-batman-1989/