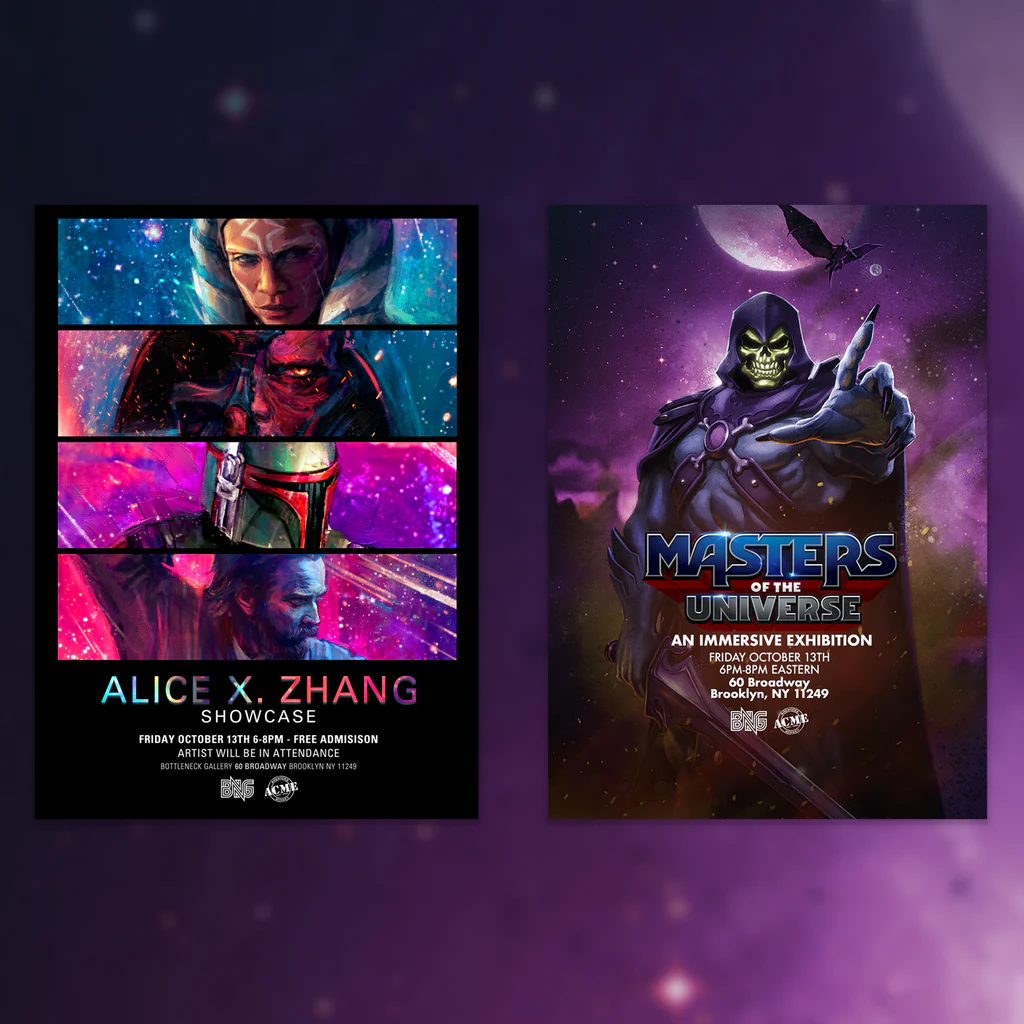 Alice X. Zhang returns to Bottleneck, after some time in a galaxy far, far away, for a brand spankin' new in-person showcase and gallery show on Friday, October 13th!
Alice's newest showcases features a wealth of limited edition prints, including Alice's work from Star Wars Celebration. Star Wars Celebration is a massive recurring event filled with all things Star Wars, including roadmaps for future series, jaw-dropping trailers for upcoming projects, and a multitude of events for fans and creators alike. Alice created a trove of officially licensed art for Lucasfilm and Disney, and we're excited to be able to offer some of that in this showcase!
As a fun treat, we'll also be hosting Mattel and Acme Archives' Masters of the Universe Experience in our visual room, which includes a digital carousel of amazing officially licensed art from the MOTU-verse and a supply of free limited edition goods from the fine folks at Mattel and Acme Archives!
And finally, we've got some big news. We've worked with Alice since the inception of Bottleneck, so it's fitting that we have our last gallery show at our current location with her. We're a sentimental bunch, and reflecting on the past eleven years, including: This location; past gallery shows with so many artists that we admire; and most importantly, the supportive community that we've been lucky to be a part of; we're filled with deep gratitude, nostalgia, and warmth. While 60 Broadway may not be our home for much longer, we're excited to talk more about our future location soon-ish!
Here are all of the important details for the Alice X. Zhang gallery showcase and the MOTU Experience:
These events open on Friday, October 13th from 6PM – 8PM ET
Bottleneck Gallery is located at 60 Broadway, Brooklyn, NY 11249
Admission is free, and all ages are welcome!
Refreshments will be served
Tubes will not be available, please bring your own tube (BYOT)
Cash and Credit Card will be accepted
The FREE prints for the MOTU show are limited and not guaranteed; first come, first served!